Apostle Islands celebrates its own 50th
Persistence pays in protecting national lakeshore
EARTH DAY AT 50: EXPANDED COVERAGE
Apostle Islands National Lakeshore celebrates its own 50th
Andrea Zani
Gaylord Nelson had plenty on his plate following his election to the U.S. Senate in 1962, but nothing seemed more of a personal priority to him than bringing his home state's Apostle Islands into the National Park System.
"He spent years working to bring national park status to the Apostle Islands," his daughter Tia Nelson says.
The senator and former Wisconsin governor had always been a proponent of public lands, but being from Wisconsin's Northwoods made this endeavor particularly meaningful to him. From the start of his time in the Senate — when he led an Apostle Islands tour for President John F. Kennedy in 1963 — Nelson labored for protected status for the stunningly scenic islands of Lake Superior near Bayfield.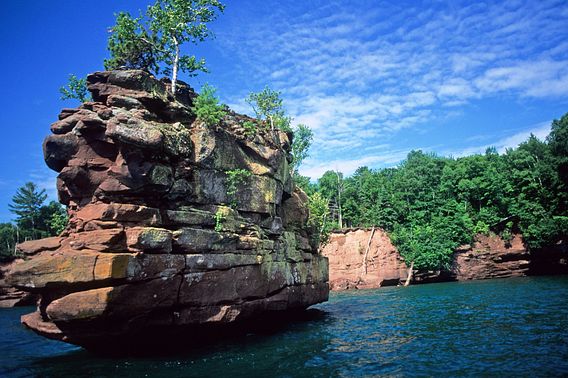 © DNR FILES
It was no easy task, as Nelson had to work all the political angles of turning the Apostles into a national lakeshore. Numerous diverse groups held vested interest in such a move, from area landowners and businesses to government officials and tribal leaders to visitors and residents.
Specific lands to include or exclude when drawing the national lakeshore boundaries took years of painstaking negotiations, with wildly varying viewpoints to try to appease.
"I would hear the stories," Tia Nelson says of her father's labor of love. "How he so wanted to protect that place. How long it took."
Finally, on Sept. 26, 1970, Gaylord Nelson's longtime dream became a reality when federal legislation declared the Apostle Islands a place "to conserve and develop for the benefit, inspiration, education, recreational use and enjoyment of the public." Throughout 2020, the national lakeshore is planning a variety of special events to mark the 50th anniversary.
Perhaps because of the passion her father showed for the Apostle Islands, it remains by far the most special place Tia Nelson can imagine.
"I've traveled the world from Argentina to China," she says. "To me there's no more magical place in the world than the Apostle Islands."
So deeply does she love the Apostles that each year on her birthday — the summer solstice, June 21 — she wants only one thing: to spend time with family and friends enjoying its beauty.
"I have a rule," Nelson says, "no singing, no cakes, no presents. Just get on the boat with me at the sunset."
The Nelson family also still gathers at the Apostle Islands together every August, she adds.
"It's the place I return to again and again. It's a place my grandfather took my father and my father took me."
In 2004, Gaylord Nelson's critical role in creating the Apostle Islands National Lakeshore was acknowledged when 35,000 acres on all or part of 18 islands were designated the Gaylord Nelson Wilderness.
Having his name on Wisconsin's largest wilderness area is a fitting tribute to the man who worked so diligently and cared so deeply to keep the area safe for future generations.
"Persistence is important; not giving up is essential," Tia Nelson says. "My father embodied that through his career. It looks easy in retrospect but …
"What's vital is finding common ground with different people coming at the issue from different perspectives and different life experiences, working to bring together disparate voices. It was one of my father's real talents."
Andrea Zani is managing editor of Wisconsin Natural Resources magazine.
INFORMATION
To learn more about the Apostle Islands National Lakeshore, including details on this year's 50th anniversary celebration, check nps.gov/apis [EXIT DNR]. For a detailed look at Gaylord Nelson's years-long work to create the Apostle Islands National Lakeshore, read "Environmental Politics and the Creation of a Dream," by Harold C. Jordahl Jr. with Annie L. Booth. ("Bud" Jordahl was director of the Department of Resource Development under then-Gov. Nelson and served on the Wisconsin Natural Resources Board in the early 1970s.) The book from UW Press was published in 2011: uwpress.wisc.edu/books/4781.htm [EXIT DNR].