Taste of Wisconsin
Honey occupies distinct place in history
Kyle Cherek
Outdoors folks have known for a long time that our ecology is far more connected than many realize. For those who acquit themselves of the built world and spend time in the natural one, the interconnectedness of habitat starts to shine through.
I've always thought the best introduction to knowing the deeper layers of nature was through buzzing things and flora — pollinators and, specifically, bees. Their industry is an intimacy with the land and the things that grow from it.
Looking at it through a food history lens, pollinators have been the engines of everything. They have long pollinated the things that animal and insect kingdoms consumed and in doing so, distributed the Earth with its bounty — from apples to olives to almonds, many grains and grasses as well as literally tens of millions of other flowering plants that fruit.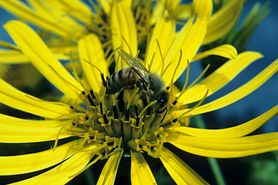 ©DNR FILES
If you are sipping your coffee while you read this, thank a pollinator. If your 401(k) is ticking upward because of investments in biofuels, fibers like cotton, medicines, forage for livestock, construction materials or the annual $577 billion of the global food system business, remember it is pollinators that make it possible.
All told, 75% of the world's food crops rely, at least in part, on pollination.
The realm of pollinators is vast and varied. There are, for instance, just over 20,000 species of wild bees. There are also species of butterflies, moths, wasps, beetles, birds, bats and other vertebrates that contribute to pollination.
When people in Wisconsin think of a bee, they may first envision honey bees diligently doing their work pollinating our crops and, by virtue of that, aiding our economy and our gardens alike.
Because agriculture is so vital to the state, honey bees fall under the attention and management of Wisconsin's Department of Agriculture, Trade and Consumer Protection. As one orchard keeper told me years ago, "My orchard bees are an agricultural animal, the way that cows and pigs and chickens are."
Wisconsin has one of the nation's oldest Honey Producers Associations, dating from the mid-1800s. One of their first actions was to submit a bill to the Legislature for an apiary inspection program, the first of its sort in the nation.
As a state, Wisconsin is 16th in retail honey production, with about 51,000 working hives putting forth honey worth $6.3 million annually.
HONEY BEE HIGHLIGHTS
Originally from the tropical region of Eastern Africa, the honey bee spread across Asia and Europe before coming to the Americas. It made its way to North America first, by way of early settlers from Europe and the transportation of enslaved peoples from Africa. Honey, as we think of it, was not in existence in North America before the 1600s.
Looking back further, honey was so treasured by ancient Egyptians, it was found in King Tut's tomb. Because of its composition and pH, it was still edible 3,000 years later. For these ancient peoples and a multitude of others, honey was a flavoring, a foodstuff and a medicinal remedy.
Thousands of years before King Tut's time, the world's oldest known references to collecting honey can be seen on 8,000-year-old cave paintings found in  Valencia, Spain. I think it is fair to say what early peoples chose to paint on cave walls was immensely important to them; to that end, honey fit the bill.
The work honey bees do is truly amazing and borders on alchemy. The nectar collected by bees to make honey is often up to 80% water. Through the process of making honey, the bees remove that moisture, with the end result being something that is a reduction of the nectar as well as crucial elements added by the bees.
The closest comparison would be the way an earthworm turns dirt into soil. As a bee stores nectar inside itself for the ride back to the hive, it turns it into honey. Astonishingly, the main way the water is removed from the nectar is by the bees flapping their wings as they access it.
Imagine the rich, complex veal demi-glace reduction a chef might make as a delicious sauce from the bits left in the pan after sauteing a couple of steaks. Just pour some water into the hot pan and keep reducing the liquid until it is nearly gone and has the consistency of a sauce. Voila! Great concentrated flavor.
The bee method would forgo reducing to a sauce via the heat of the pan, but instead evaporating the liquid by waving your arms — all while sucking up the nectar and hovering in midair. Bees are amazing.
SUPPORT FOR POLLINATORS
Separate from honey bees, the Department of Natural Resources keeps focused on native pollinator species, many of which are bees. Whether you are a devil-may-care capitalist or an ardent environmentalist, new data regarding the fate of pollinators is deeply worrying.
In 2016, a groundbreaking study by the Intergovernmental Science-Policy Platform on Biodiversity and Ecosystem Services stated, "A growing number of pollinator species worldwide are being driven toward extinction by diverse pressures, many of them human-made, threatening millions of livelihoods and hundreds of billions of dollars worth of food supplies."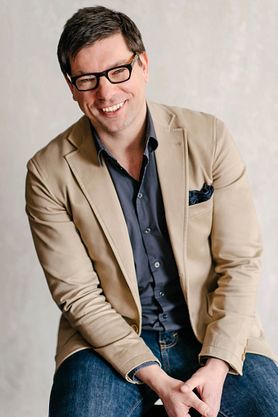 ©JESSICA KAMINSKI
Still, I take heart regarding the future of pollinators in Wisconsin. We are, after all, the state that gave the world Gaylord Nelson, creator of Earth Day, who understood the ties between ecology and economy. "These biological systems are the sustaining wealth of the world," he once said.
This summer, as I enjoyed my evening walks, I also was heartened by nature's nightly slow-moving fireworks — fireflies — which are pollinators themselves. Fireflies are a part of my summer that goes back as far as I have memories.
I hope that they and the thousands of other pollinators will add to the memories for generations to come.
Kyle Cherek is a culinary historian, food essayist and former host of the Emmy Award-winning TV show "Wisconsin Foodie" on PBS. He and his wife own Amuse Bouche Entertainment Productions and together create unique culinary events including presentations, cooking demonstrations and storytelling dinners.
Polenta Orange Honey Cake
September is National Honey Month, celebrated since 1989 by the USDA's National Honey Board. For my recipe in this issue, I thought I would reach back generationally. My mother-in-law is perhaps the best and most astute non-professional baker I have ever known. Though she is loath to give away a recipe, this one is near enough to what I can suss out from her — with credit to the Inquiring Chef [exit DNR] website.
INGREDIENTS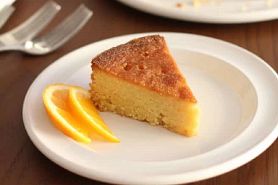 ©INQUIRING CHEF
For the cake:
1 cup butter, softened
1¼ cup natural cane sugar
3 cups almond flour
3 large eggs, lightly beaten
Finely grated zest and juice of a large orange
Scant 1 cup polenta
1 level teaspoon baking powder
½ teaspoon ground cardamom (optional)
For the syrup:
Juice of 2 lemons
Juice of 2 oranges
4 tablespoons honey
INSTRUCTIONS
Grease an 8-inch cake tin with a one-third flour and two-thirds softened butter mixture and line the bottom with parchment paper. Preheat the oven to 350 degrees.
Beat the butter and sugar on high until light and fluffy. Add the almond flour to the mixer and beat on low until just combined. Remove the mixer bowl from the stand and, using a wooden spoon, gently stir the eggs and zest and juice of an orange into the batter. In a separate small bowl, whisk together the polenta, baking powder and ground cardamom. Fold these dry ingredients into the batter, just until combined.
Pour the batter into the lined tin and smooth the top. Bake for 30 minutes, and then reduce the oven's heat to 320 degrees and bake for another 25-30 minutes or until the cake is firm and deep golden brown on top.
To make the syrup, squeeze the lemon and orange juice into a stainless steel saucepan, bring to a boil and add the honey, stirring to combine. Keep the liquid boiling until it has formed a thin syrup (four to five minutes).
Spike holes into the top of the cake (while still warm and in the pan) with a skewer then spoon the hot citrus syrup evenly over the top. Leave in the pan until nearly cool, then lift out of the tin.
Serve the cake (which is gluten-free) in thick slices with thinly sliced fresh oranges (and iced black coffee if you are my mother-in-law).