Your Outdoors
Grouse encounters: 'You won't believe this!'
Story and photo by Tom Prijic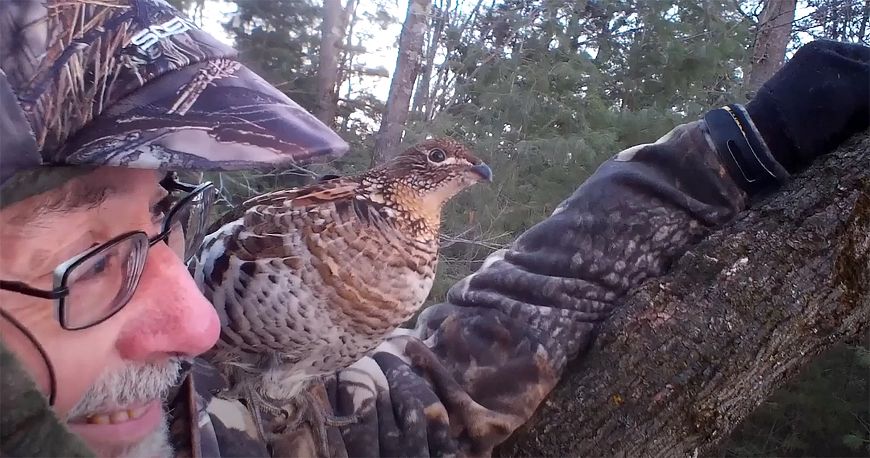 In my 55 years of hunting deer, each year brings some new experience, and 2018 was no exception.
I was bowhunting in central Wisconsin on Nov. 11 and got out to my deer stand early as usual. At first light, I saw a ruffed grouse walking through the woods and told myself if I get a good shot at it, I might take it.
The grouse soon flew up in the evergreen tree next to me, landing on a branch 8 feet below me. It watched me for the next 15 minutes, which I thought was unusual.
Over the next hour, it gradually made its way higher until it finally flew onto the branch my bow was hanging on, landing 18 inches away. I could have reached out and touched it.
After that, it flew onto my deer stand and perched between my boots, then onto my seat and snuggled up next to me. Finally, because there wasn't much room on the seat, it flew onto my lap, landing on my right leg.
By this time, it no longer seemed alarmed or concerned about me as it snuggled on my lap, fluffed up its feathers and helped me watch for deer. Over the next 90 minutes, it would hop from my right to my left leg back and forth every 15 minutes or so, even landing a few times on my bow, which was resting on my lap.
When I decided to quit hunting around 10 that morning, I called my wife, Carol, who was hunting 150 yards from me.
"You won't believe this, but there has been a ruffed grouse on my lap for the last hour," I told her. "You have to come over here and see this!" My talking didn't bother the grouse in the least.
When the grouse saw Carol coming, it unfluffed its feathers, stretched its head and neck and watched her as she got closer and closer. Finally, when she was about 10 yards from the bottom of my stand, the grouse flew off into the woods.
I was happy she got to see the grouse but a little disappointed that I didn't get a picture. I didn't think anyone would ever believe my story.
Four days later, while hunting the same woods, I heard a crunching in the snow as I was setting up my deer decoy. It was dark, but I finally saw my grouse friend walking toward me about 4 feet away.
I walked to my stand with the grouse following me through the snow, climbed the ladder and looked down — there was the grouse sitting at the base of my stand looking up at me. It flew onto the first rung, then the second and onward until it reached the top, where it rested between my boots. It eventually reached my lap and sat for the next hour, watching the woods with me.
This time I had a video camera with me and was able to get about 20 to 30 minutes of once-in-a-lifetime video as the grouse flew onto my shoulder, walked up my arm and went from shoulder to lap for the rest of the morning.
I don't know why this particular grouse hung around with me those two mornings, and I never did get a deer, but it was a hunting experience I will never forget. After that, I know I could never kill another ruffed grouse, either, no matter how good they taste!
Tom Prijic and his wife, Carol, avidly hunt the woods around their home in Amherst Junction. Tom invites readers to watch his YouTube videos [exit DNR] of the grouse encounter (where the screenshot at top was taken).