A fine Feather friend
PAT FISHER'S DEDICATION TO HER BIRD REHAB CENTER GIVES NEW FLIGHT TO MANY
Story and photos by David Horst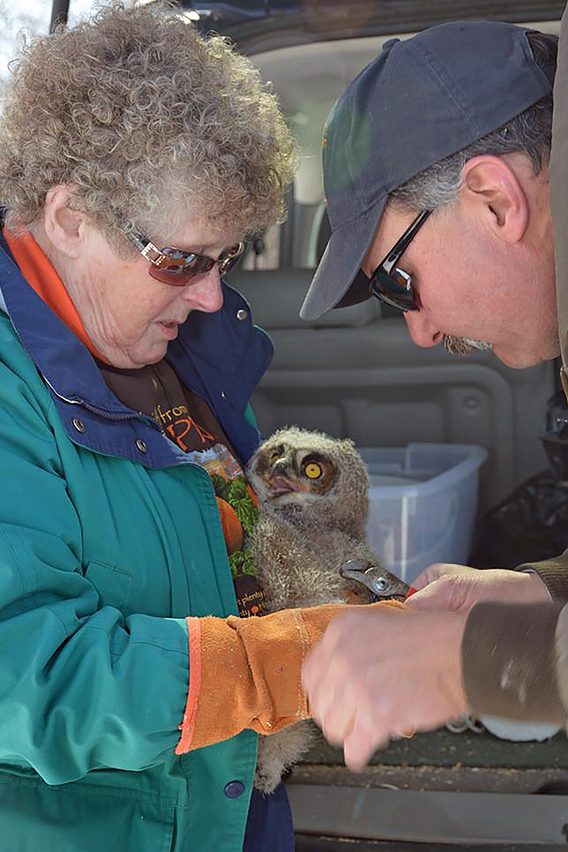 The first time I visited Pat Fisher's house, a guy sitting at the kitchen table had a bald eagle in his lap, and a ruby-throated hummingbird was flying around in a bedroom. The bird rehabilitator's volunteer troops, there for the eagle's release, carried on as if there was nothing unusual about this scene.
An injured raptor or crane in northeast Wisconsin has a good shot at returning to life in the wild if it makes it to The Feather Wildlife Rehabilitation and Education Center and the dedicated care of Pat Fisher. The 83-year-old Fisher lives bird rehab.
The Feather, a nonprofit, actually is Fisher's house north of New London and a series of large screened-in pens on the property where birds can regain the power to take wing.
"It's completely taken over my life. But what else would I do at this age?" Fisher said.
Fisher would have to stand on her toes to see over a 5-foot fence. Reddened eyes suggest permanent sleep deprivation. Tightly curled gray hair is cut to the practical length needed for someone who chops fish for ospreys and throws frozen rats to turkey vultures.
Here's how her days begin.
"I have cages to clean in the house. I have mice to thaw out and then I go into the Mouse House for three hours and clean mice.
"You have to raise rodents to feed hawks and owls," she said. "That's what they eat."
Devoted volunteers
Caring for injured eagles, cranes, owls, hawks, vultures and ospreys is not a one-person job. A crew of volunteers is dedicated to this woman.
Don Baumgartner, also the guy holding the eagle when I visited, met Fisher when he asked around about building a trail of bluebird houses. Before long, hardly a release took place without him.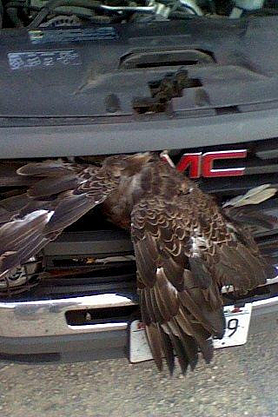 If Fisher was banding a raptor, Baumgartner was holding it. He became one of her super volunteers. When Fisher asks, Baumgartner is there.
"Part of it is wanting to help, and then you see how she does it, how passionate she is and dedicated to every little detail," Baumgartner said. "I think that's what holds the people. When you see the dedication, you can't stop.
"I've never met anyone else like her in my life."
Three years ago, Baumgartner moved to Stevens Point, 25 miles away. He still volunteers plenty, but some of his duties have been picked up by a new super volunteer, retired DNR Warden Mike Young.
When Young was in the field, assigned to Shiocton, he relied on Fisher to take care of the many displaced or injured animals people bring to wardens.
"She's good at involving people," Young said. "The warden comes off as the hero, even though Pat did everything."
Fly, eagle, fly
Young's adventures with Pat didn't always fit the formal definition of his job. Once, after spending part of a day pulling eaglets from their nest for banding, Young was asked about it by his supervisor. The proof was right there on the front page of the local newspaper – a photo of Young holding an eaglet.
While it may have seemed like Young had strayed from assigned tasks, the tide soon turned during a subsequent staff presentation by the DNR's chief warden. The chief held up the picture of Young and told the wardens he'd like to see more things like that.
"The older wardens have been absolutely phenomenal," Fisher said. "I knew them all and, boots on the ground, they're one hell of a group."
If you doubt Fisher and her band of volunteers can work miracles, just ask DNR Warden Ted Dremel. He responded to a call early one morning in 2012, and it didn't sound hopeful.
A man was driving his pickup on U.S. Highway 10 near Weyauwega when a bald eagle swooped in to feast on a muskrat carcass on the road.
"He sees this flash of brown and, before he knows it, it was in his grille," Dremel said.
The collision left the eagle embedded in the grille of the truck – its head, wings and one leg snagged by broken plastic. Responding to the call for help, Dremel was able to work the bird free and stowed it in a dog carrier to deliver to Fisher.
James Ziegler, another prized Feather volunteer from Wolf River Veterinary Clinic in New London, examined the mighty bird. Incredibly, he found no broken bones, only damaged flight feathers, bruising and signs of a concussion.
It took a month of Fisher's care, but the eagle recovered.
To thank Ziegler for his gratis treatment, Fisher let him release the eagle on a Sunday morning in July. Ziegler held it up while wearing long leather gloves and released his grip.
The eagle flew out over a farm field, banked left and disappeared beyond a tree line. Fisher wiped away tears, as she does at every release.
Emotions in play
Fisher has seen a lot of harm to birds, some of it intentional, which riles her. She has saved many, but others have no chance of recovery and she must decide to end their lives humanely.
Asked about her emotions when she sees a bird released, Fisher answered with intensity.
"It makes all the crap worthwhile," she said. "It makes the Mouse House worthwhile. It makes the euthanasia worthwhile."
The Feather is getting by financially, Fisher said, thanks to donations generated by educational presentations and media coverage. Her dedication to it all is unequivocal.
Being a rehabilitator is a job that tends to take over just about every corner of Fisher's world – if not the kitchen sink, then at least the refrigerator. Volunteer Ginny Halverson said Fisher's refrigerator usually contains very little to support human life, but often a rodent to feed a raptor.
'Tireless' in her calling
Fisher's childhood didn't suggest she'd end up here. A robin was about the only bird she could identify. A mallard duck given to her by a friend got her interested in birds.
She worked for a bird rehabilitation group called the Aries Foundation before going off on her own. She supported her real calling with a series of part-time jobs, including school janitor and bus driver, and also worked at the New London newspaper.
Despite the many hours and skills Baumgartner has brought to Fisher, he feels he's gotten the better bargain.
"The things I've been able to do and the people I've been able to meet through her are unbelievable," he said. Those people include outdoorsman Jim Fowler and primate researcher Jane Goodall.
"The things I've learned from her that books could never teach you. . ." Baumgartner mused.
"That woman's tireless," Young added.
No time to slow down
She's also adaptive, making full use of social media.
"It's my lifeline," she said. "I would be absolutely lost without that computer out there. That's how I communicate with everybody, anybody – 83-year-old people need a computer."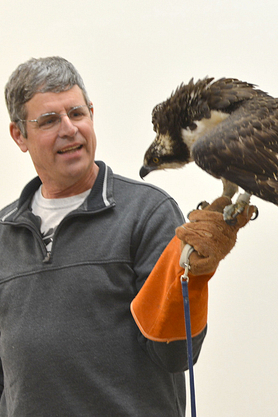 In addition to embracing technology, Fisher keeps apprised of all the requirements of wildlife rehab, licensed to band all birds except endangered species. She has been banding ospreys and tracking their travels for many years, and her banded birds have shown up in Puerto Rico, Costa Rica and Chile.
Fisher doesn't expect to retire, nor does she see anyone willing to take her place at The Feather. She may have only one way out of the commitment. "I'd have to die to get out of it," she said.
Baumgartner doesn't plan to let her out that easily. "We'll just throw the osprey bands in the coffin," he said.
Her main concern is for what will become of her teaching birds – injury victims unable to return to the wild. But she can't let those worries slow her down.
During this visit, there's a red-tailed hawk that was hit by a vehicle and embedded in the grille. A young man has brought it in for care.
Fisher will tend to it. If it survives, she tells the young man, he will be invited to release it. His eyes brighten and Fisher knows it's all worthwhile.
David Horst is a former newspaper writer, editor and nature columnist now working at a nonprofit in Appleton. He has a blog about the outdoors, "Up on the Sandhill," found at uponthesandhill.blogspot.com.