SPECIAL SECTION: A milestone for Friends Groups
WISCONSIN STATE PARK SYSTEM CELEBRATES THREE DECADES OF SUPPORT
Friends of Friends demonstrate the power of partnerships
Janet Hutchens
Two key partners of the Wisconsin State Park System are the Friends of Wisconsin State Parks and the Natural Resources Foundation of Wisconsin.
These organizations recognize that Friends Groups have the flexibility and potential to create new and innovative opportunities for recreation and education programs across the state. This recognition has evolved into action with the formation of funding programs that leverage additional dollars to match and extend the fundraising capacity of Friends Groups.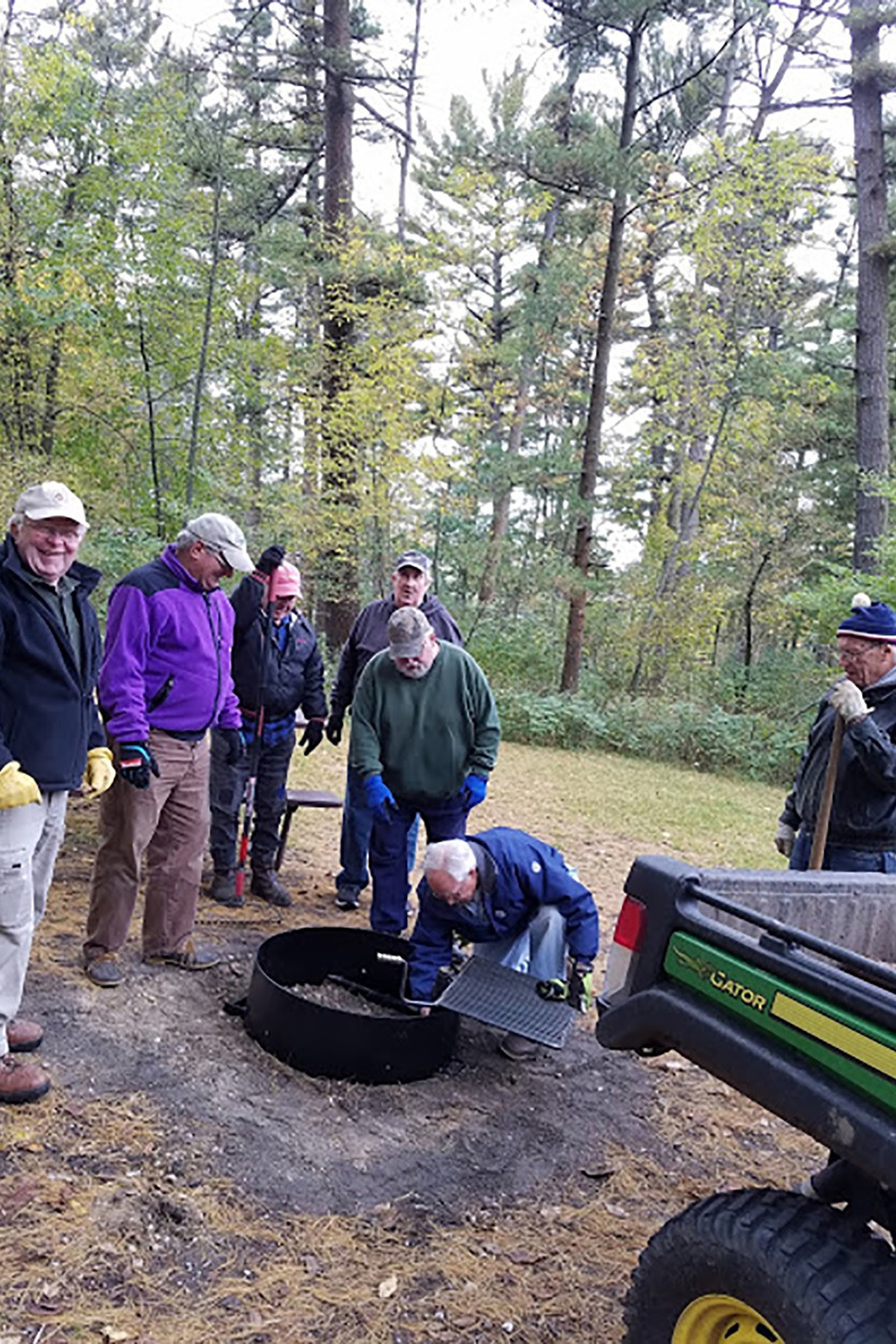 © CAROLYN MORGAN
Friends of Wisconsin State Parks
For more than 20 years, Friends of Wisconsin State Parks has been dedicated to "preserving, protecting, promoting and enhancing Wisconsin's state parks, forests, trails and recreation areas." Working in collaboration with the Department of Natural Resources and more than 60 local Friends Groups around the state, FWSP has coordinated thousands of hours of volunteer efforts; raised thousands of dollars for vital state park enhancements and programs; and provided a public voice for our state's outdoor treasures in the Legislative process.
Each year more than 17 million people visit Wisconsin state parks. FWSP works with local Friends Groups to improve the experience and create lasting memories for these millions of adults and children. FWSP also strives to ensure that millions more will be able to enjoy Wisconsin's natural beauty in the future. Wisconsin's state parks and trails have a long heritage of connecting youth and families to Wisconsin's natural resources.
Who are the Friends of Wisconsin State Parks and how do they carry out their mission to preserve, promote, protect and enhance? FWSP is a 501(c)(3) nonprofit organization formed in 1996 and includes a group of dedicated board members from around the state who care deeply about the Wisconsin State Park System and its visitors as well as preserving these natural resources for future generations.
FWSP's work is focused on the four key points in their mission statement.
Preserving: Each year FWSP supports Work Play Earth Day events across the state park system that draw thousands of volunteers who remove invasive species, clean up campgrounds, plant trees, build benches and picnic tables, and help with other essential projects. In addition, FWSP helps to inform lawmakers and networks with local Friends Groups and state residents on issues that affect the preservation of Wisconsin State Park System properties.
Promoting: FWSP broadens awareness of the Wisconsin State Park System by providing information on the FWSP website and in social media and newsletters, while also promoting state park system events. FWSP supports local Friends Groups around the state by providing resources and workshops on relevant topics — such as growing membership, fundraising, outreach and more — to help them be more effective in their support of the state park system and its visitors.
Thousands of volunteer hours are donated each year by Friends members to improve the park system, making a lasting impact. To demonstrate the significance of these efforts, FWSP recognizes outstanding Friends members, state park system staff and community partners.
And don't forget the annual FWSP photo contest, with Wisconsin State Park System visitors encouraged to snap and share pictures of their outings. The contest (Sept. 3 deadline) culminates in the yearly calendar that is printed and shared in the Winter issue of Wisconsin Natural Resources magazine!
Protecting: FWSP is active in educating, informing and advocating for state park needs with Legislators. During the last state budget process, the Legislature's Joint Finance Committee voted to authorize $2 million from the Parks Segregated Fund and approved another $2.2 million for the state park system. This funding will continue to go toward critical needs for property infrastructure, electrifying campsites, bathroom facilities, signage upgrades, fire rings and other critical projects.
Another victory for state park supporters was the passage of the Parks Revitalization Act. The bill utilized $4.5 million in unspent Knowles-Nelson Stewardship Program funds to pay for water infrastructure projects. These include projects at Devil's Lake, High Cliff, Kohler-Andrae, Peninsula and Willow River state parks. The projects were identified by the DNR as critical for health and safety including drinking water and septic facilities.
Enhancing: FWSP collaborates with local Friends Groups to provide match funding for park naturalists, educational exhibits, signage and programs, as well as infrastructure and landscaping that enhance the park experience. FWSP does this by raising funds for two different grant programs that provide more than $35,000 in grant funds to local Friends Groups each year. The local groups provide a funding match, which doubles the work accomplished in the two programs.
As FWSP continues its dedication in support of Wisconsin State Park System properties, the group invites everyone to join these efforts by volunteering, joining a Friends Group and visiting park system properties. Other ways to support FWSP are by attending events, donating to FWSP or purchasing an annual Wisconsin state park sticker package online from FWSP.org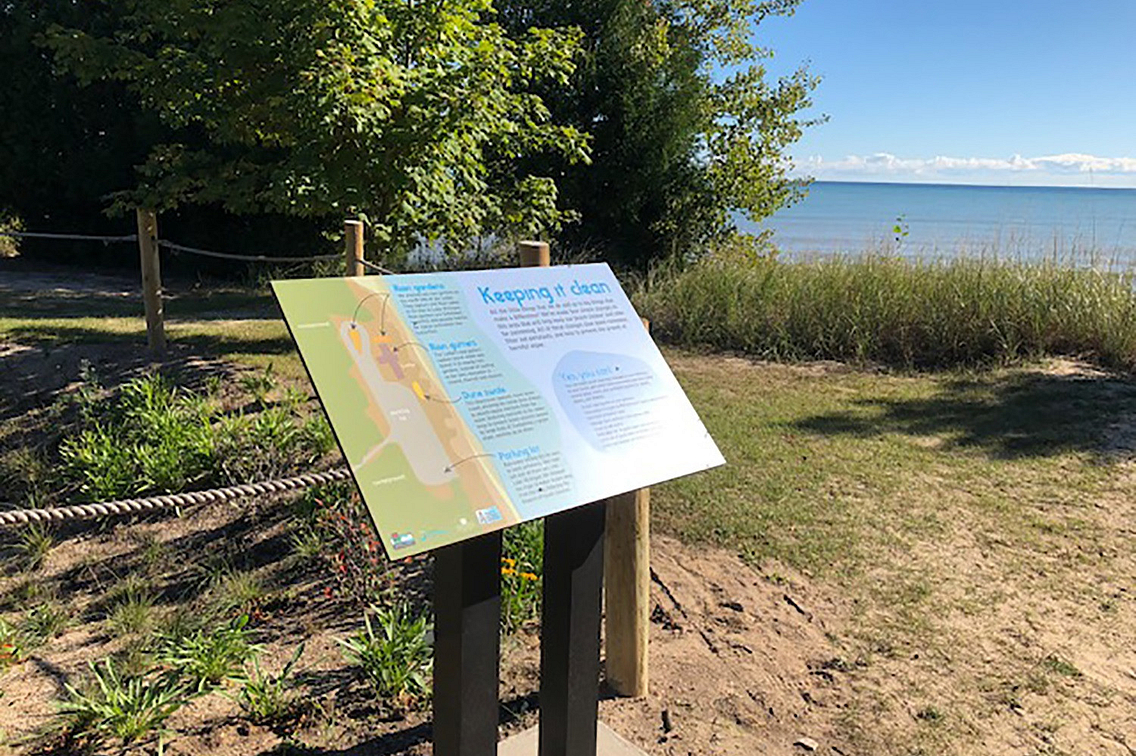 © DNR FILES
Natural Resources Foundation of Wisconsin
Since 1986, the Natural Resources Foundation of Wisconsin has connected generations to the wonders of Wisconsin's lands, waters and wildlife through conservation, education, engagement and giving. The NRF also supports the Wisconsin State Park System's Friends Group program through several efforts designed to grow the fundraising capacity of these motivated and dedicated volunteer organizations.
The Wisconsin Conservation Endowment held by the NRF is made up of a variety of endowment funds, many of which support a Wisconsin State Park System property, specific project or area of interest such as conservation education. A dozen different property-specific endowments also provide the opportunity for people to participate in supporting the properties they love.
An example of a recent grant-funded project can be found at Kettle Moraine State Forest-Southern Unit. The Scuppernong Springs Trail is now more accessible for all thanks to a 2017 endowment grant from the NRF to the Kettle Moraine Natural History Association. Funding was used to level the trail, update and extend the boardwalk and build a wheelchair-friendly overlook.
Another example can be found at Point Beach State Forest. In September 2018, the NRF in cooperation with the Wisconsin State Park System and Friends of Point Beach State Forest celebrated the completion of a $100,000 stormwater runoff prevention project involving the installation of gutters and stormwater capture into two new rain gardens. The project is designed to help make the 6 miles of Point Beach's Lake Michigan shoreline cleaner and healthier for visitors.
The project multiplied its impact through numerous partnerships and a multi-faceted funding strategy. With help from the NRF, the team of partners was able to leverage grants from the Fund for Lake Michigan and the Knowles-Nelson Stewardship Program. The effort also was designated a priority project by the Office of Great Waters at the DNR, whose staff provided expertise for project design.
Included in the project, in addition to the new rain gardens, is signage to help educate school groups and other visitors about actions people can take to divert harmful stormwater runoff away from the lake. The signs also teach guests how to design attractive and beneficial pollinator habitat using rain gardens.
For more information about Natural Resources Foundation endowment funds that support the Wisconsin State Park System, check the NRF website or contact the NRF at info@WisConservation.org or 608-409-3122.
Janet Hutchens is the DNR's Friends Group and Volunteer Coordinator.