Outside in Wisconsin
Van Vliet Hemlocks State Natural Area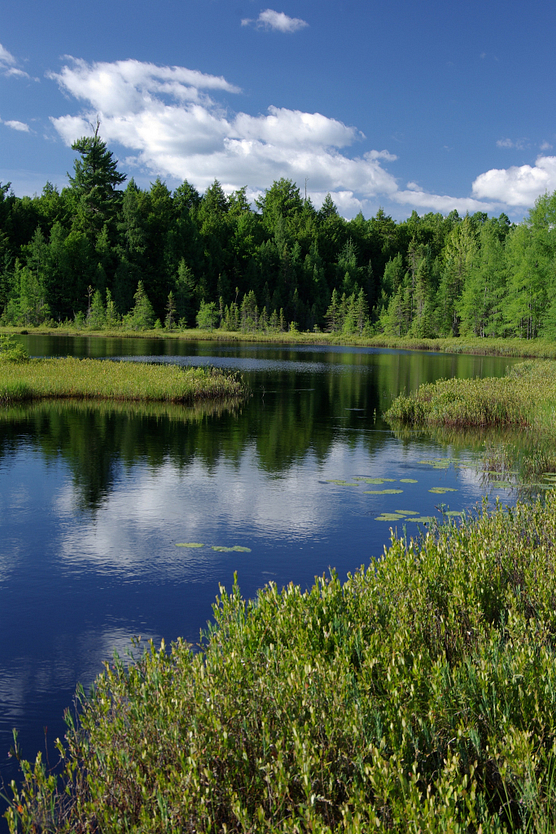 © THOMAS MEYER
Today's "up North" landscape looked somewhat different when Wisconsin was granted statehood in the spring of 1848. Old-growth forests composed of sugar maple, eastern hemlock, yellow birch, white pine and basswood blanketed broad swaths north of a line slicing diagonally from Sheboygan on Lake Michigan northwest to Hudson on the St. Croix River. A colorful tapestry of wildflowers, ferns and mosses graced the floor and the forest teemed with a diversity of birds, mammals, amphibians and other animals.
Most of these mixed conifer-hardwood forests were harvested during the state's so-called "cutover" period between the late 1800s and the early 1930s, fueling northern Wisconsin's economy and providing lumber to build cities to the south. Though valuable and beautiful in its own right, the post-cutover landscape of today lacks the majestic old trees and biodiversity of the forests of the past.
Fortunately, a few remnants of those woods still survive, one of the best being Van Vliet Hemlocks located in Vilas County just a couple of miles south of the Michigan border. Designated as Wisconsin's 673rd State Natural Area, the site protects more than 400 acres of old-growth forest hugging the shores of Averill and Van Vliet lakes.
Groves of large hemlock, yellow birch and sugar maple are punctuated by an occasional white pine that pierces the forest canopy. The herb layer features beds of intermediate fern, Canada mayflower, sweet cicely, wild sarsaparilla and rosy twisted-stalk. Adding to the natural area's biodiversity are a scattering of small swamps of black ash and white cedar, bog lakes and kettle depressions. Look in these wetlands for grass-pink orchid, bog laurel and the insectivorous pitcher plant.
The Friends of Van Vliet Hemlocks maintains a system of trails that loop through the preserve. The site was purchased in 2013 by the DNR and is open year-round. Admission is free.
For a map, directions and to learn more about this and other State Natural Areas, visit State Natural Areas Program and search keywords "Van Vliet Hemlocks."
— Thomas Meyer,
State Natural Areas Program