Happy birthday, Smokey Bear
FIRE PREVENTION ICON MARKS 75 YEARS
Catherine Koele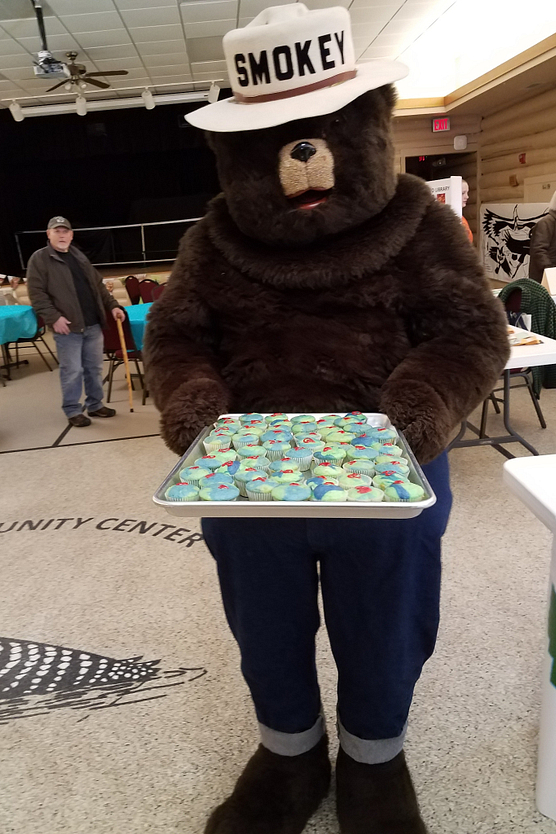 © DNR FILES
Not many people have the opportunity to say, "Today, I'm going to be Smokey Bear." As the wildfire prevention specialist for the state of Wisconsin, well, sometimes I do!
My job has many facets, from administering burning permits to creating outreach materials to handling media relations during fire season. But the one thing that always makes me smile is when I get to work with Smokey Bear. On occasion, I even get to jump inside the Smokey Bear costume for special events.
As he celebrates his 75th birthday this year, it's clear Smokey Bear has stood the test of time. He's a true American icon. And let me tell you, not only do the kids love him, but the grownups do, too.
Many of us remember Smokey from our childhoods. We'd see him in parades, on posters, in magazines or occasionally in TV commercials. If we were lucky enough, maybe he'd stop by the classroom and teach us about never playing with matches, making sure the campfire was out and not throwing cigarette butts in the woods — which I thought was funny because I was about 8 years old at the time and didn't smoke.
I always liked Smokey. I'm not sure why, but he must have made a rather big impression on me. As I got older and saw my dad put on a suit and tie for work every day, I knew that life wasn't for me. I wanted to work in natural resources and ended up in fire.
Let's be clear, I'm not out there digging lines, blasting water and chasing smoke like some of my brave colleagues. My job is a little more desk-oriented and I mostly opt for sneakers instead of fire boots on a daily basis. But being a part of the wildland fire community, in any capacity, could not be more exciting and rewarding.
That includes those occasional times when I get to be Smokey. What an experience!
First of all, once you get into that costume, you can't see your feet. Your vision includes a swath of about 45 degrees out of two very small and slightly obstructed holes for eyes. Not to mention the suit is hot – very hot! There's nothing worse than getting inside that suit during a Fourth of July parade with not even a hint of a breeze outside.
Playing Smokey is a rite of passage for many of our DNR foresters. The greenhorns are usually the ones in the suit at those events. But the best side to being Smokey Bear for the day is the reaction you get from the public — an endless number of "bear" hugs and high fives from people of all ages.
Story of Smokey
As far as recognition goes, Smokey Bear ranks right up there behind Santa Claus and Mickey Mouse. The Smokey Bear wildfire prevention campaign is the longest-running public service campaign in U.S. history. Since 1944, Smokey Bear has taught millions of us about our role in preventing wildfires. Seventy-five years later, in August this year, Smokey will celebrate his milestone birthday.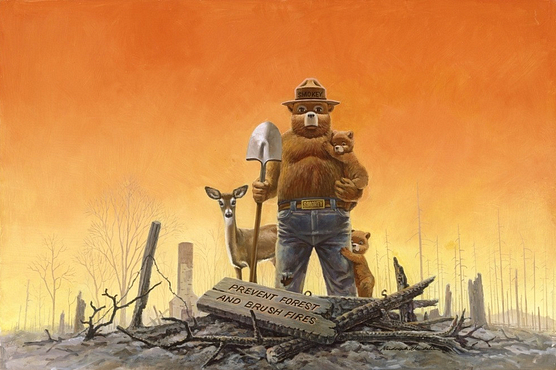 © RUDY WENDELIN
It all started back in 1942 during World War II. Shells from a Japanese submarine exploded close to the Los Padres National Forest in southern California. Forestry officials were afraid future attacks might start widespread forest fires.
Protecting national forests became a matter of high importance because firefighters and able-bodied men were overseas fighting the war. To promote fire prevention awareness, the U.S. Forest Service organized the Cooperative Forest Fire Prevention campaign with the help of the Wartime Advertising Council and the Association of State Foresters.
On Aug. 9, 1944, a bear was picked as the image to represent the campaign and the character eventually was named Smokey after a New York City Fire Department hero, "Smokey" Joe Martin. Illustrator Albert Staehle drew the first Smokey Bear. Posters and various prevention materials were sent around the country promoting fire prevention with Smokey as the new mascot.
The campaign's original catch phrase was "Smokey Says, Care Will Prevent 9 Out of 10 Forest Fires." In 1947, it was changed to "Remember, Only You Can Prevent Forest Fires."
Wisconsin's place in history
The image of Smokey Bear has evolved over the years. During the spring of 1950 in the Lincoln National Forest of New Mexico, a wildfire was started by someone who was careless with a match, cigarette or campfire. A young bear cub found himself caught in the burning fire. He took refuge in a tree and though he managed to stay alive, his paws and hind legs were badly burned.
Warden Ray Bell, one of the firefighters who retrieved the bear cub, was so moved by the little bear's bravery that he named him Hotfoot Teddy. Soon after, the cub was renamed Smokey after the national campaign. He became the living symbol of Smokey Bear, residing at the National Zoo in Washington, D.C., until his death in 1976.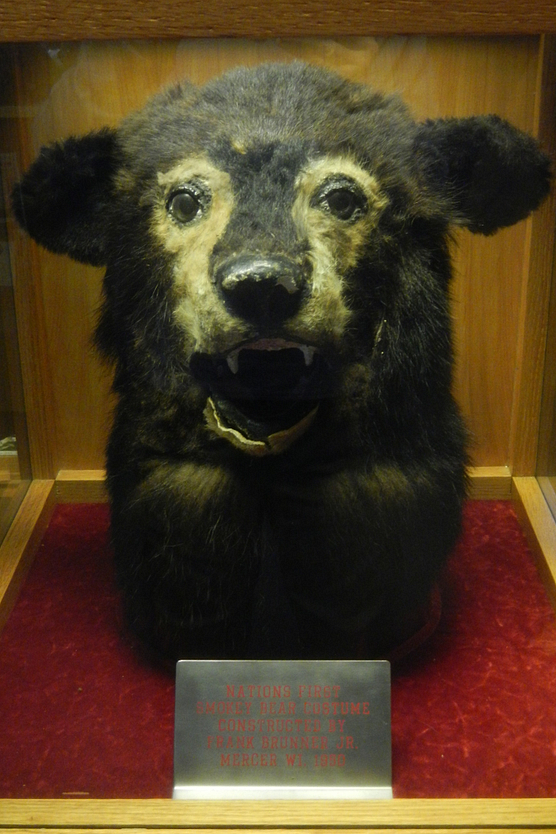 © DNR FILES
Other images of Smokey include those depicted by longtime U.S. Forest Service artist Rudy Wendelin, with some of the most memorable drawn during the 1980s. Beautifully painted landscapes accompany a more human-like Smokey, with kind expressions and pleading words asking the public to protect our forests. Over the years, versions of Smokey have included a cartoon-rapping bear and a computer-generated Smokey that resembled something from a "Planet of the Apes" movie.
The Wisconsin DNR has some unique history with Smokey Bear. In 1950, the Firemen's Convention Parade in Hurley, a town just north of Mercer, debuted a life-sized Smokey Bear statue mounted to a float decorated to look just like a 1948 Smokey poster with the quote: "... and please make people careful, amen." Wisconsin Conservation Department employees in Mercer loved seeing the amazement from children, which gave them the idea to create the very first Smokey Bear costume.
Back then, the suits were made from real bear hides. Now they've evolved to synthetic fur with battery-operated fans that circulate air in the ranger hat and ice-filled "cool packs" for the body. These days, the DNR manages more than 40 Smokey Bear costumes across the landscape, with still more owned and used by fire departments, the U.S. Forest Service and other partners of the agency. Smokey is a popular figure in public appearances statewide.
Smokey has had great success educating the public about preventing fires — the vast, sweeping wildfires of 150 years ago have been significantly decreased. Yes, we still have much devastation as a result of uncontrolled fires, but the challenges today are more related to homes and communities built adjacent to the wildland-urban interface, where structures meet untreated wildlands.
Fine-tuning Smokey's message
Some may feel Smokey has had almost too much success. The message that all fires are bad can actually be a detriment at times because it fails to help educate the public about such forestry tools as prescribed burning.
The use of fire under specified conditions is a good thing, and we use this tool right here in Wisconsin. With proper timing, prescribed burning can control many undesirable woody plants and herbaceous weeds, while stimulating desirable plants, improving wildlife habitat and reducing the potential of damaging wildfires.
In 2001, Smokey changed his slogan from "Only You Can Prevent Forest Fires" to "Only You Can Prevent Wildfires." This helps to differentiate between "good" and "bad" types of fires. The use of the phrase "wildfires" instead of "forest fires" has been growing.
I routinely use Smokey's image to promote a positive image of the DNR and instill the idea of personal responsibility when using fire. One of the easiest ways to prevent a wildfire is to get a burning permit — nearly a third of all wildfires in Wisconsin are caused by people burning debris.
Sharing Smokey's message, considering alternatives to burning or simply encouraging friends and family to be more careful with fire can make a difference. Doing your part will help to ensure Wisconsin's most treasured landscapes — and the people and wildlife who call them home — are safe from devastating, unplanned and unwanted fires.
There is so much we can learn from Smokey Bear's past, and his image and message undoubtedly will evolve again along with our culture and the environment. In the end, we can be assured Smokey has the best of intentions to keep us safe from harm. Cheers to another 75 years, Smokey Bear!
Catherine Koele has been the DNR's wildfire prevention specialist for nearly 18 years. She lives with her husband and two children in Minocqua.
A PARTNERSHIP WORTH CELEBRATING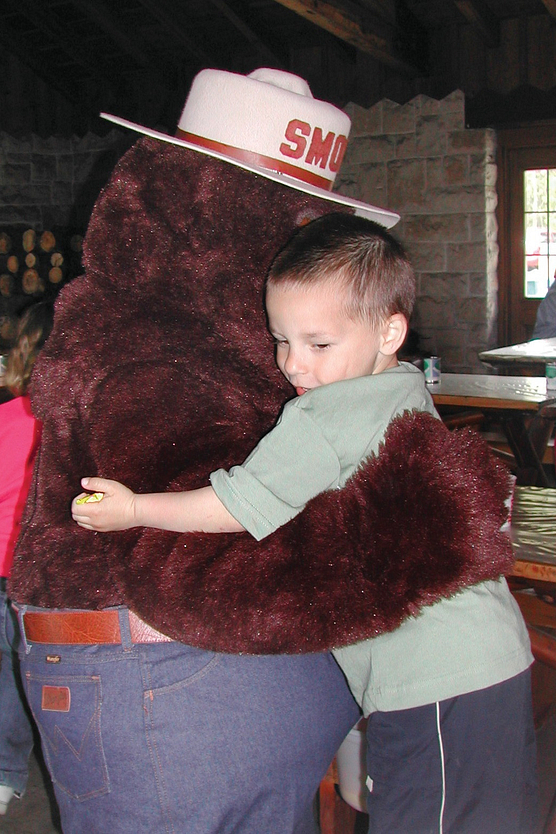 © DNR FILES
Throughout Smokey Bear's 75th birthday year, Smokey himself will be giving back to local communities by celebrating somebody else's birthday! The Department of Natural Resources is partnering with the nonprofit organization Box of Balloons to support fire prevention and the mission to make a child's birthday happy, celebrated and memorable.
Box of Balloons, with 12 chapters across the state, provides birthday boxes to children below poverty level. This year, Box of Balloons will highlight outdoor recreation and offer Smokey Bear-themed birthday boxes for children in pre-kindergarten through second grade. The best part is, each birthday celebration will include a surprise visit by Smokey Bear — played by DNR forestry staff — who also will provide fire prevention activities to engage and entertain children at each party.
This unique partnership will assist both organizations in expanding into rural communities, targeting fire-prone areas of the state in hopes of getting Smokey's message to children while also helping them feel special and celebrated on their birthday.
Requests for birthday boxes are identified by social workers, community leaders and organizers. To learn more about the Box of Balloons' mission or support these efforts, visit Box of balloons.
— Catherine Koele