Investigate and appreciate the wonders on the outside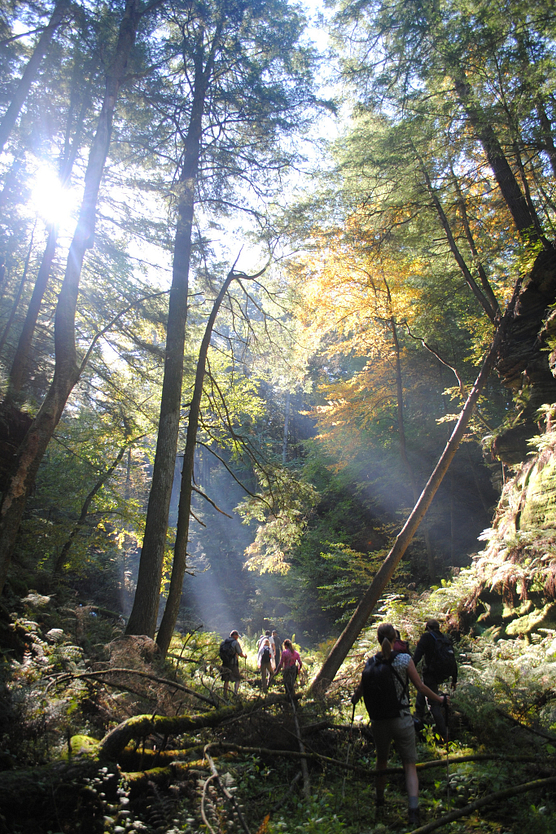 © C. SEELEY
DISCOVER THE BEST OF WISCONSIN ON A NATURAL RESOURCES FOUNDATION FIELD TRIP
Christine Tanzer
With DNR professionals and expert naturalists as your guides, join the Natural Resources Foundation on a field trip to get hands-on and learn in-depth about Wisconsin's lands, waters and wildlife. From frogs and fish to butterflies and birds, from bogs and barrens to prairies and old-growth forests — there are more than 230 field trips offered from April through November. Enjoy this unique opportunity to learn about ecological riches and natural wonders that span all corners of the state. Grab your hiking boots, bicycles and canoe paddles, and explore Wisconsin!
View the list of 234 field trips and register online at WisConservation.org.
About the NRF
The Natural Resources Foundation of Wisconsin is a nonprofit organization that provides sustainable funding for Wisconsin's most imperiled species and public lands, while helping citizens connect with our state's unique natural places. Since 1986, the NRF has:
Contributed more than $7.25 million to public and private conservation efforts to protect the lands, waters and wildlife of Wisconsin;
Developed an active membership of more than 5,000 families who are dedicated to Wisconsin's natural heritage and conservation;
Worked with private donors to create the Wisconsin Conservation Endowment, which includes more than $7 million in assets that permanently conserve lands, protect wildlife and promote conservation;
Coordinated more than 2,600 field trips, where nearly 55,000 attendees have explored natural wonders in all counties of Wisconsin; and
Supported more than 653 grassroots conservation projects and 112 outdoor environmental education opportunities in every county of the state through grant-making efforts.
In addition, the NRF has joined in partnership with the Department of Natural Resources to grow the Cherish Wisconsin Outdoors Fund to nearly $600,000. This endowment is dedicated to the care and management of public lands in Wisconsin and is funded through small donations made by hunters, anglers and campers when purchasing their annual licenses.
Learn more or donate at CherishWisconsin.org.
Planning is easy as 1, 2, 3
1 — PICK YOUR FIELD TRIPS. Trips are color-coded to provide information about physical demands, from easy to extreme. Each trip has a registration fee listed; some are fundraisers to support conservation or have an additional fee for equipment rental.
2 — BECOME A MEMBER OF THE NATURAL RESOURCES FOUNDATION OF WISCONSIN. Field trips are only open to members of the NRF and their guests. Easily become a member online at WisConservation.org. with a $25 tax-deductible donation. Your membership donation supports conservation projects across the state. (Note: Receiving or subscribing to this magazine does not mean you are a member of the NRF.) Trips fill quickly, so for the best selection become a member before registration opens.
3 — REGISTER FOR YOUR TRIPS AT WISCONSERVATION.ORG STARTING AT NOON, MARCH 27. Click on the "Register for Field Trips" link. The NRF does not accept phone or email registrations.
Get ready! Field trip registration opens at noon, March 27. See the list and sign up at WisConservation.org.
Questions? Call 608-409-3122 or email FieldTrips@WisConservation.org.