Sand Lake legacy
FORMER CAMPER RETURNS TO WISCONSIN'S NORTHWOODS TO OVERSEE SUMMER EXPERIENCE FOR FUTURE GENERATIONS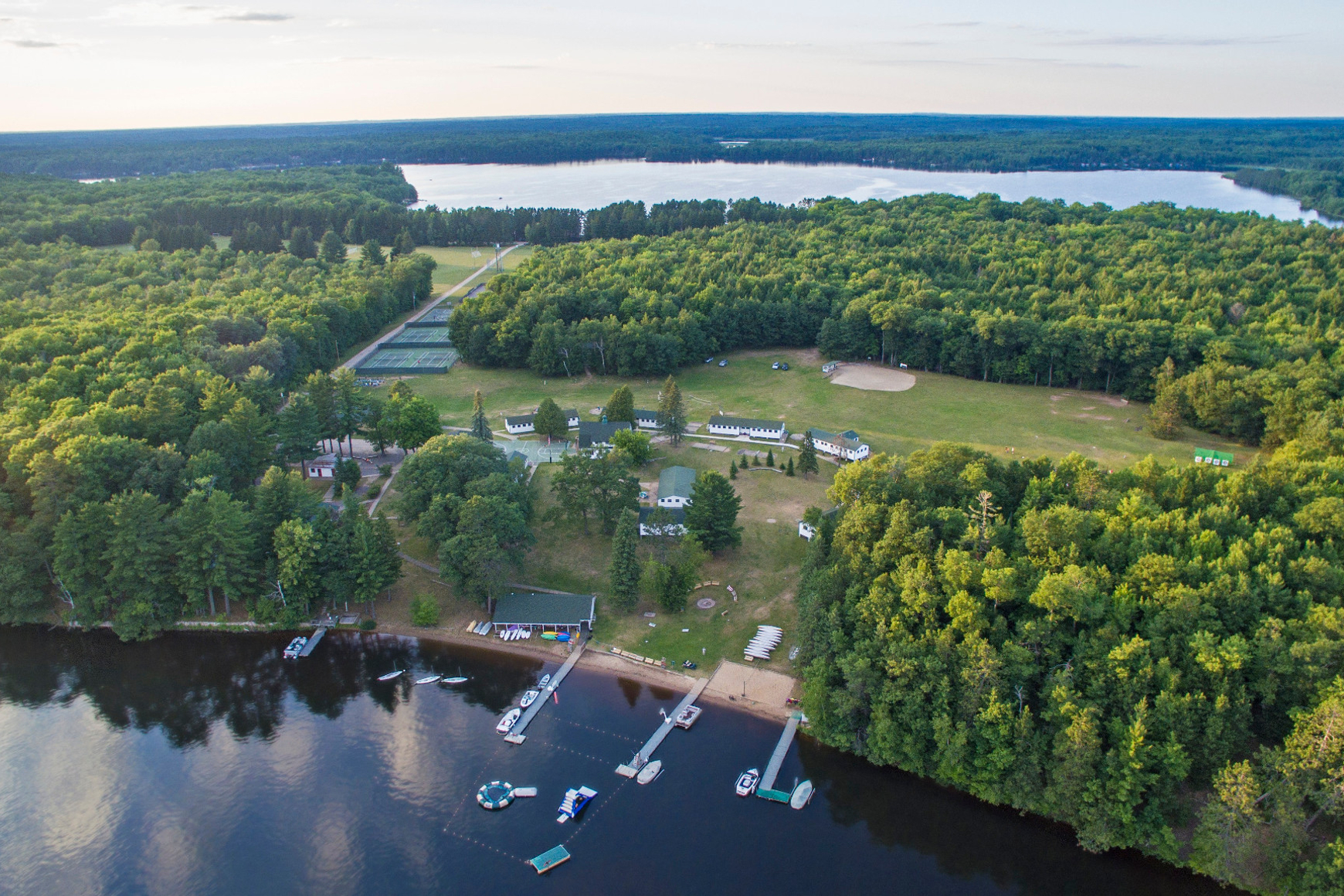 © COURTESY OF JASON FELDGREBER
In the summer of 1997, Jason Feldgreber went away to overnight camp in Eagle River. Camp Menominee was only five hours from his parents' house in suburban Chicago, but it looked like another world through the eyes of a 10 year old.
Long before six weeks passed and it was time to head home, Feldgreber had fallen in love with the Northwoods and concluded "CM" was one of the greatest places on Earth. So much so, he returned every summer for more than a dozen years — working his way up from camper to counselor-in-training to counselor to associate director.
After graduating high school, he attended the University of Texas. Upon earning his degree in accounting and eventually his master's degree, he followed the "expected" path and began his career at a major corporation. But those childhood summers spent on the shores of Sand Lake were never far from his heart or mind.
In 2013, the young accountant took a life-changing leap. He traded in his suit and briefcase for shorts and a megaphone and went to work for a camp on the East Coast. Two years later — nearly 20 years since that first unforgettable summer in Eagle River — Feldgreber took an even greater leap. He purchased Camp Menominee.
At the age of 28, he was now the proud owner of 65 acres of land in the Northwoods of Wisconsin. But this was about much more than investing in real estate.
Dating back to 1928, CM's previous owners — the Wassermans, Kleins and Kanefskys — had all been hands-on leaders who helped shape the lives of many young people. Feldgreber was eager to carry on that legacy. So, in addition to buying the property, he took on the responsibility of running the camp's day-to-day operations — which includes overseeing approximately 250 boys between 7 and 16 years old as well as 70 employees every summer.
Now in his fifth year at the helm of Camp Menominee, Feldgreber sat down for an interview with author (and CM alum) Greg Siegman to talk about the full-circle journey that led him back to Wisconsin and to reflect on his efforts to introduce new generations of boys to the Northwoods.
GREG SIEGMAN: Do you remember the ride up to Eagle River for your first summer as a camper at Camp Menominee?
JASON FELDGREBER: I do. We were about 20 minutes from camp when the nerves kicked in. When we stepped off the bus, I saw a lot of older campers greeting each other, embracing and reuniting after being apart for 10 months. I felt like a bit of an outsider at that moment. That feeling didn't last long.
GS: What was the first thing you noticed when you arrived and got the chance to look around?
JF: On the bus, as we were getting closer to camp, I was struck by the woods. They were spectacular. When we pulled in, I was taken by how green the grass was and how vast the fields were. It was a gorgeous, sunny day.
GS: Was there a particular person at CM who shaped your appreciation for Wisconsin's outdoors?
JF: Every year, Koz (the camp's waterfront director) gave a waterfront safety talk. During that talk, he'd explain how our camp was connected to the world outside of it. That always stuck with me. Beyond that, I think my appreciation for Wisconsin's natural resources has to do with the overall values we were taught at camp. We always say, "Leave places cleaner than we found them." Eagle River is where we learned to canoe, swim, build a fire, camp and grow plant life. We want to preserve this sacred space for generations to come.
GS: The world has changed a lot since you were a camper. One big change has been technology. Cell phones and tablets and social media have become a prominent — even overwhelming — part of so many kids' lives. Does that get in the way of their experience at CM?
JF: I couldn't agree more that technology has become overwhelming for kids today. They spend so much time glued to screens. Our policy is "no screens" for our campers. Tech has its advantages, but the month or two of unplugged time can be so beneficial for them. The ironic thing is when the boys who have phones turn them in at the start of camp, they complain for five minutes, but then they don't bring it up again all summer. They are so engaged with each other and with camp activities that they don't miss their phones at all.
GS: From a distance, it might seem like those activities are just "fun and games," but the kids also learn a lot along the way. For those who haven't been through the experience or had a child go through it yet, can you explain how a summer at overnight camp can have such a meaningful, life-changing impact on kids?
JF: I think it comes down to two things: interpersonal growth and relationships. At camp, you learn about independence, leadership, problem solving, teamwork, community involvement and so many other "soft skills" that parents would like their sons to learn as they grow up. You also learn how to work through your own problems without your parents holding your hand, which is such an important thing to learn in life. The best part is the kids get to develop these skills while having an amazing time. It also creates relationships that will bond you for life.
GS: Every year, CM participates in a two-day competition with Camp Kawaga. Many Menominee alums say, looking back, that competition was one of their greatest childhood memories —even if they lost — and helped cement those lifelong bonds you are talking about. At a time when some groups give "participation" trophies to kids, why do you feel kids benefit in the long run from a competition where one team wins and one team loses?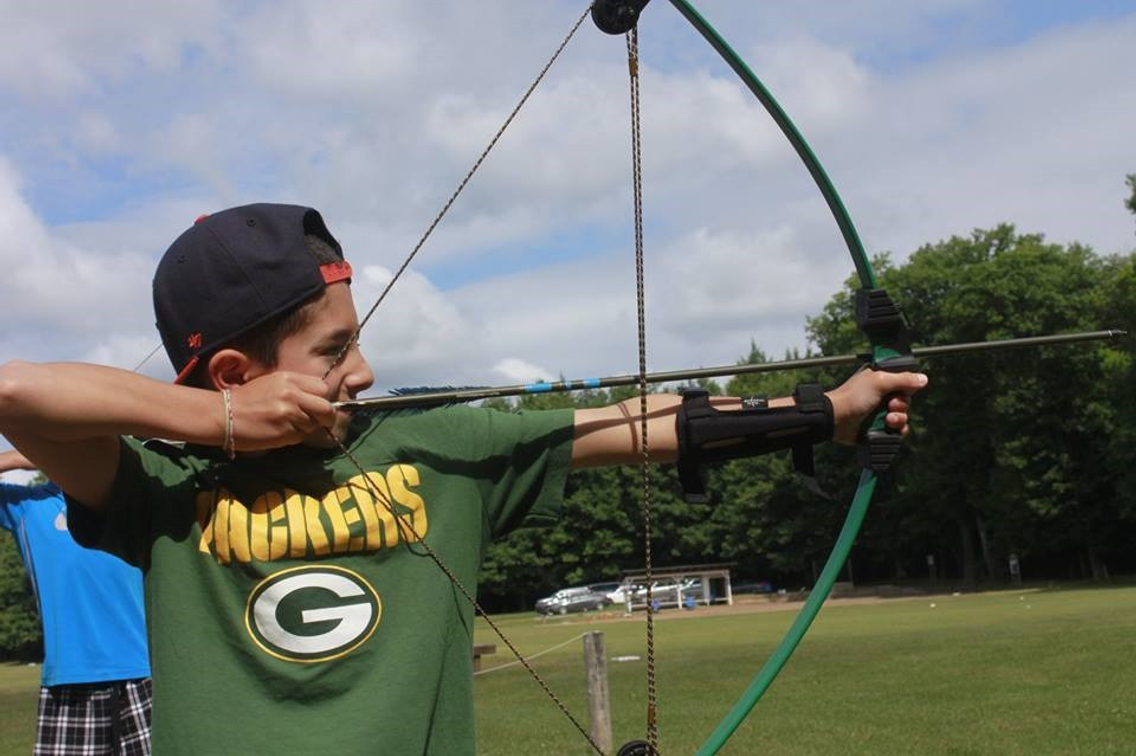 © COURTESY OF JASON FELDGREBER
JF: Let me start by saying I think kids today are lucky to have parents who love and care for them so much that they'd go to any length to protect and guide them, but I think if we try to protect kids from ever struggling or experiencing any defeat, it's often to the kids' detriment. Enter camp, and this competition. We come together as Team Menominee, prepare as best as we can, play hard, pick up our teammates and cheer on our friends. We win as a team, we lose as a team. You will never see us focusing on individual effort, especially in a loss. This teaches our kids how to compete the right way, and it teaches them what it means to be a contributing member of your community. In years we have lost, we praise our boys for playing their hardest and teach them that results are not the end-all-be-all. We talk about ways we can improve and what we can do different next year, and we all get better because of it.
GS: The counselors play a big role in teaching those lessons. That requires them to be a lot more than just talented at tennis or archery. When you recruit counselors, what do you look for?
JF: It is important for our staff to have the relevant skills, but it's way more important to us that they can be responsible caregivers for the boys. We love to see someone who has coaching experience or who already has worked with kids. We want staff members to be able to truly empathize with our kids. We look for leadership, a sense of community, a willingness to step outside your comfort zone and a true desire to work harder than you have ever worked for a common goal. We also know this job provides an amazing growth experience for our staff so we try to make sure we are helping them meet their goals as well.
GS: Speaking of goals, was owning and running your childhood camp always part of the career path you planned out in your head while you studied in school and worked in accounting — or did it seem like too much of a pipe dream to actually view it as a realistic goal?
JF: In the back of my mind, owning the camp I went to as a boy was always the dream, but I also had to be realistic about whether that opportunity would present itself. I was passionate about the industry and working with kids. So, no matter what, my goal was to own a camp, even if it wasn't Camp Menominee. But I got lucky with the timing. CM became available, and I got to fulfill my dream.
GS: Is there a specific piece of advice that has resonated with you throughout these first few years as the camp's owner and director?
JF: You can't do this job alone.
GS: How do you spend your time when summer is over?
JF: Running a camp is actually a year-round process. Between September and May, we evaluate how camp went and address issues that parents bring to our attention. We re-enroll campers, host reunions and travel to meet families of potential new campers. We budget for maintenance and groundskeeping projects. We rehire old staff and recruit new staff — which includes domestic and international travel for staffing fairs. We organize staff orientation. We plan the next summer's camp. We get the property ready for a new camp season — paint, mow, clean, you name it.
GS: You mention the budget. As a business owner, I'm sure the budget is something you always have in the back of your mind, especially with your background in accounting. And yet, you offer camp scholarships known as "camperships" for some kids with financial need. Why do you feel so strongly about doing that, even though it doesn't add to the "fiscal bottom line" of the business?
JF: I do what I do because I believe in the power of camp and the impact it can have on our campers' lives. A family's financial situation should not preclude their son from having this incredible experience So, we have committed to opening spots for campers whose parents cannot afford it. Through our partnerships with the Nate Wasserman Camp Fund and Camp for All Kids, we offer about 15-20 camperships each summer. Even if we are operating at capacity, we still ensure that we make room for scholarship campers each summer.
GS: Say you had 24 hours all to yourself during the summer and you could spend it anywhere in Wisconsin. Other than CM, where would you go?
JF: I would go rafting on the Peshtigo River and Menominee River. I have incredible memories of doing it as a child.
GS: As a camp owner, you're always going to be associated with summertime. Other than summer, what is your favorite time of year in Wisconsin?
JF: Definitely the winter. Camp is covered in 2 or 3 feet of snow. The lakes are frozen. We are in the snowmobile capital of the world. It is unlike any place on Earth during the winter.
GS: Do you have a set plan for how long you'd like to own Camp Menominee?
JF: Forever. I'd like to pass it down to my kids someday.
Greg Siegman, a former Camp Menominee camper, is co-author of "The First Thirty." Find his website at The First Thirty.
INFORMATION
For more on Camp Menominee, visit Menominee.