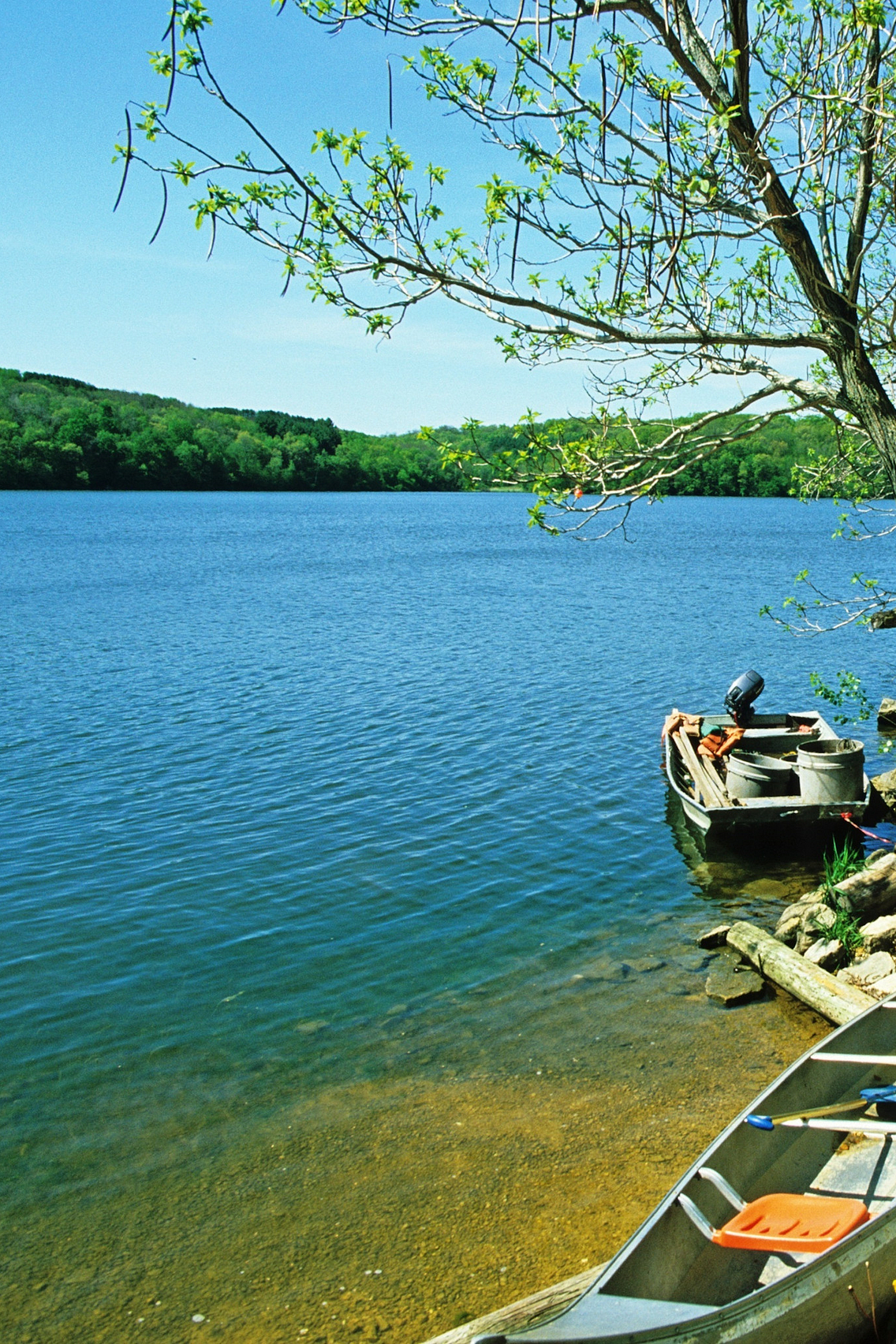 © DNR FILES
Yellowstone Lake State Park
On June 14, 1954 — Flag Day 65 years ago — the gates of a newly constructed dam on the Yellowstone River in southwest Wisconsin were closed. The resulting body of water that formed was the state's 8,677th lake, Yellowstone Lake, and eventually led to the creation of Yellowstone Lake State Park.
The 455-acre lake is the centerpiece of the park, which has an additional 1,000 acres. The lake includes a swimming beach and accommodates all types of boating, from kayaks to ski boats. In summer, concessions and boat rentals can be found at the lake's east end.
Fishing also is popular at Yellowstone Lake, in Lafayette County near Blanchardville. The lake boasts an abundance of walleye, crappies and other game fish, plus bass, muskies, northern pike, bluegill and channel catfish.
Basic fishing equipment provided through the DNR's Tackle Loaner Program is available for free use from the park office. Some species are catch-and-release only at the lake and part of the feeder river; check the park website for regulations and bag limits — Yellowstone Lake State Park.
Open year-round, the park has more than 13 miles of hiking trails and 4 miles of off-road biking trails. In winter, 5 miles of trails are groomed for cross-country skiing when conditions allow and 7 miles of trails are open when possible for snowmobiling, connecting to other trails in Lafayette County.
In past years, Yellowstone Lake State Park has been known for little brown bats roosting in more than 30 bat houses, though white-nose syndrome has taken a toll on population numbers.
From April through November, the park is a scenic spot for camping, with 128 individual sites and five group sites plus an accessible shelter. Campsite and shelter reservations may be made through the Camis system now being used by DNR — 1-888-947-2757 or Wisconsin State Park System reservations.
Enhancing the area is the 220-acre Yellowstone Savanna State Natural Area within the park along the lake's northeast shoreline. An additional 4,000 acres adjacent to the park comprises the Yellowstone Wildlife Area, which has hiking, birding, horse trails, wildlife viewing, hunting and a DNR-owned shooting range.
— Andrea Zani