Bullish on elk
FUTURE LOOKS BRIGHT FOR STATE HERDS AFTER MOST RECENT RELOCATION
DNR staff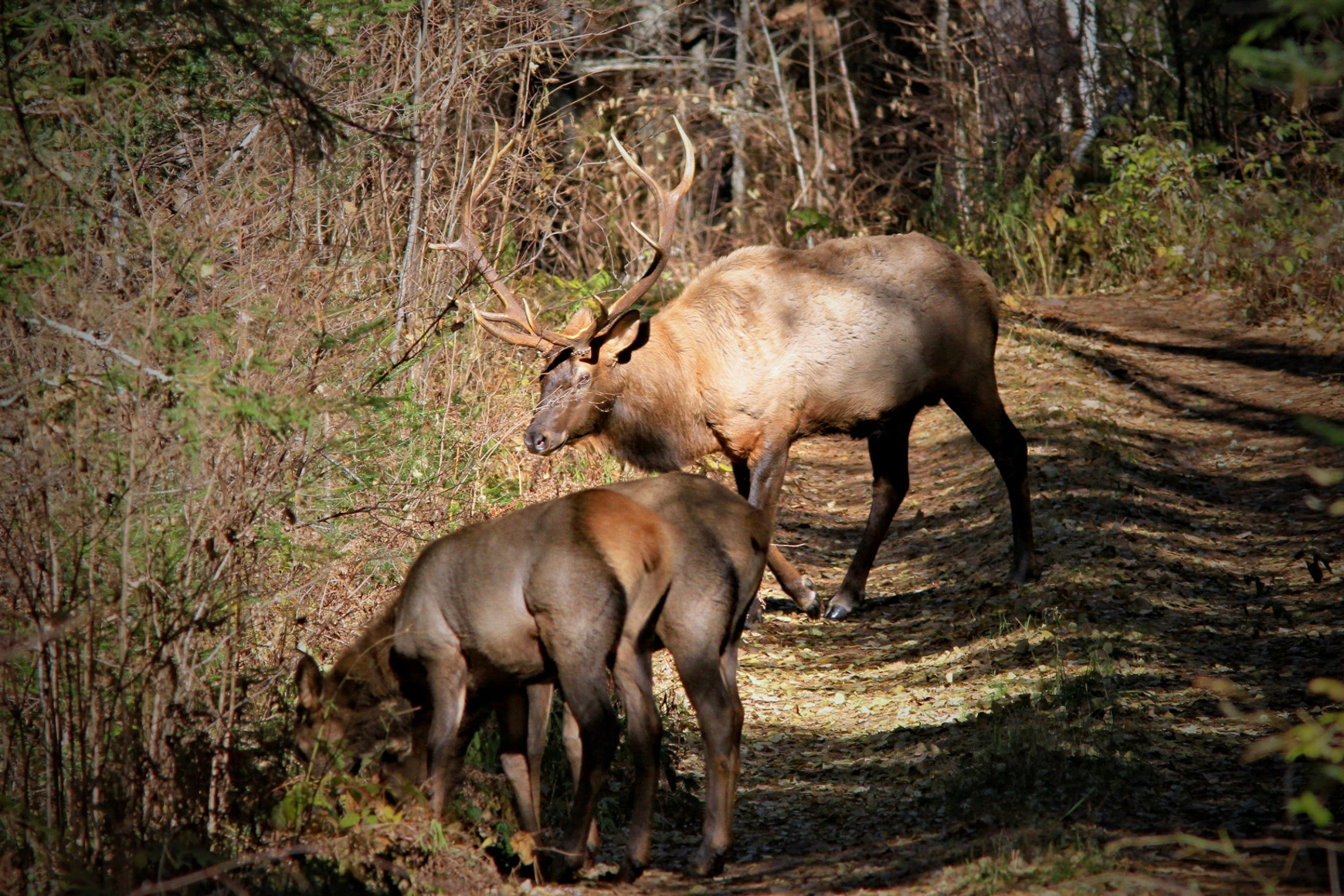 If a chilly September morning with skim ice on the puddles and fog lifting off the creeks gets you excited, you just might have a little elk blood running through your veins.
It's a special and exciting time of year because the elk rut is on. If you've never heard the shrill "bugling" of a bull elk as he warns rival bulls and gathers his harem during the rut, you are missing out on this special — and fairly new — experience that can be found in two Wisconsin wilderness areas.
And, oh, my, what an effort it took to make it possible!
Elk were first reintroduced to Wisconsin in 1995 in the Clam Lake area, within the Chequamegon-Nicolet National Forest. This year, the DNR is wrapping up a five-year agreement with the Kentucky Department of Fish and Wildlife Resources and multiple partners to add more wild elk from Kentucky to Wisconsin's existing northern herd as an added boost to the population.
In between those efforts, a second herd was added to Wisconsin in centrally located Jackson County.
"It's been just an incredible effort by so many great partners," said Kevin Wallenfang, DNR elk ecologist and reintroduction coordinator. "We accomplished our goal of releasing more than 150 wild elk and we did so within budget. Not that we didn't have our challenges, but we pulled it off without major problems faced by other reintroductions.
"This effort has been a poster child for great partnerships, as everyone did their part to achieve a common goal for the elk and people who enjoy them."
Public support for elk reintroduction is high. A recent statewide survey indicates a large majority of Wisconsin residents fully or somewhat support the work.
Live long and prosper
The results are already worth the effort and are showing great promise, Wallenfang said.
"We released 73 elk in Jackson County in 2015 and 2016. After those first few years of learning the hazards of the area that resulted in some expected losses, the herd is now seeing increased survival and annual growth," he said. "This year's summer projections put the herd at approximately 75 to 80 animals."
Survival rates for elk calves and adults alike have been encouraging, Wallenfang added.
"Last year, we saw incredible survival of calves in the Black River herd when we confirmed 17 births. All of them wear a GPS tracking collar and all 17 are alive and well. Adult survival is also on the rise."
Wallenfang said he also is excited about what the reintroduction has meant to the original northern herd, started with the release of 25 wild Michigan elk back in 1995.
"The original Clam Lake herd is occupying more land including a growing herd down in the Flambeau River State Forest, where we have moved some Wisconsin elk and added new Kentucky elk," he said.
Just this year, the last of the original 25 Michigan elk died in Ashland County. The elk was known as Cow No. 13 and called "the orneriest cow elk I ever met," by DNR wildlife biologist Laine Stowell, who encountered the elk several times during his monitoring work with the herd.
"Not only is Cow No. 13 the oldest wild elk I've ever heard of, but she's contributed immensely to the prosperity of our Clam Lake herd," Stowell said.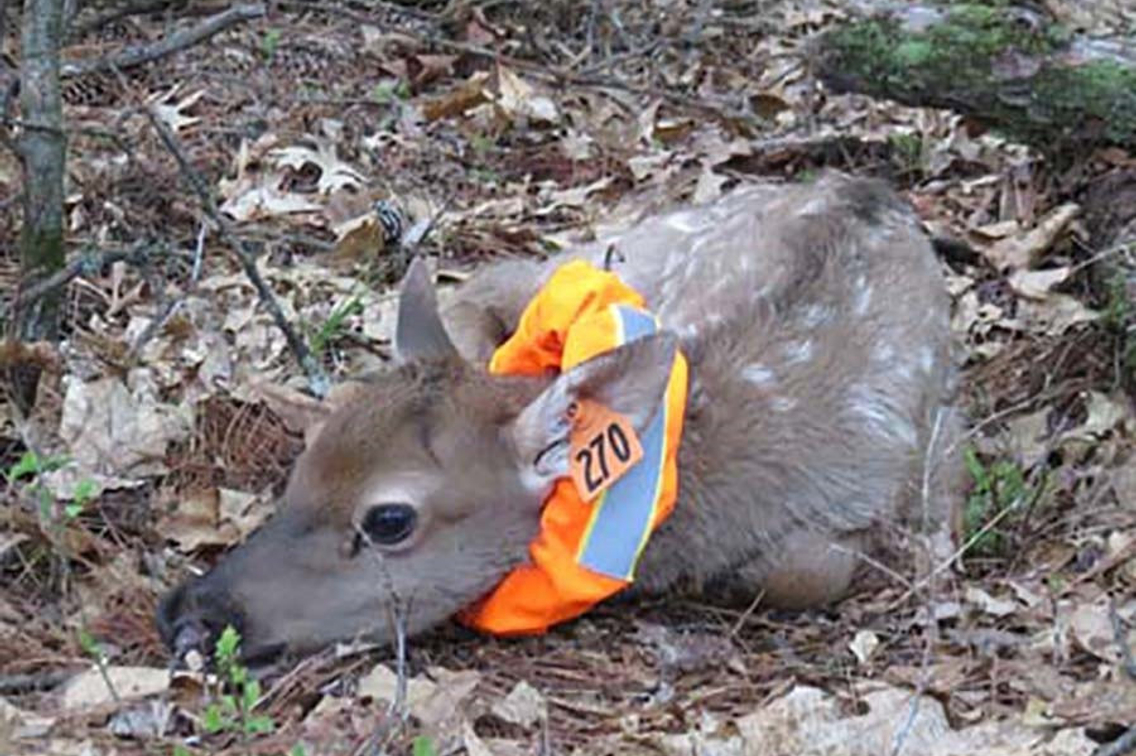 © DNR FILES
That northern herd is now approaching 300 elk, including more than 60 of this year's Kentucky transplants and their calves, Wallenfang said.
"With over 100 breeding age cows in the herd, we are hoping to see significant growth in the years to come," he noted.
The success of elk reintroduction in Wisconsin allowed the first limited managed elk hunt in state history in 2018. Application fees generated more than $350,000 that is being used for habitat, management and research purposes to benefit both herds.
This fall will again bring a limited hunt to the northern herd only, with four lucky hunters awarded a bull-only elk license through a random drawing from about 23,000 Wisconsin residents who applied.
"I would like to sincerely thank all those who applied for an elk license," Wallenfang said. "I personally spoke with each winner and they all recognize what a special and exciting experience the hunt will be. I'm also excited that we'll have our first female elk hunter this year!"
A fifth license was awarded through a raffle conducted by the Rocky Mountain Elk Foundation and five additional bulls are available for harvest by Chippewa Tribes. For privacy, the DNR does not release the names of its elk license recipients.
While a few lucky hunters will again have the opportunity to pursue elk this fall, many hundreds of people will search the forests just to catch a glimpse of a big rutting bull or hear their whistling bugles in the early morning light.
These are simple yet invaluable pleasures to enjoy, now that the elk are back in Wisconsin, and this is the best time of year to try your luck.
INFORMATION
For more on elk in Wisconsin, including reintroduction efforts, population updates, tips for viewing and elk hunting information, check Elk in Wisconsin.