DNR CONNECTS WITH SOCIAL MEDIA
Sawyer Briel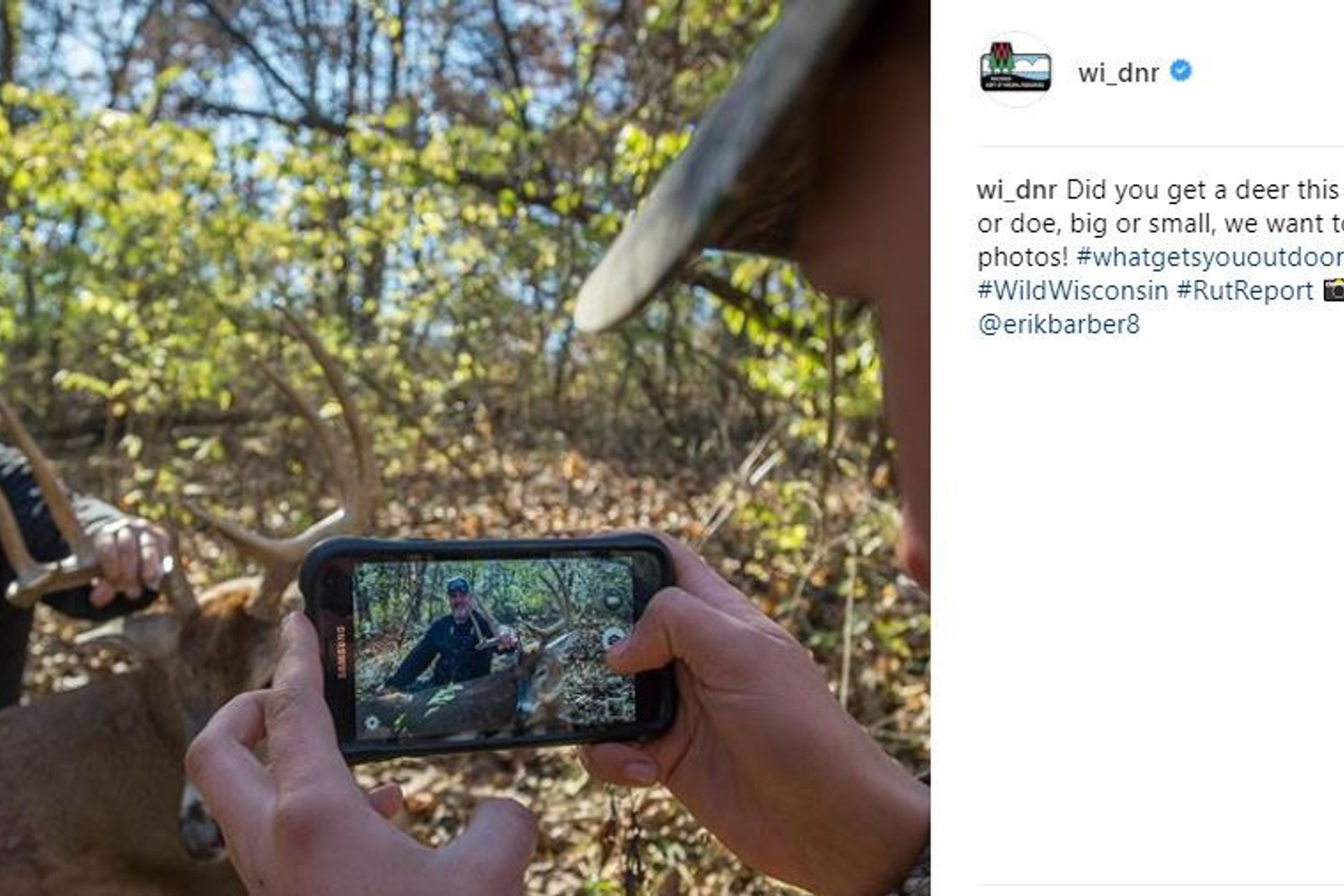 Choose a direction — left, right, up, down. Look in that direction and chances are you'll see someone using a smartphone, tablet, laptop or some other type of technology.
Like it or not, the world we live in today is dominated by what's new, what's popular and what's easy. But with new technology comes new opportunity.
Here at the Department of Natural Resources, we're working hard to use today's technology to keep people interested and engaged in Wisconsin's beautiful outdoors. The new Hunt Wild Wisconsin mobile app is our latest example of that — see DNR's next 50: Thriving in a digital age for details.
Another big way we are striving to do this is through social media. Everyone has their opinion of social media and its role in society. Whether you think it's the greatest thing since sliced bread or the downfall of Western civilization as we know it, there's no denying social media is incredibly useful to share stories, engage with others and learn something new.
The beauty of social media lies in the fact that there truly is something for everyone. Are you a budding wildlife photographer? Instagram has your name written all over it. Do you take your GoPro video camera on every hike? Sounds like YouTube is right up your alley. We now have more opportunities than ever to find a community that suits us online.
How does this relate to the DNR? Quite simply, we need to reach people. We need to share content. We need to share timely updates. We need to share news about our daily work. We need to do all these things, and we need to do them efficiently.
Enter social media. In a time when it has become seemingly more difficult than ever to get people interested in an outdoor lifestyle, we're using social media to show you can make your way into the great outdoors and bring your smartphone with you. In fact, we want you to do just that!
So, time for a roll call. What tools are being used by DNR to reach all of you, our customers? We'd like to think we have a pretty diverse portfolio, and we're always looking to learn more and expand when it makes sense. Here's where we stand at the moment.
What does it all mean?
The moral of the story here is that the world is changing at a rapid pace, not just in terms of how we interact with others but how we provide and receive information. Here at DNR, we know as well as anyone that to stay relevant and continue to get people interested in the outdoors, we need to adapt.
If you've already checked out some of our social media content and enjoyed it, we're flattered. It also means we're doing our job. If you haven't given us a look or a "Like" yet, we hope you will soon.
With social media, we're able to show just how much there is to this agency and provide a direct channel to interact with our users — you!
Sawyer Briel is an administrative policy coordinator who handles communications for DNR's Division of Fish, Wildlife and Parks.