Early advantages
CATCH-AND-RELEASE TROUT SEASON ON THE MECAN RIVER BRINGS BEST OF TIMES IN WORST OF CONDITIONS
Jacob Friede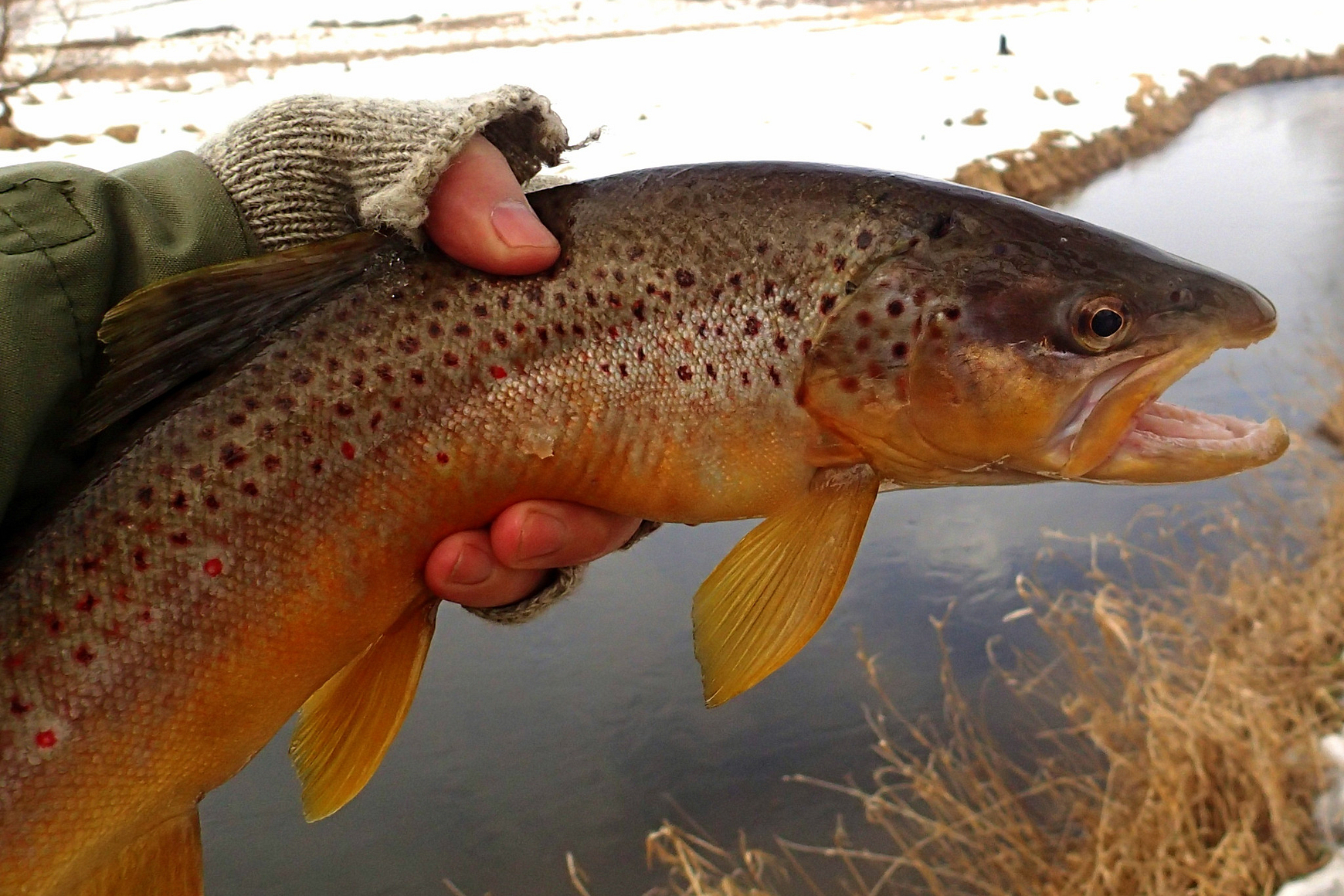 For the last several years, the Department of Natural Resources has offered an early catch-and-release trout season on many of the state's inland streams. Beginning in January and ending in early May, it allows anglers the chance to pursue trout during some of the best times to be on the creek, even though winter and early spring can often bring Wisconsin's worst conditions.
But trout are renowned for being found when pursuit is put most to the test, whether that be making an impossible cast between branches or pulling it off with frozen hands.
This past early season, I found such challenges in Marquette County, on the Mecan River. I also found fish that proved the tough task was worth every bit of its trouble.
The Mecan is a masterpiece of a stream that makes an angler work. To get to its deep-cut banks and hidden holes, you have to traverse endless thickets of willows through which the river winds. The benefit of the cold early season is that the lowlands are still frozen, allowing travel through bogs that would bury a person in the summer.
I spent weeks clawing through branches on treacherous trails recently blazed by deer, keeping my eyes open for enough space to cast. When I found such a spot, I'd approach the river, which often moved with a raging current due to snow melt and early spring rains.
High water is another advantage of the early trout season. Floods can fill every bit of space under the branches and banks, multiplying the number of deep holes where fish might hide.
On the Mecan, I made many casts to spots that were dry ground most of the year. More often than not, I was able to coax a trout from these seasonal homes.
What's more, it was the big fish that were up for chasing spinners through the strong current. During the regular harvest season, a trout has to be a foot in length to keep on the Mecan, and almost every fish I caught exceeded this requirement.
Those are some good-sized brown trout on that river, the kind that cause you to ignore a blizzard with 30-mile-per-hour winds. That happened to me one morning in late April, when I emerged from the woods and directly into a storm crashing through the river plain.
Branches were flying under a frigid sky that cycled through rain, sleet and snow. Nothing could be heard except the roaring wind — until a frightening snap broke through the fury. Just downstream, a violent gust had blown over a full tree. Not long after, another tree went down and I finally doubted my safety.
Amid the chaos, I caught sight of a back-swirl that beckoned me toward one more cast. It appeared like the calmest place in the woods. The eye of the storm was in the water.
After my cast it felt like another sort of blizzard, this one hitting the spinner as I reeled in a 17-inch monster.
As the Mecan proved, the catch-and-release season can bring tests of temperatures and other conditions. But the trout found in the creek when those challenges are met at its banks may likely blow you away.
Jacob Friede is an outdoors writer who hunts and fishes near his home in Beaver Dam.