Freeze frames
IMAGES OF WINTRY SCENES CAPTURE WISCONSIN'S FROZEN SPLENDOR
Story by Andrea Zani and photos by Tim Sweet
Don't look now but winter is at our doorstep. That means literally, in the case of the incredible photo of ice shoves featured with this story. The other photos show winter all around and at its frozen best.
Taken by Tim Sweet, a magazine contributor from Appleton, the images capture scenes on central Wisconsin's Lake Winnebago, Lake Michigan, Door County and elsewhere. They represent some of the best winter in Wisconsin has to offer: Ice fishing and other outdoor activities, and seasonal beauty that just can't be found in more temperate locations.
We hope you enjoy these cold snaps and, more importantly, enjoy the winter!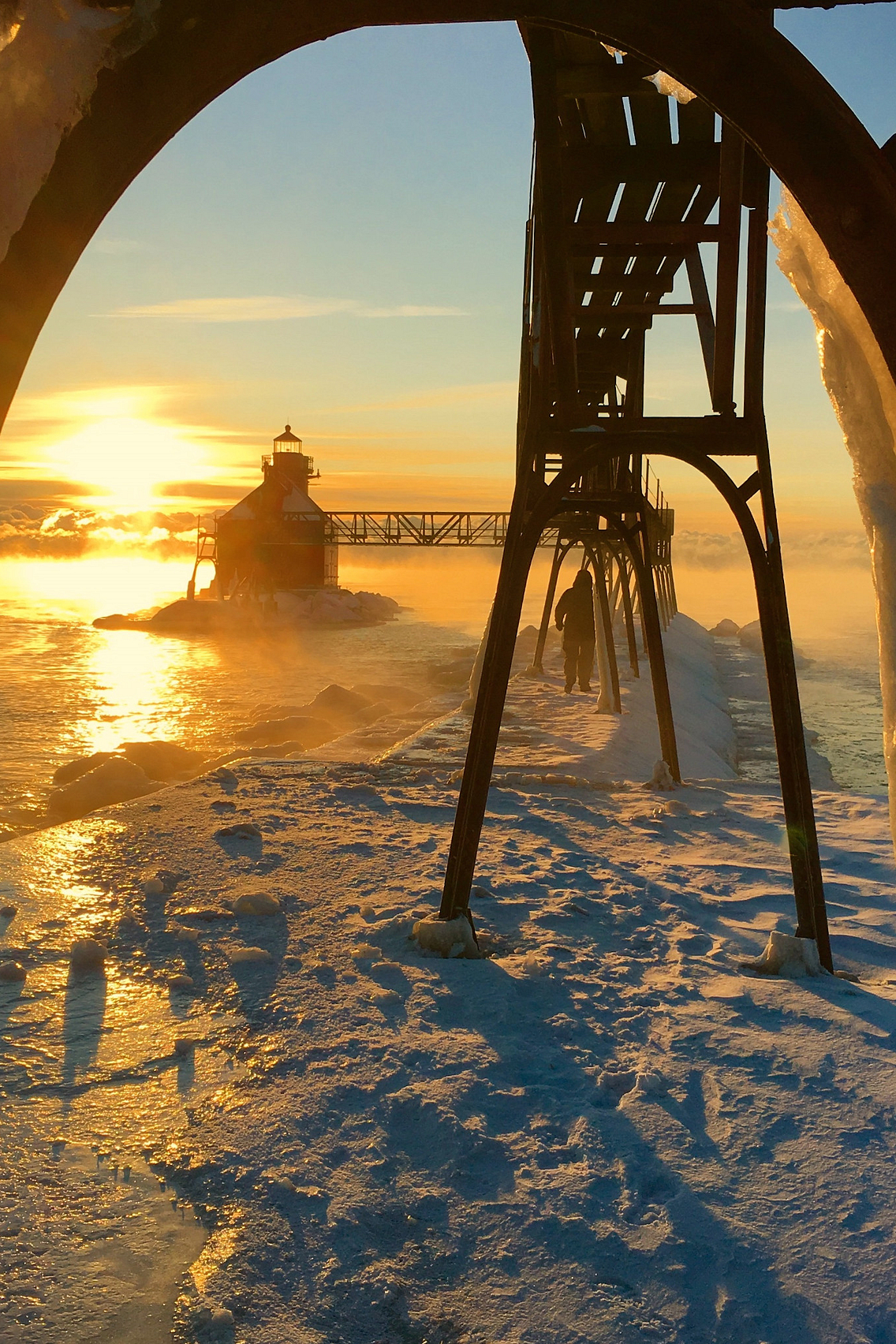 Ice House
Anything to avoid "Death's Door," especially in winter. The Sturgeon Bay Ship Canal, a seven-mile stretch completed in the late 1800s, allows ships passage from Lake Michigan to Green Bay without having to go around the Door Peninsula, that far more dangerous northern passage known as "Death's Door." Several lighthouses mark the way along the canal including the North Pierhead Light on the Lake Michigan end. The distinguished red structure dating to 1881 is located at a fully operational U.S. Coast Guard station. The light has been automated since 1972; only the lower level break wall area is open to the public.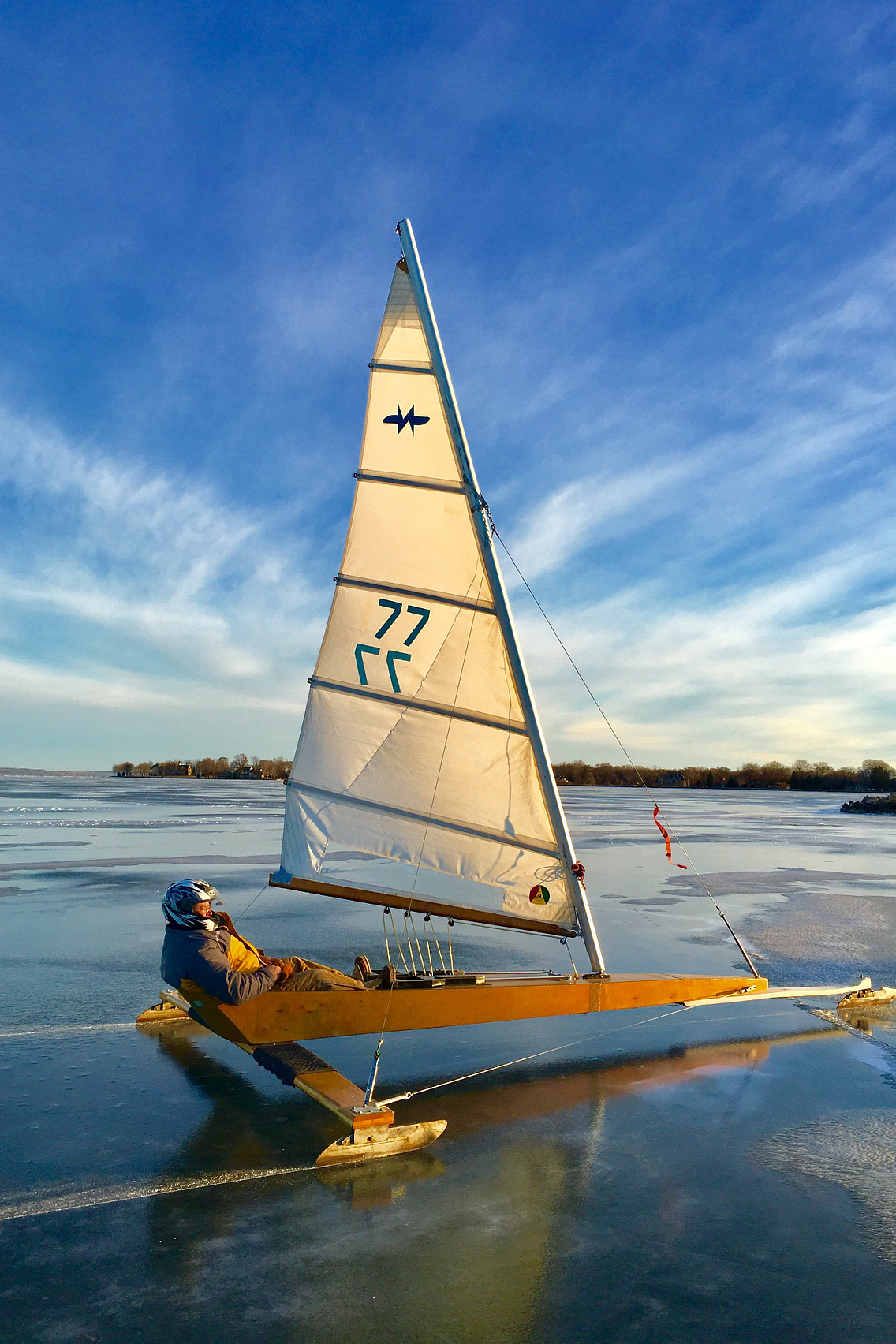 Ice Boating
When winter's frigid winds whip themselves into a frenzy and broad sheets of thick, clear ice glisten in the sun, it's the perfect time to ... go boating? If it's ice boating, the answer is a resounding yes. Such conditions are perfect for the sport that puts sailing into a deep-freeze. Ice boats are like sail boats in most ways, except they use runners, or skates, to glide along over the ice. The boats come in several classes, including the popular and common DN, and A-, B- and C-class "skeeters," some of the fastest boats on ice. Winds can push even recreational ice boats to speeds topping 50 mph and some racing skeeters have been clocked at more than 100 mph. In Wisconsin, when conditions are right, ice boats can be found in places such as Lake Winnebago, Pewaukee Lake, Geneva Lake and Madison's Yahara Chain of Lakes, as well as the Great Lakes, Michigan and Superior.
Ice Breaker
At 1,000 feet long with a carrying capacity of more than 63,000 gross tons, the M/V Mesabi Miner, a motor vessel of the Interlake Steamship Co., is a Great Lakes monster. Built in 1977, it travels four of the five lakes moving cargo such as coal and iron ore to dozens of ports. It's among a class of ships, Great Lakes freighters, whose history is entrenched in upper Midwest lore — what fan of '70s music can't hum a few bars of Gordon Lightfoot's "Wreck of the Edmund Fitzgerald"? Because of the kind of weather that delivered that ship its fateful blow, lake freighters do generally face a lull in action in the heart of winter, mostly mid-January to late March. The Soo Locks connecting Lake Superior to the lower Great Lakes and the Welland Canal joining lakes Erie and Ontario are closed and boats layup, many in Door County's Sturgeon Bay, to undergo annual maintenance before fitting out again for another season.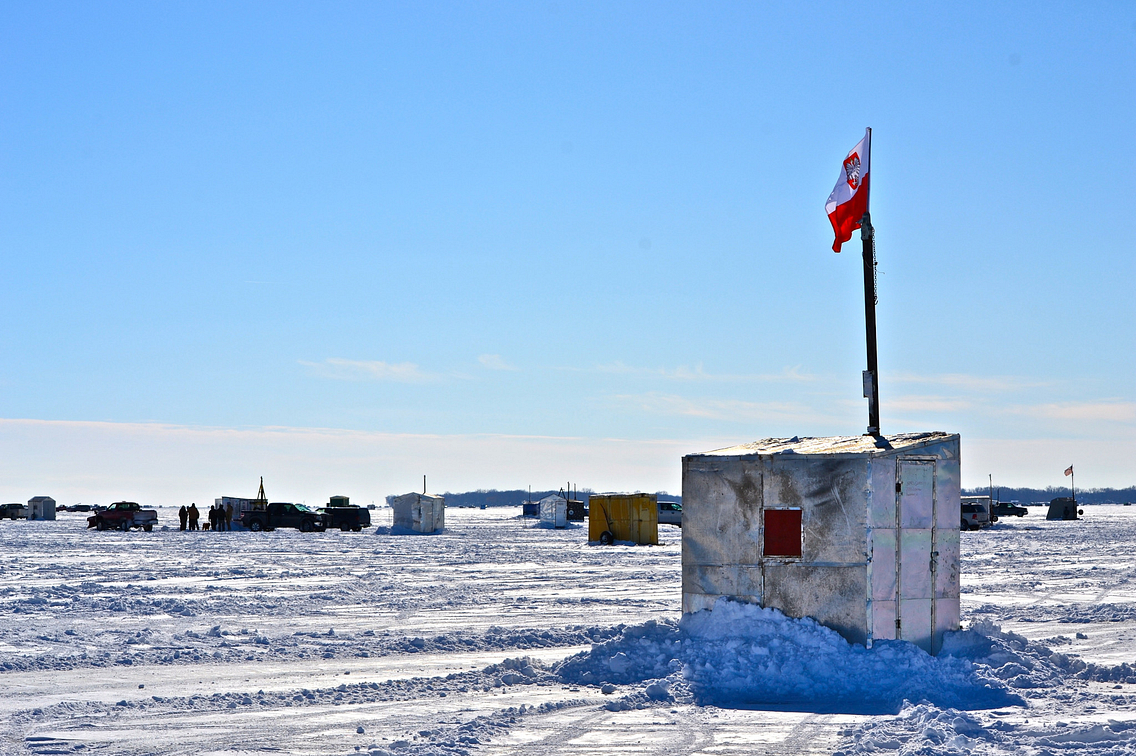 Ice Shanty 1
The only-in-Wisconsin musical hit "Guys on Ice" has given many an audience member a chuckle or two about what might go on inside the fishing shanty. Originally developed for the theater company that performs at Peninsula State Park, "Guys on Ice" follows the characters Marvin and Lloyd as they fish and philosophize — and sing such tunes as "Fish Is a Miracle Food," "The Wishing Hole" and "The One That Got Away." It's a humorous look at an activity taken entirely seriously by ice-fishing die-hards: shanty life. With so much time spent by many out on the ice, it's no wonder the shanty is such a big deal. Sure, an angler can make do with a pop-up fishing tent or a couple of boards thrown together and covered with a tarp. But many choose to go all-in — solid roof and walls, heat and electricity, bunks, cooktops, TVs (tuned to the Packer game if it's Sunday). There have even been reports of luxury shanties complete with a sauna or hot tub — just imagine what Marvin and Lloyd would say about that.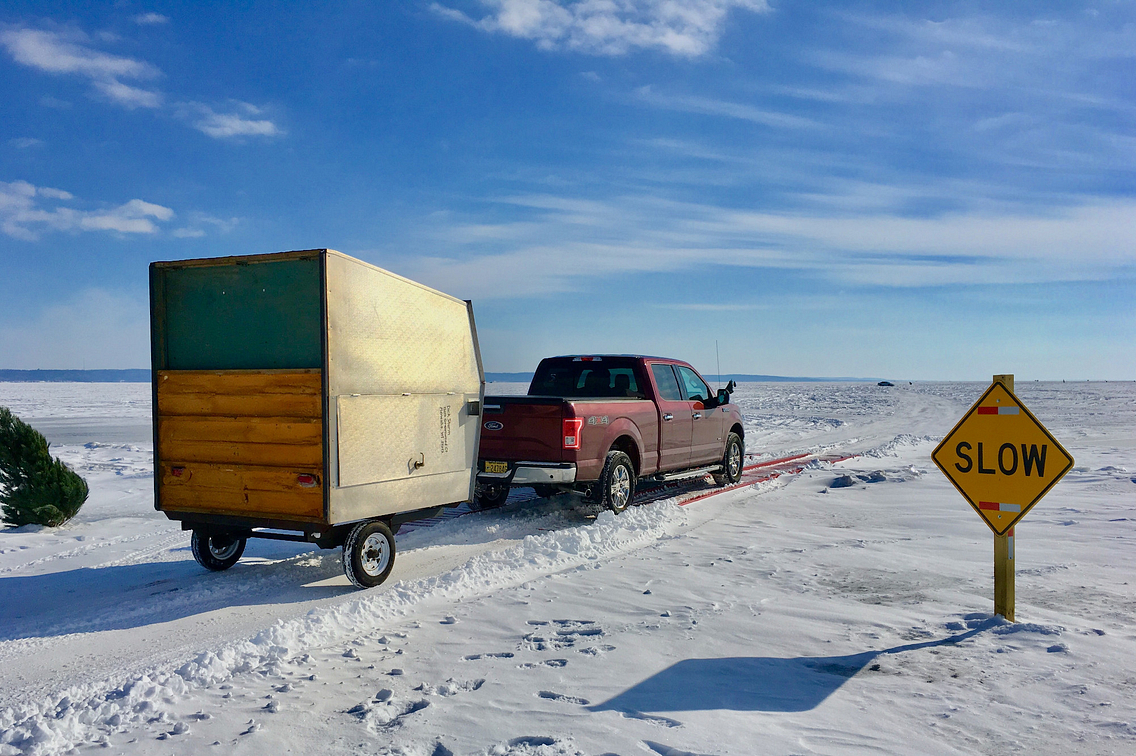 Ice Shanty 2
An angler on the way to "shanty town" is a regular sight in the dead of winter. When spring nears and the state starts its annual thaw, though, shanty users should keep in mind there are deadlines for getting the shack off the ice. That's generally in late February or early to mid-March depending on the water body. Other regulations apply to ice shelters, too, including rules on locking the shelter (not permitted while occupied) and how to mark identification on the exterior. For these details and more, see the DNR's complete fishing guidelines at Fishing regulations.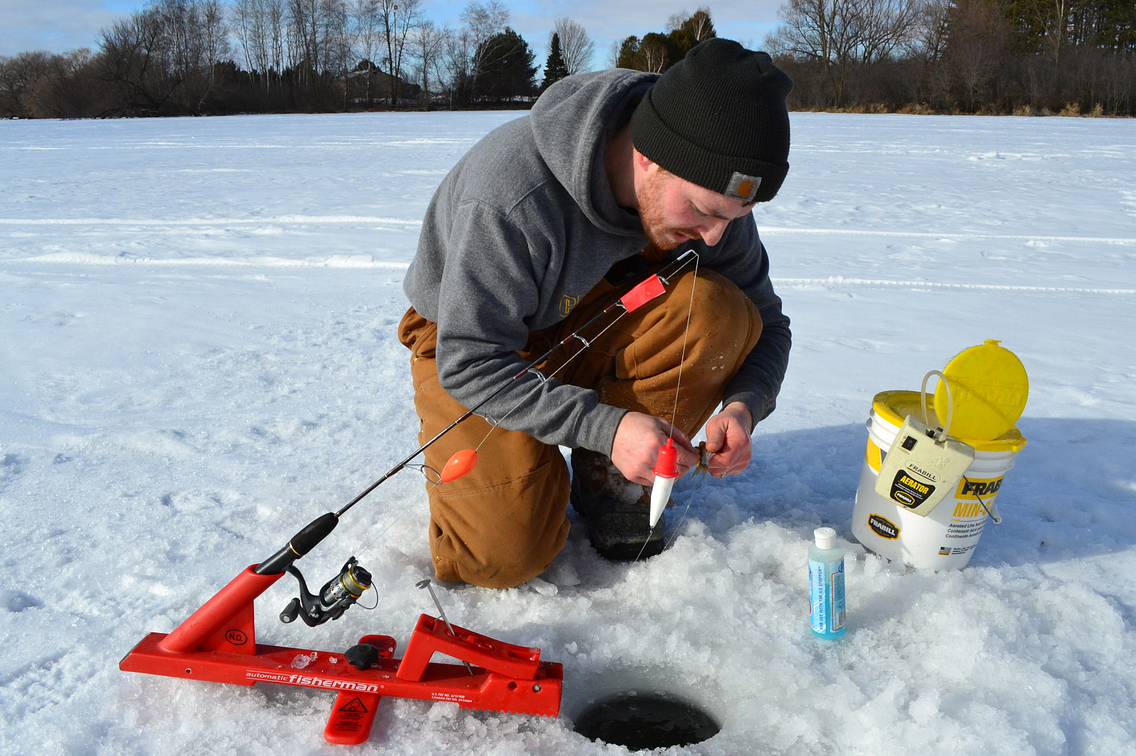 Ice Fishing
Wisconsin anglers know some of the best fishing comes when the state's waters change from their liquid state to solid. The pastime is a uniquely northern winter pleasure and has its own language, really. You'll need an auger and a spud – that's pretty much a long chisel — probably a skimmer, too. Tip-ups tell you something's on the line. If you've never tried it before, put ice fishing on your bucket list. Check Flag up! Ice fishing in Wisconsin for all you need to know including equipment, safety tips, regulations and even where to try for best results.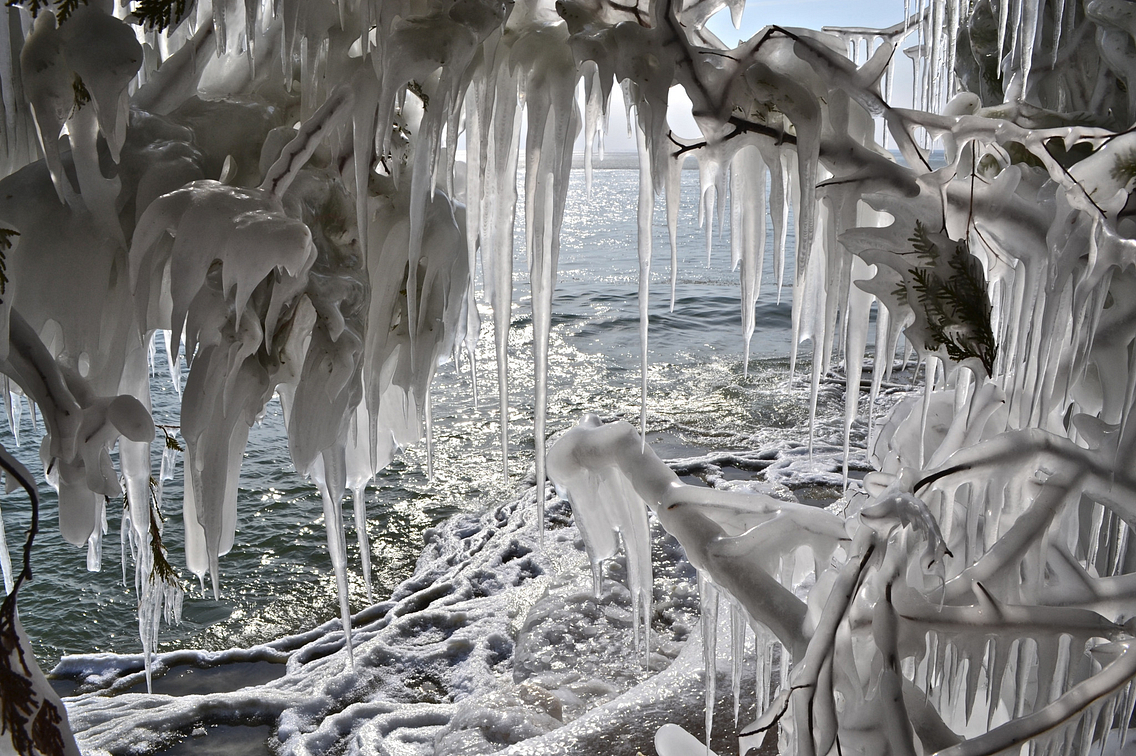 Ice Caves
Door County's Cave Point County Park is beautiful year-round — uniquely so in winter when wind-whipped waves crash in from Lake Michigan, coating rocks and trees with layers of ice. The effect is an icy cave appearance with sharp frozen fingers that glisten in the sunlight. Similar ice formations can be found at nearby Whitefish Dunes State Park. For ice caves of a bigger sort, check out another Wisconsin location: Apostle Islands National Lakeshore in Bayfield County. There, sea caves that can be reached only by boat in summer are sometimes accessible on foot in winter if the area sinks into a deep enough deep freeze. To find out if conditions are right this winter, check the National Park Service website, access the Apostle Islands Facebook page, or call the park service "Ice Line" at 715-779-3397, ext. 3.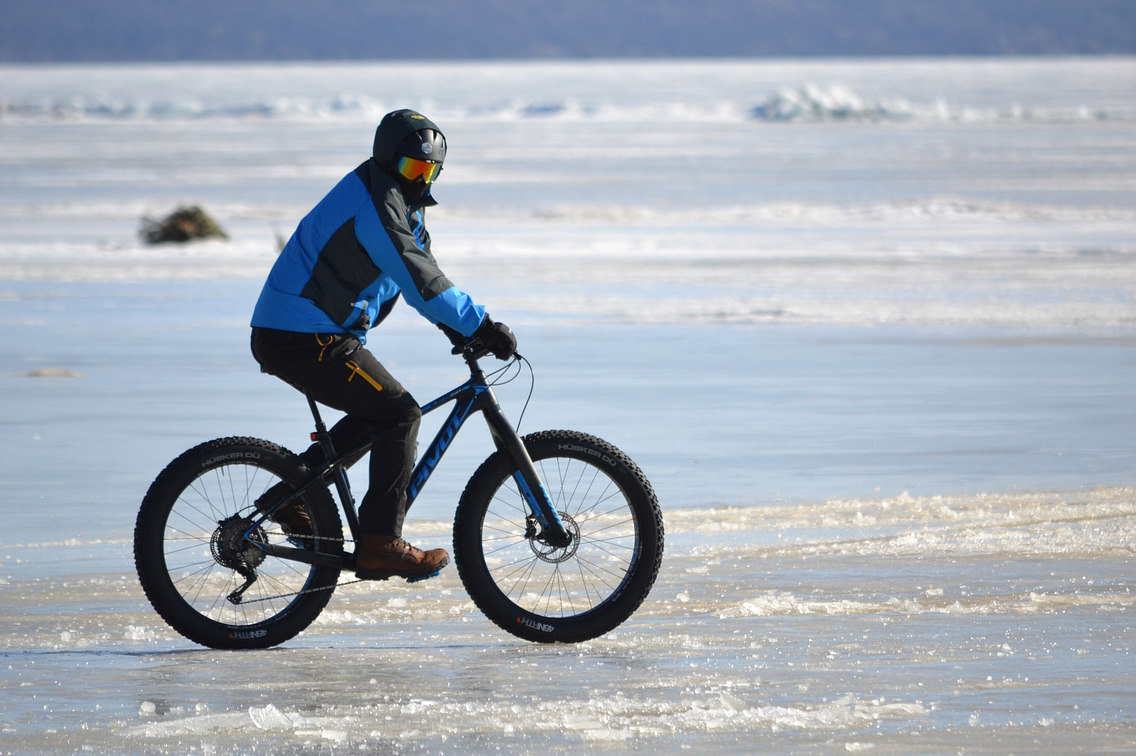 Ice Biking
Some folks just never stop pedaling, even when the snow flies. DNR trails otherwise open to bikes are open for winter bicycling as well, including fat-tire biking, unless the trail is groomed for cross-country skiing or a local government trail operator (usually county) has indicated no winter biking on the property's master plan. See Bicycle trails for more.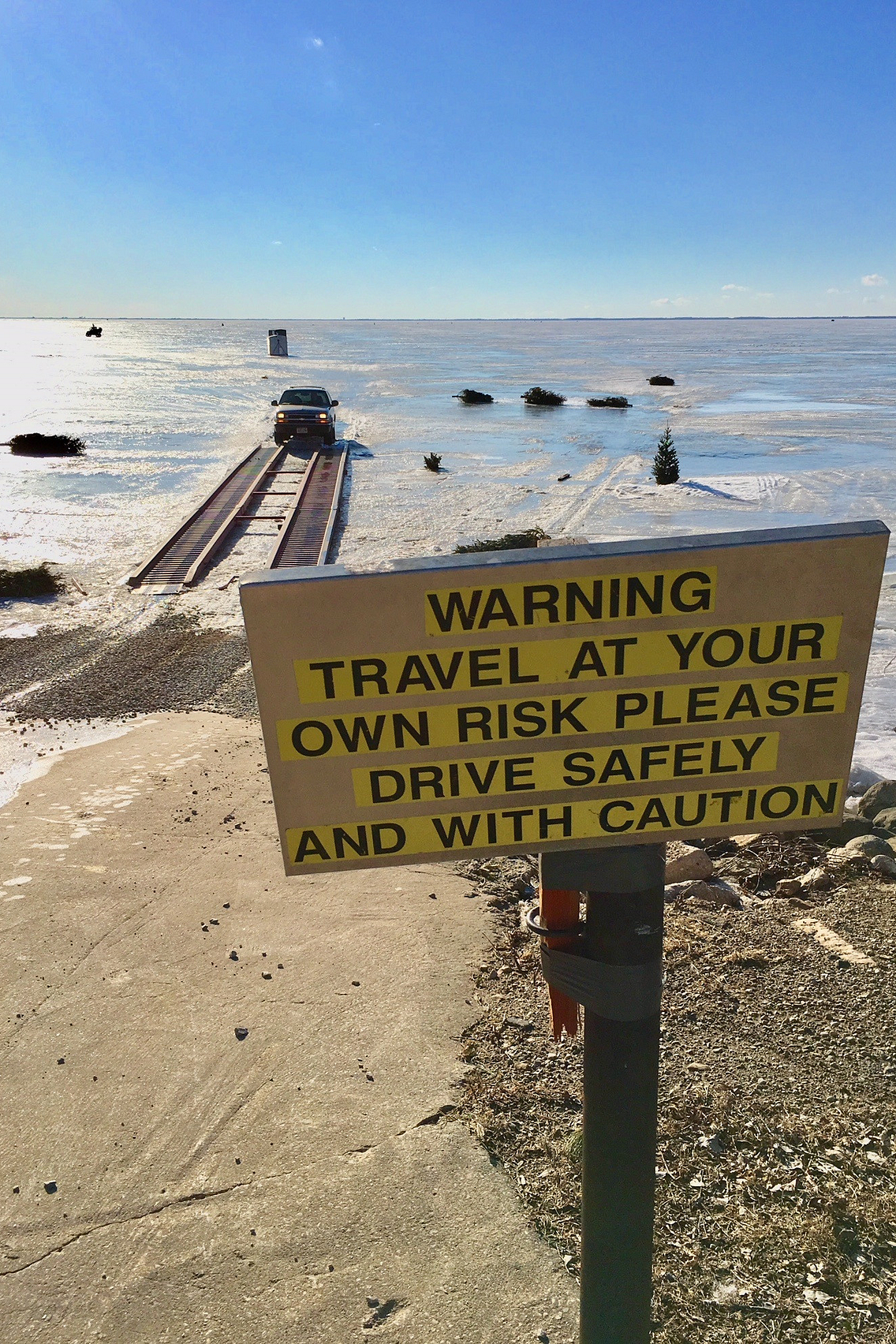 Ice Safety
It's safe to assume one thing regarding ice safety: No ice is ever 100 percent secure. Factors such as thickness, outdoor temperature or how long the ice has been frozen are no guarantee. The strength of ice can vary by water body and even in different areas of the same water body.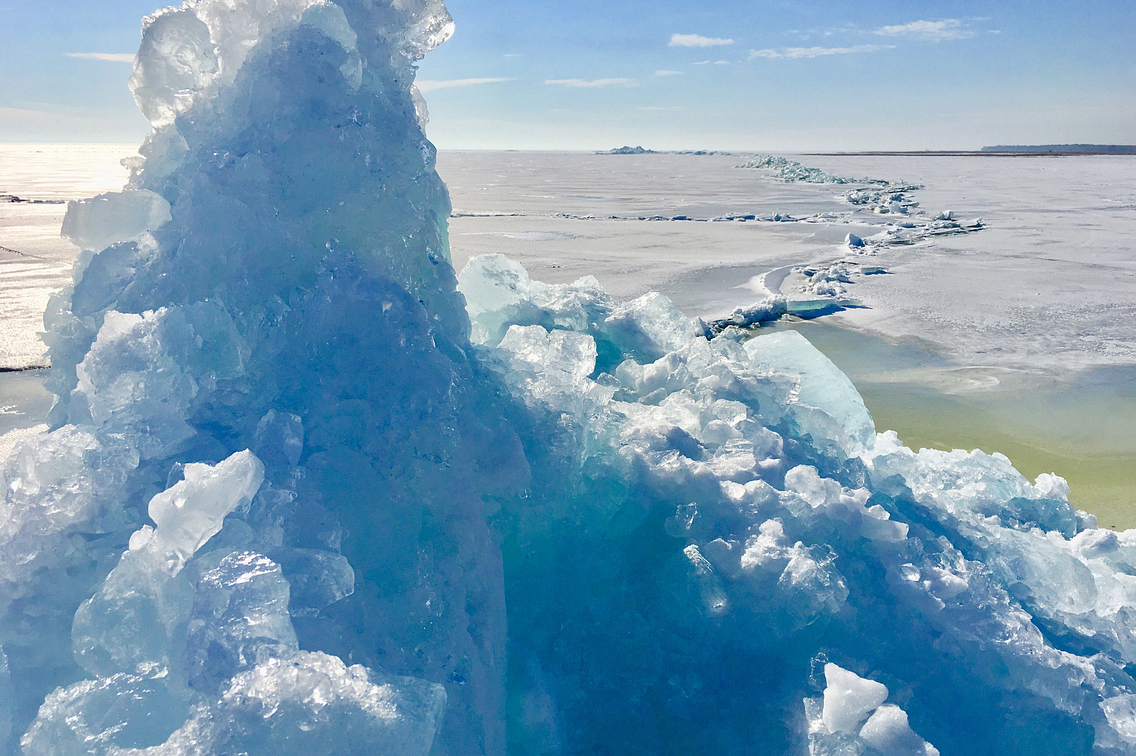 Ice Shoves
Take some sheets or chunks of ice floating on a thawing lake. Aim toward a slightly sloped shoreline, add a few strong winds and push. The result is a fairly unusual but often incredible phenomenon known as ice shoves. Sometimes it's even referred to as an ice tsunami! Spring is the best season for this, as ice shoves can occur only when ice on a body of water is partially thawed and breaking up but not totally melted. Winds must be strong enough to move the ice to shore, where it can move inland as far as a few hundred yards. Loud crackling sounds can accompany the movement as the ice piles up to create natural works of art. These installations are fleeting, however, melting away as soon as the weather warms.