The nature of healing
IN NORTHWEST WISCONSIN, A YOUTH TREATMENT CENTER FINDS THE OUTDOORS TO BE POWERFUL MEDICINE
Ben Thwaits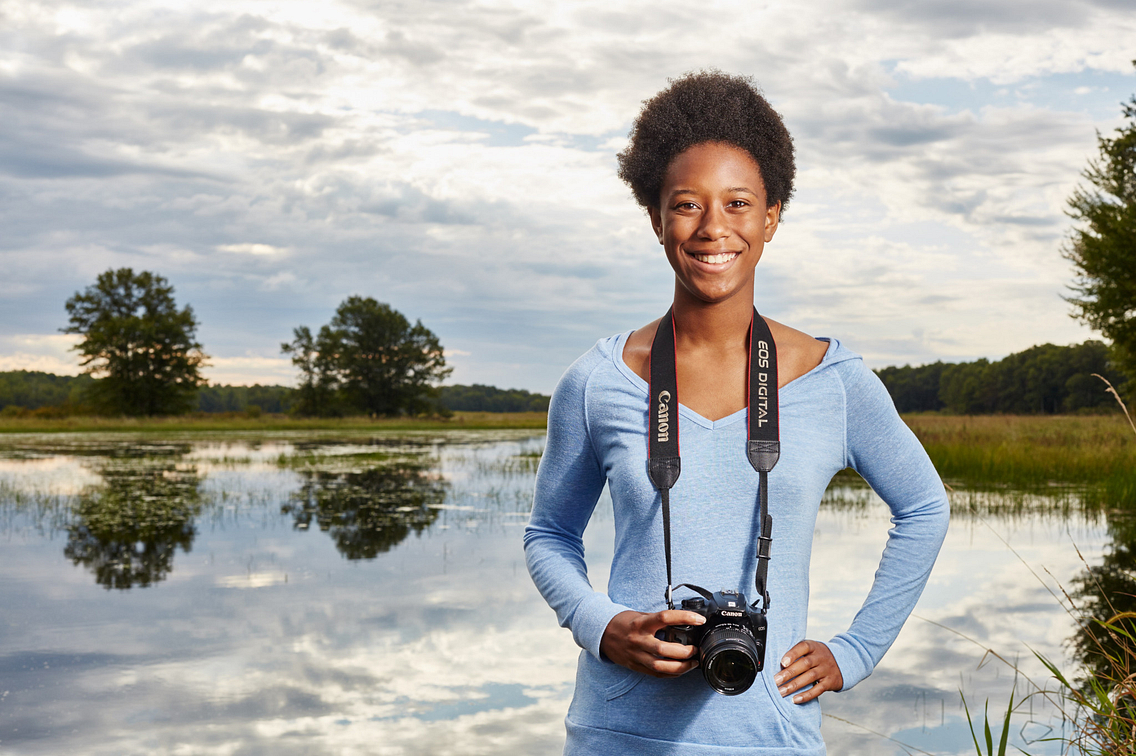 © ANDREW WALSH
"Shh, don't move. Stay right here," Alice instructed me with a tense whisper. She crept ahead toward a cluster of trees on the banks of the Namekagon River, her zoom lens trained on something I couldn't yet see. She stopped, took a steadying breath and fired her shutter.
That's when I finally glimpsed the small butterfly's orange wings a couple of feet in front of her lens. Alice snapped a few more photos with the calm intensity of an experienced pro before her subject fluttered away to a nearby limb. She peered at her camera's LCD screen and a smile came across her face.
"I think I got a good one! Come check it out," she exclaimed, the sparkle in her eyes releasing the tension of the moment.
She handed me her camera. "Wow, that is incredible," I said, nearly speechless. Alice beamed.
The photo was perfectly composed, sharp, in great light. It would appear at home alongside the art of professionals in any gallery.
But Alice isn't a professional photographer. She's not even out of high school. In fact, Alice is in a fight for her life.
She is a resident at Northwest Passage, a nonprofit residential mental health treatment center for children ages 12-17 based in Webster and Frederic, nestled in the rural northwestern corner of the state. Severe and often life-threatening mental health crises result in placement here for durations of several months to up to a year.
A journey of hope
The stakes couldn't be higher for the more than 300 kids per year who come to Northwest Passage from around Wisconsin and beyond. They make the journey because the mental health resources in their home communities cannot meet their level of medical need.
Many have multiple complex and overlapping diagnoses, often a result of past trauma, and most have undergone numerous unsuccessful past treatment attempts. For many, Northwest Passage is a last hope.
At first glance, Northwest Passage might seem like any typical large treatment center. It employs teams of highly skilled neuropsychologists, therapists, case managers, counselors and special education teachers. Psychiatric staff monitor and adjust medications. Regular schedules and routines are tightly followed.
However, the day-to-day experience of every resident is anything but typical. Instead of the sterile, white-walled hospital experience one might expect, kids experience a treatment setting designed around the natural world. These young people are immersed in the region's rivers, lakes, forests and prairies. Nature is infused into nearly every aspect of their daily life.
Such a deep role of nature in the treatment model is unique among organizations like it, but for Northwest Passage, nature has always just made sense.
"At Northwest Passage, we have always believed that nature is a fundamental source of healing," Executive Director Mark Elliott said. "Our kids often come to us disengaged with the world around them and nature provides an important building block to help kids reengage with the world in a positive way. Nature's therapeutic values are endless."
Natural forces at work
Northwest Passage's roots in nature go back to its beginnings in 1978, when it was founded by several former employees of a large Twin Cities mental health hospital who knew there had to be a better approach than a cold, impersonal, institutional setting. Motivated by the intuition that struggling youth could heal best in a serene natural environment, they purchased a small house on the Clam River in Webster and began their test run.
Early treatment programming centered on the region's endless camping, canoeing, fishing and hiking opportunities. The founders' intuition was quickly proven correct. Their innovative nature-based treatment model worked, and word got out.
Northwest Passage steadily grew and gained a reputation as one of the leading mental health providers in the state. Fast-forward 40 years, and the organization now employs more than 190 staff in state-of-the art facilities.
As Northwest Passage expanded, it never lost sight of why it was created in the first place. The two large modern campuses were built with nature in mind.
"Our campuses are designed so nature is a dominant force in our kids' lives," said Ian Karl, the center's experiential programming coordinator. "For example, in transition times, the kids aren't walking down hallways. They're walking through green space. That gives the kids a chance for an emotional reset numerous times throughout the day.
"In addition, if kids are having a bad day, staff can take them for a walk on our trails. It always helps."
Plenty more to explore
Nestled among towering white pines, Northwest Passage's Webster campus, called "Riverside," is situated on the original Clam River site. Great fishing waits just out the back door and deer wander through the grounds. The Frederic campus, named "Prairieview," is near an ongoing prairie restoration criss-crossed by more than a mile of trails through prime pollinator habitat.
The experiences in nature also extend far beyond the borders of Northwest Passage's campuses. The region's vast tracts of public land serve as an extension of the treatment center itself and field trips are an almost daily routine.
Nature photography is a centerpiece of these off-grounds excursions, with the St. Croix National Scenic Riverway, Interstate State Park, Apostle Islands National Lakeshore and Crex Meadows State Wildlife Area serving as some of the kids' favorite photography hotspots.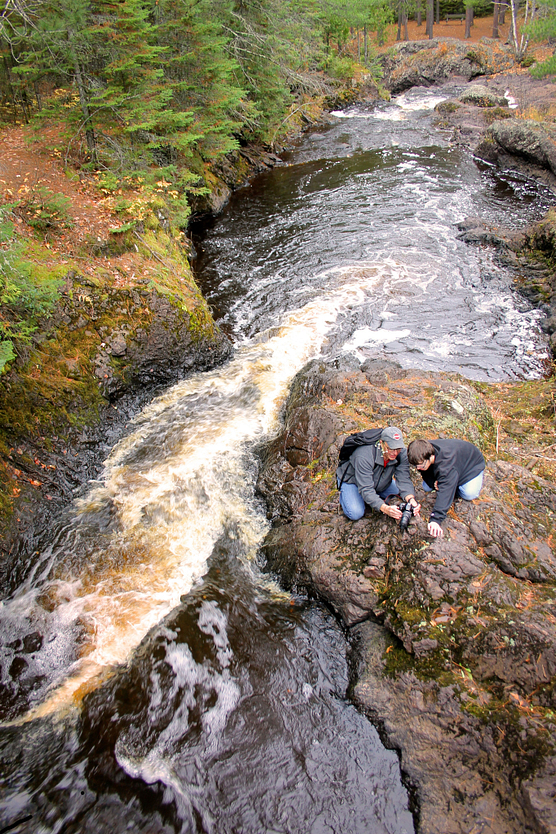 © NORTHWEST PASSAGE
Guided by skilled staff mentors, kids learn advanced photography techniques they use to create stunning photos that have been featured in exhibitions around the nation. For many, it's the first time they've been publicly recognized for positive accomplishments.
Even more importantly, the kids' own photos provide a new window through which they can interpret their experiences, their pain and their hopes.
Thirteen-year-old Bobby wrote about his photo of an eagle perched on a branch with wings spread, ready to fly: "Taking flight is a jump of hope, flying to do other things. Flying is part of life, but it's the easy part. Taking off is hard."
Over the past few years, the nature photography program evolved to new depths, quite literally. Armed with partnerships and funding through the National Park Service and Wisconsin Sea Grant, Northwest Passage's kids began submerging their cameras — and themselves — underwater.
With this new element of the photography program, a new and unprecedented view of northern Wisconsin's rivers and lakes emerged alongside a novel understanding of the therapeutic power of water.
"When I'm underwater taking photos, I feel complete," said Lexi. "I am able to leave behind the part of myself that wants to control everything and just go with it."
Learning to reconnect
When not searching for sandhill crane photos in Crex Meadows or shots of smallmouth bass in the St. Croix River, Northwest Passage's young artists tap into other creative outlets at the Schaefer Cabin on the banks of the Namekagon River near Webb Lake. This 100-year-old restored National Park Service log cabin serves as a secluded retreat where artists-in-residence come for month-long stays and share their skills and passion with the kids.
Painters, musicians, sculptors and potters have left their mark on the lives of students. But the inspiration goes both ways.
"I'm not sure words can even capture the inspiring and transformative nature of my experience in this residency," said Cait Irwin, a painter from Iowa. "Each kid I met renewed my belief that art and nature heal."
Amid the countless hours the kids spend exploring wild areas, they also must keep up with schoolwork. Northwest Passage is an accredited academic institution and ensures kids don't fall behind academically during their treatment. However, school time at Northwest Passage is anything but traditional.
"So many of our kids have failed in past traditional academic environments," Karl said. "We need to create an environment where they can learn how to learn again, to engage them and trigger their curiosity. And that's going to happen in nature."
Rather than desks and textbooks, academics are designed around the rhythms of the seasons. In spring, for example, the kids run a maple syrup operation and learn tree physiology along the way. Summer is filled with ecology curricula brought to life through habitat restoration, beekeeping and gardening. Birding lessons run throughout the year.
"We try to make learning multisensory, kinesthetic, tactile," Karl added. "You're not just doing, but feeling it."
More outdoors, less stress
For Northwest Passage, it's clear that outcomes rely heavily on a multidimensional nature-based approach to healing. But why invest so heavily in these seemingly unconventional treatment methods? The short answer: because these methods work.
After we returned to the classroom from our day out photographing along Namekagon River, I asked Alice and her peers what they liked about being out in nature.
Kimi, a bright-eyed 16-year-old, chimed in first. "When I'm out in nature or doing photography, I feel more part of this Earth. It's almost spiritual," she said. "I just feel more relaxed and more myself. It's hard to explain."
But the tools to explain Kimi's reaction are rapidly emerging. Science is beginning to discover the underpinning of nature's feel-good effects, something Northwest Passage seems to have known all along.
As center director Elliott noted, "More and more research shows how nature has an impact on our mental health. Psychiatrists are now prescribing time in nature as part of an individual's treatment regimen. More and more mental health programs in the country are incorporating nature at a level never seen before."
Some studies have shown time in nature lowers levels of stress hormones as well as blood pressure. Other research indicates being near green space sharpens cognitive performance, especially related to the ability to focus. Yet another study shows time in nature quiets the part of the brain responsible for "depressive rumination," and even seeing pictures of nature is shown to lower stress and improve cognition.
For the field of mental health, a provider's capacity to minimize stress is a big deal. "Reducing stress and anxiety is a key that opens up many other doors on the path to healing," Elliott said.
Benefits beyond what the eye can see
While key in understanding and refining approaches to mental health treatment, the science doesn't quite capture what I observed the day I spent photographing along the Namekagon River with Alice and her peers. It doesn't see the sparkle in kids' eyes, the moments of deep wonder and fascination at the smallest of critters, or the beaming pride and excitement accompanying a successful photo.
I watched kids — many who had lost their childhoods to pain — playing and exploring the way kids are meant to. These were kids fully alive, the best versions of themselves, with so much to offer the world.
It was then that I realized Wisconsin's vast natural resources have benefits far beyond their ecological or recreational value. Every mile of shoreline and every acre of forest holds within it the potential to be a stage for healing, and not just for organizations like Northwest Passage that intentionally harness this therapeutic power.
Wild places can be the best kind of medicine for all of us.
Ben Thwaits is the former program development coordinator for Northwest Passage. He currently is a writer, photographer and consultant.