One foggy morning on the Mississippi
BIRD ENCOUNTER BRINGS NEW MEANING TO 'THE EAGLE HAS LANDED'
Jon Chapman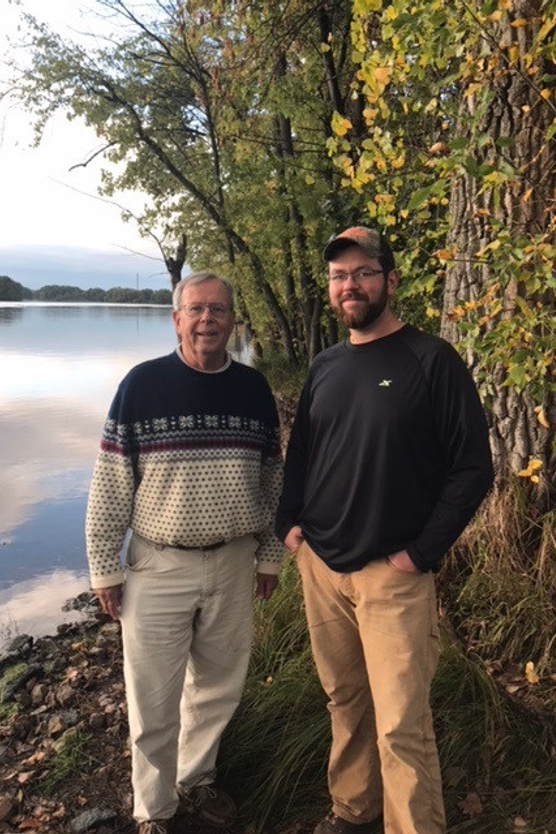 © Courtesy of Jon Chapman
I love the Mississippi River, having grown up on its banks in Moline, Illinois, and having fished nearly 400 miles of the river from Burlington, Iowa, to Red Wing, Minnesota. My favorite portion is the area that runs along western Wisconsin near Buffalo City, north of La Crosse – specifically lock-and-dam pools 4, 5 and 5a, which I've fished for nearly 60 of my 70 years.
Upon retiring in 2004, after having lived in eight states plus Germany, I was drawn to Buffalo City by the river there, with its gorgeous bluffs and coulees, and by the wonderful people. I built a fishing cabin, where I spend about 120 days a year, with the balance of my time as a snowbird in Fort Myers, Florida.
In late summer of 2017, on Aug. 30 to be exact, a memorable experience occurred that I'd like to share. I had launched at the Belvidere Slough Boat Ramp and, in a heavy fog, idled away. Several hundred yards upstream a dark object in the water caught my attention. As I wondered what it might be, it waved to me!
Holy cow, I thought, it's a person! I sped up to offer assistance and as I got closer, I saw it actually was a mature bald eagle – its "waving" had been wing movement. It seemed bedraggled, yet alert. I concluded it must be injured and, aware of raptor rehabilitation programs, I called my friend Brian Brecka, a Department of Natural Resources fisheries biologist in Alma, for guidance.
Brian steered me to Gary Wolf, a DNR wildlife technician in the Alma office, who was helpful but unable to come to the river on short notice. He asked if I might be able to get the eagle into my dip net. I explained I had no net – and no appetite to deal with a distressed eagle and its talons! Gary understood; he asked his colleague Steve Pence, a wildlife biologist, to come help me capture the eagle for rehabilitation.
Back on land
In the meantime, the bird and I had drifted downstream, and the eagle had worked its way to the river bank, exiting at the landing where I had launched 20 minutes earlier. I thought that was fitting – giving new meaning to the phrase, "The eagle has landed."
As it stood on the concrete boat ramp, I could see no visible injury, although it made no attempt to fly and seemed exhausted. After resting a few minutes, the eagle apparently became concerned with my close presence. It hopped a few yards upstream into the brush along the river bank, where it rested again. The bird continued to hop then rest several more times until it was about 40 yards upstream from me and the ramp, a more comfortable distance away it seemed.
It rested there for perhaps 25 more minutes until Steve arrived with a blanket, to capture and calm the eagle, and a large wooden box for transport to rehab. Steve and I discussed a plan: Steve, with the blanket, would hide behind a large cottonwood tree. I would swing the boat wide to avoid disturbing the eagle, idle about 50 yards upstream of the bird, then come in close to the bank and move slowly downstream to "herd" it toward Steve.
This sounded like a good plan and it was working well until I had herded the eagle to within about 20 feet of Steve. At that point, it simply flew away!
Splash landing likely
Steve and I laughed and scratched our heads. His theory made sense to me: In the low light and heavy fog conditions, the eagle probably had been flying and looking for breakfast. It likely spotted a fish and dove for it, but in the fog became disoriented and hit the water hard, stunning itself and becoming sufficiently water-laden that it couldn't fly. It then exhausted itself trying to fly out of the water, which is when I entered the picture.
In retrospect, while my intentions were honorable, I suspect all I accomplished was to add further stress to an already difficult morning for the eagle. Yet, both Steve and I preferred the outcome – we kept wildlife wild, without human intervention.
And I have an indelible memory from the experience, reinforcing my love of the Mississippi River and Wisconsin.
Jon Chapman is an Army veteran and retired MBA/CPA who had a 32-year career with John Deere, including a mid-1970s assignment in Horicon.
WHEN IN THE WILD
Encounters between humans and wildlife sometimes happen in Wisconsin's outdoors, and the best advice is to do what it takes to keep wildlife wild. The DNR offers information and tips for dealing with situations that involve injured, ill or orphaned wildlife. Check https://dnr.wi.gov/topic/wildlifehabitat/orphan.html.
EAGLES IN WINTER
Along the Mississippi River and other areas of open water, eagle activity remains high throughout winter as the birds search for food. Here are a few places and events for seasonal eagle viewing.
Wings Over Alma Nature and Art Center: Below Mississippi lock and dam No. 4 in Alma, the center has a 50-foot deck for eagle watching all winter long; https://www.wingsoveralma.org/
Southwest Wisconsin: Several cities along the Mississippi River in this part of the state have sites for seeing eagles in winter and celebrate the birds with seasonal festivities. From north to south, this includes Ferryville, just north of lock and dam No. 9, http://visitferryville.com/; Prairie du Chien, which holds Eagle Appreciation Days in February, https://www.prairieduchien.org/bald-eagles/; and Cassville, near lock and dam No. 10, https://cassville.org/. This stretch of the river also includes the Upper Mississippi River National Wildlife and Fish Refuge, several state natural areas and two scenic Wisconsin state parks: Wyalusing and Nelson Dewey.
Sauk City and Prairie du Sac: Open water on the Wisconsin River creates perfect conditions for wintering eagles, and the Ferry Bluff Eagle Council will hold its annual Bald Eagle Watching Days here Jan. 18-19. There also are regular eagle-watching bus tours in winter.
Fox Cities: The Fox River in the Appleton area is yet another good spot for eagles in winter and the annual Eagle Days along the Fox River will mark the occasion on Jan. 26; https://www.arcgis.com/apps/MapTour/index.html?appid=c2cdf0e6861c49d0a637e44a04c3fef1#.