On a bicycle trip built for views
BEAUTY OF THE WOODS AWAITS ON FOUR-DAY RIDE IN THE CHEQUAMEGON-NICOLET NATIONAL FOREST
Story and photos by Randy Larson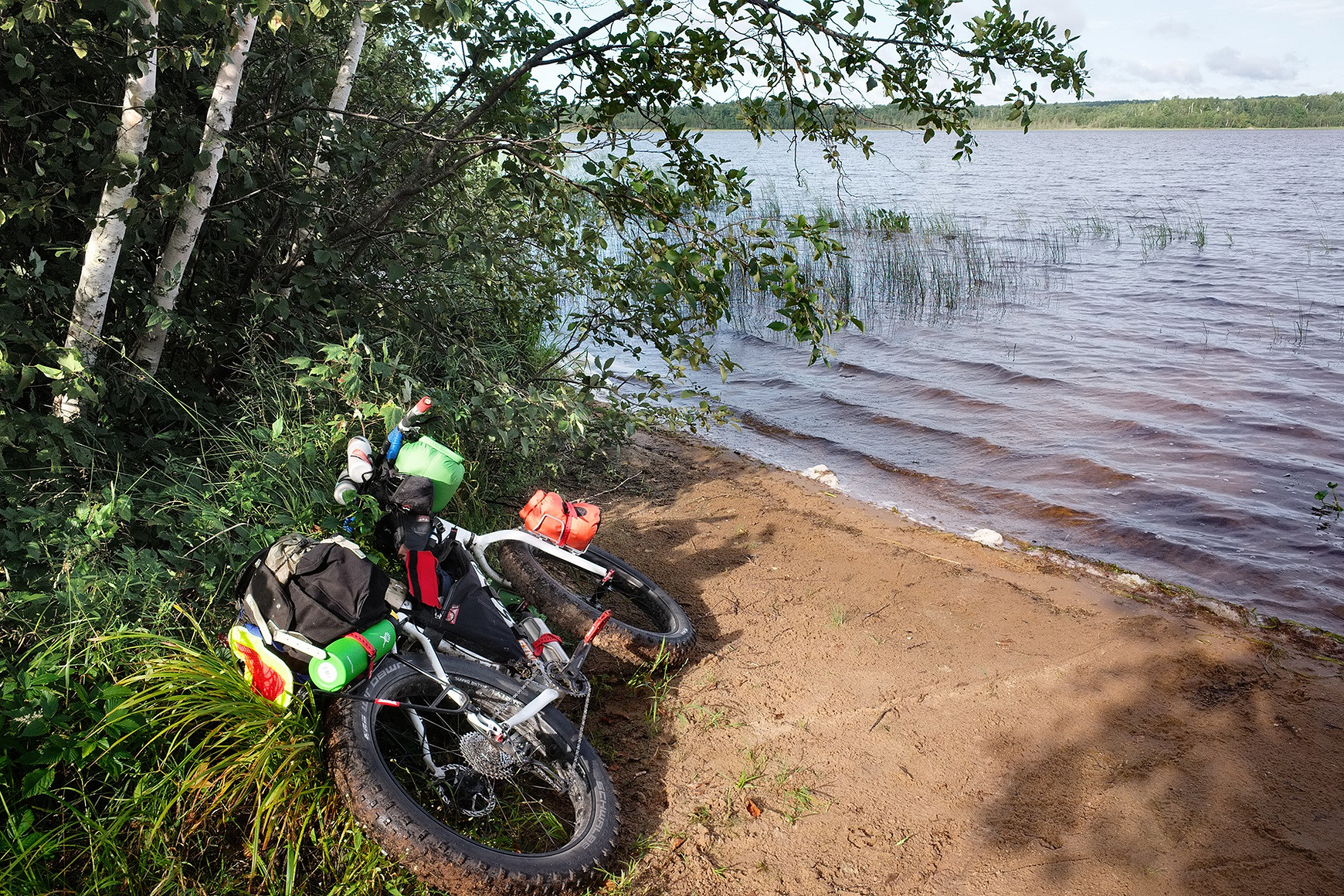 True bicycle touring is an act of deep travel, moving slow enough to absorb the landscape and engage all the senses. Hear the cry of a red-tailed hawk and the gentle sounds of moving water in a creek along the road. Smell the deep pine woods of the North or the sweetness of freshly cut hay in farm country. Feel the warmth of the summer sun or the cold wind on a blustery March day.
My plan for such a long-distance, backroads bike trip was to spend four days traversing part of the Chequamegon-Nicolet National Forest, camping along the way and riding gravel forest roads north of Park Falls before looping back through the Penokee Hills and Copper Falls State Park. All told, I would be traveling more than 200 miles.
The CNNF covers more than 1.5 million acres in northern Wisconsin, including 11,000 acres of designated wilderness and a number of State Natural Areas. There are 600 lakes, 1,200 miles of streams and 47 campgrounds. When I went in late August last year, goldenrod was blooming and sumac along the roadside showed the first reds and oranges of autumn.
My trip began after spending the night in Park Falls. I left early and rode west on the Tuscobia State Trail. An hour later, I rode north toward Clam Lake on several quiet forest roads and sections of an ATV trail. In the first four hours, I encountered only two ATVs and two pickup trucks.
I stopped for lunch on a bridge over the East Fork of the Chippewa River – what a wonderful place! The Chippewa is the quintessential North Country river – dark, tannin-stained water with swift currents flowing around large boulders over a rocky riverbed creating riffles and rapids, in places slowing and running deep and dark over a sandy bottom. The river wound its way through an expansive forest of white pine and birch, occasional wetlands and a gently rolling landscape.
After lunch, I stopped at the gas station in Clam Lake and talked to the store owner about the elk population. Elk were first reintroduced to the area in 1995 and the herd has grown slowly. Last summer, the DNR and its partners released 31 more elk in the CNNF, the first additional release there in 20-plus years. In 2018, the herd is projected to reach more than 200 elk spread over several hundred square miles.
Elk are a common sight on the store owner's property outside of town, she told me, and she mentioned hearing the wild sound of bull elk bugling during the rut. Unfortunately, I did not have any elk sightings during my ride through the area.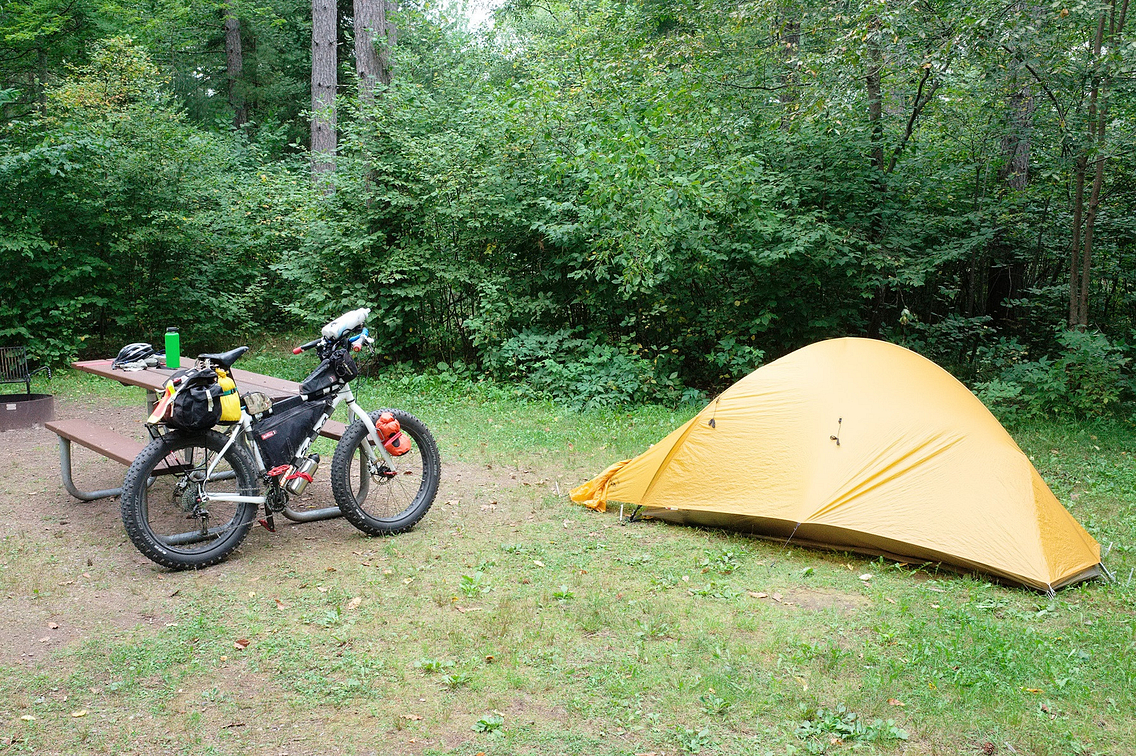 Later that afternoon, I set up camp at Day Lake campground just north of Clam Lake. This is a very nice U.S. Forest Service campground with quiet, wooded sites and a short trail to the lakeshore.
I rode up to East Twin Lake in the early evening and sat along the shoreline enjoying the mix of sun and clouds with a brief rain shower. The roadsides were beautiful with green ferns and the white flowers of smooth aster, as well as the yellows of black-eyed Susan, yarrow and goldenrod. Back at camp, I had supper and listened to a loon calling from across the lake.
Deep in the forest
The second day started with coffee as the first warm light of sunrise illuminated the western shoreline of Day Lake. The lake's surface was a mirror, reflecting the white pines along the shoreline with a pair of loons on the water.
I spent the morning exploring forest roads northwest of Clam Lake. One highlight was riding a rough trail to Chippewa Lake, the source of the West Fork of the Chippewa River. From there, I continued along the northern boundary of Porcupine Lake Wilderness Area, 4,446 acres designated as wilderness in 1984 traversed by a section of the North Country Trail. The woods here were deep and quiet as I photographed a delightful creek that flowed over several reddish-colored rock ledges.
I stopped in Drummond to eat lunch and then rode north to Perch Lake via Delta-Drummond Road, which was spectacular as it wound through beautiful woods accented by small lakes. I had not seen a car in more than an hour as I continued north toward Delta.
I was on a remote forest road as the shadows started to lengthen in the late afternoon light and a quietness fell over the deep woods of Rainbow Lake Wilderness Area. I had just crested the top of a gentle rise when 70 yards in front of me a large black bear, completely unaware of my presence, wandered onto the road. I watched him for a couple of minutes and then let him know I was there. He reacted to the sound of my voice and disappeared quickly into the woods.
It was hard not to be impressed by the deep, rich blackness of fur and the gracefulness with which the bear moved. I waited a few minutes before crossing his tracks in the sand. Moving on, I made it to Wanoka Lake campground in the early evening.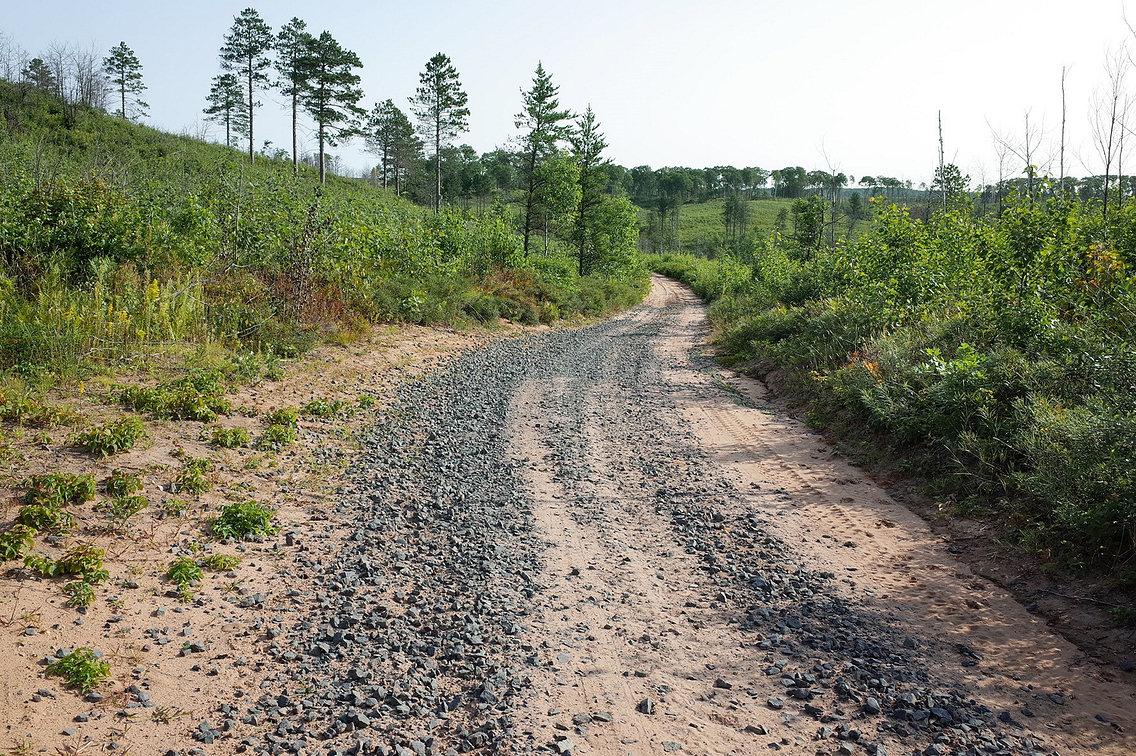 Of chance encounters and challenging roads
The next morning, I left Wanoka Lake just after sunrise and crossed Highway 2, riding north on a gravel forest road. Within a few miles, I entered Moquah Barrens State Natural Area. Unfamiliar with this area, I was fascinated by the open country vistas and steep, rugged terrain. There were large patches of blueberries, but unfortunately I was a week or two late to pick any.
I came across two CNNF employees working on habitat restoration in an effort to reestablish sharp-tailed grouse, which are native to this area. We had a very interesting discussion while looking over the forest map as they pointed out a couple of scenic forest roads I should ride. I took their suggestions and had a beautiful ride on rustic roads with short, steep hills, deep sand and some rocky sections that made for challenging riding. Occasional overlooks offered great views of the landscape.
I also met a Michigan State student who was working on his Ph.D. in forestry. It was his last day of summer research in the area, where he was studying the infiltration of water into the ground of burned-over areas vs. unburned areas. Originally from Texas, he said he hoped to work in his home state in the future. I wished him luck, and a couple of miles later I rode out of the Moquah Barrens and crossed Forest Road 236.
I continued to ride northeast on forest roads that were very sandy, making it fun to keep an eye out for wolf tracks. I was still in Bayfield County, only a few miles from the northern boundary of the CNNF. Eventually, I rode out of the forest and stopped at the Northern Great Lakes Visitor Center near Ashland, then continued into town for lunch.
After lunch, I rode south on mostly paved roads, the terrain flat until I entered the Penokee Hills. North York Road had loose gravel with several short, ridiculously steep pitches. These were steep enough to require pushing the bike, but even that was difficult on the loose gravel and a bike loaded with camping gear. By late afternoon, after nearly 10 hours on the road, I was completely beat.
I finally descended into Mellen and pedaled the 2 miles to Copper Falls State Park. After setting up camp, I took a short walk at dusk to a couple of the park's waterfalls before heading back to camp and falling asleep quickly in my sleeping bag.
Memories to last
On the last morning, I took my time getting ready, as I had only 40 miles to ride to Park Falls to complete my loop. It was another beautiful day, sunny with a high temperature of about 70 degrees.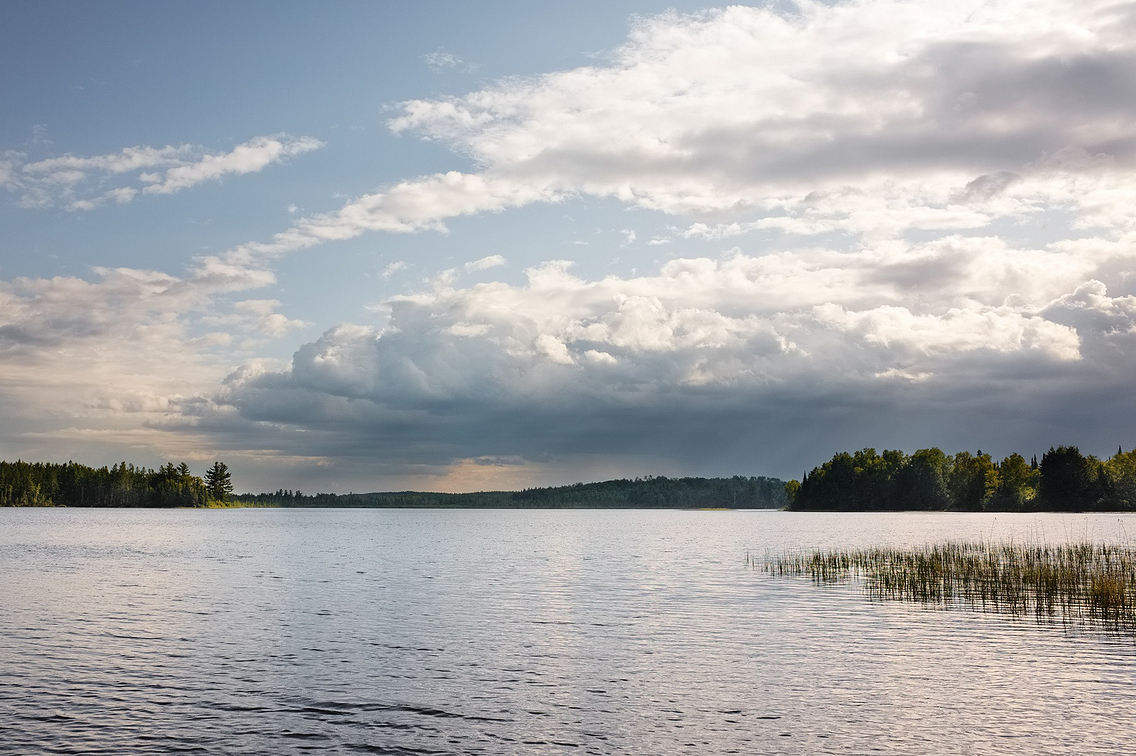 The ride was uneventful, mostly paved, but I did enjoy stops in Glidden and Butternut. I admired the portrait murals on buildings that told the story of people who lived in these towns and gave a historical perspective of the area.
It was just past noon when I made it back to Park Falls – about 230 miles covered on my four days of "bike-packing." I loaded up my truck, had some lunch and began my drive home.
I had experienced deep travel in the Chequamegon-Nicolet National Forest, learning the landscape in a very intimate way. I felt grateful for the beauty and richness of the trip.
Randy Larson of rural Blanchardville, a photographer by profession, is an avid bicyclist who has logged thousands of miles on the roads and trails of Wisconsin.
If you go
The Chequamegon-Nicolet National Forest covers parts of Ashland, Bayfield, Florence, Forest, Langlade, Oconto, Oneida, Price, Sawyer, Taylor and Vilas counties. Before heading out on a bicycle trip in the CNNF, contact or stop by a U.S. Forest Service office to check on updated conditions, including any road or campground closures. Also be sure to pick up the current CNNF Motor Vehicle Use Map, which shows all the forest service roads and campgrounds. CNNF headquarters are in Rhinelander, and Ranger District locations are in Eagle River, Florence, Glidden, Hayward, Lakewood, Laona, Medford, Park Falls and Washburn. For details, check USDA CNNF website.