Welcome to the club
CAMPUS GROUP SUPPORTS, ENCOURAGES, UNITES YOUNG HUNTERS
Maddie Bohrnstedt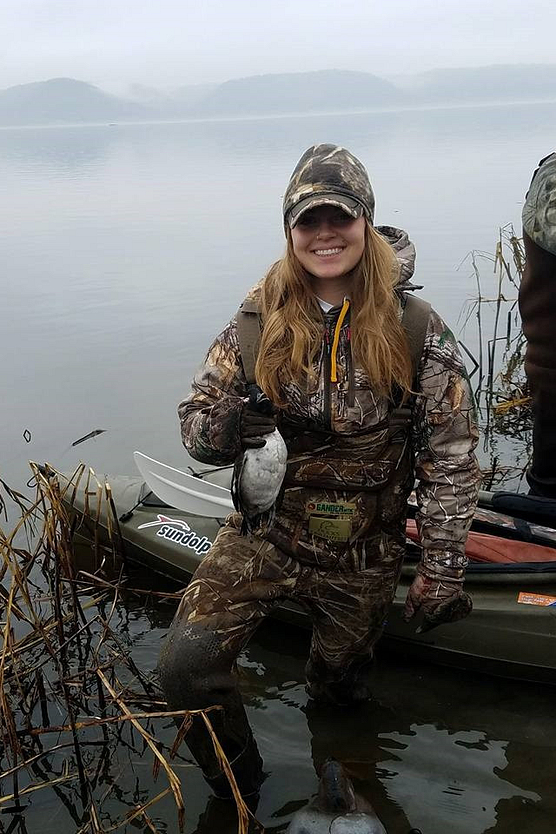 ©COURTESY OF MADDIE BOHRNSTEDT
I sat in my deer stand, nine hours into the hunt, numb to impatience and to the chilly Wisconsin air. I had watched some does peacefully stroll by throughout the day, but I was waiting for my chance at a buck.
My mind was no longer wandering; I was simply one with the woods and had no cares in the world. Quite frankly, I almost forgot I was hunting.
I remained in a comfortable haze until I heard a twig snap. I looked to my left and there in the distance was a buck. At this point, I thought my eyes were playing tricks on me. I couldn't tell if I was seeing antlers or sticks. It all blended into the snowy backdrop.
I lifted up my rifle and peeked through the scope. I was right — a handsome spike buck stood rummaging through the snow looking for food.
My heart started pounding in my chest. My hands were sweating despite the frozen air. I put my finger on the trigger and waited for the deer to position himself so I could have a good shot. He lifted his head, and the crosshairs lay right over his heart. I took a deep breath and my mind seemed to go blank as I pulled the trigger.
The shot of the rifle broke the silence of the forest and snapped me back into reality. The buck ran, but not very far, and lay in the snow. It was a clean hit straight through the heart. I sat there contemplating what had just happened, barely able to breathe over my shaking. I had just shot my very first deer.
Outdoors connections
I never would have gone deer hunting if it weren't for the Badger Hunting Club at the University of Wisconsin-Madison. As a young woman who started hunting later in life, I was in the minority in the group. I was a little nervous to join the club at first because I don't fit into the stereotypical hunter mold. But everyone in this club was so welcoming to me and I felt like I belonged from the start.
I jumped into club activities at full force, going on many duck hunts as well as pheasant and turkey hunts. I got my first duck through the club and got to meet a few of the members on a fantastic trip to the Mississippi River.
We spent three days camping and spending time outdoors, enjoying a campfire each night and waking up and heading out on our boats in the fog each morning to prepare ourselves for the hunt. I saw flocks of thousands of birds flying through the sky that weekend, which was a surreal experience, especially because I was still so new to hunting.
To add some context, the Badger Hunting Club was founded in 2006 as a social club at UW-Madison to unite hunters across the university. Its main goal is to keep students linked through social networking and to emphasize students' love for the outdoors.
Especially helpful for students who do not have extra resources to go on hunts themselves, the club provides Learn to Hunt programs, hunting gear and access to hunting land. It is continuously growing.
A big goal of the club is to change the face of hunting. In order for hunting to be accessible to all types of students from all backgrounds and experiences, the current hunter stereotype must be challenged and the people involved in managing the club are enthusiastic about accomplishing this.
New face of hunting
To paint a more thorough picture of myself: I grew up around hunting in my home state of Minnesota. My grandpa, uncles and cousins hunted for ducks and geese, and I had tagged along a few times, but I had never shot a gun. My junior year of high school was when I finally decided to try shooting.
As it turned out, I was a pretty good shot. I hit most of the clay pigeons thrown in target practice, and it didn't seem to be just beginner's luck. I ended up fully immersing myself in the sport, saved up and bought my first shotgun. I joined my high school's trapshooting team during my senior year and placed well in my conference.
When I finally got to college, I wanted to get even more involved and found the Badger Hunting Club. To take it a step further, I have served as a club officer. All of my good experiences through the club inspired me to go out on that first deer hunt with a friend.
The kicker? I always swore I would never shoot a deer, nor be able to even if I tried. I was wrong. The club helped to open my mind about what the new face of hunting can be, and to show me all of the beautiful experiences we can have while out in the wilderness.
Right after getting that deer, I felt a wave of different emotions, including a deep sadness. But my biggest emotion was excitement and I simply cannot explain how satisfying it was to have my own fresh, healthy meat to share with loved ones, tied together with the whole experience I had to obtain it.
I also have a growing desire to continue to change the community of hunters. More adults need to try it, as well as more women. The current generation is one that is immensely different from the past, and for hunting to keep growing, it needs to change along with the times.
I never would have had this mindset of change without this club. Along with all of the great hunts I have been on, the club has provided many opportunities to bring new hunters into the experience. There was a full mentored turkey hunt where I learned all there was to know about turkeys and their behavior so I could go out on my own someday. And I had other opportunities to learn about conservation and hunting experiences.
Badger Hunting Club has opened my eyes to a world I never knew existed. Hunter recruitment, especially of women, is now my goal. Hopefully, the word can spread about this club to help inspire more people, like me, to try something new. It just might change your life.
Badger Hunting Club officer Maddie Bohrnstedt will graduate from UW-Madison in the spring with a degree in psychology.
INFORMATION
For more about UW-Madison's Badger Hunting Club, see the group's Wisconsin Involvement Network web page at Badger Hunting Club.