Team up for trees
WITH AN ASSIST FROM THE STATE'S PRO SPORTS ORGANIZATIONS, COMMUNITY FORESTRY SCORES BIG
Ellen Clark
When it comes to Wisconsin's three professional sports teams — the Milwaukee Brewers, Green Bay Packers and Milwaukee Bucks — athletic prowess isn't the only thing to cheer. These teams also are to be lauded for their work involving environmental sustainability.
The "greening" efforts of these organizations have made Wisconsin three-for-three in tree-planting initiatives supported by its pro sports teams. And the catchy names of these programs make them fun to talk about, too: "Root, Root, Root for the Brewers," "First Downs for Trees" and "Trees for Threes."
It all adds up to a big win for Wisconsin's natural resources.
Planting crew
"Root, Root, Root for the Brewers" is a partnership between the Milwaukee Brewers baseball team and the Department of Natural Resources. Initiated in 2011, the program annually distributes tree seedlings to fans at one regular-season Brewers' game each year. In addition, landscape trees are donated for planting in communities near Miller Park, home of the Brewers, and along the Hank Aaron State Trail, which is named for the former baseball legend and connects Miller Park to the Lake Michigan shore.
Generally, the team donates one tree for every 20,000 tickets sold during the regular season, with the goal to offset the number of trees used to print the club's regular-season tickets. Normally, it takes one ton of paper, or 24 trees, to print 500,000 tickets, equaling about one tree for every 20,000 tickets. With roughly 2.5 million Brewers tickets sold each year, that means about 125 trees accounted for annually and often the team donates more than that.
The DNR takes the lead with facilitating program outreach to partners, managing the logistics of getting trees where they are needed and ensuring planting procedures follow industry standards.
Kim Sebastian, a DNR urban forestry coordinator, notes the many advantages of planting trees in the Brewers' neighborhood, which includes the state trail, area parks and the Milwaukee VA Medical Center just southwest of Miller Park.
"What's not to love about being part of a tree-planting campaign that shelters bike riders on the Hank Aaron State Trail, cools Little League baseball fans in our county parks, and provides a respite for our veterans on the VA grounds?" Sebastian said. "It's great to be a part of the Brewers' tree-planting campaign and make a difference in parks, on community streets and along trails."
Another upside of first downs
The Brewers aren't the only professional sports team in Wisconsin to have a tree planting program. Also launched in 2011, "First Downs for Trees" is a cooperative effort between the National Football League's Green Bay Packers and the DNR, along with Wisconsin Public Service Corporation utilities, Green Bay Packaging Inc., and Essity hygiene and health company.
The program donates trees to participating Brown County communities roughly based on the number of first downs gained by the Packers during the previous season, with bonus trees added for good measure. This year, in the eighth year of the partnership, 444 trees were provided to 17 communities through the "First Downs for Trees" program.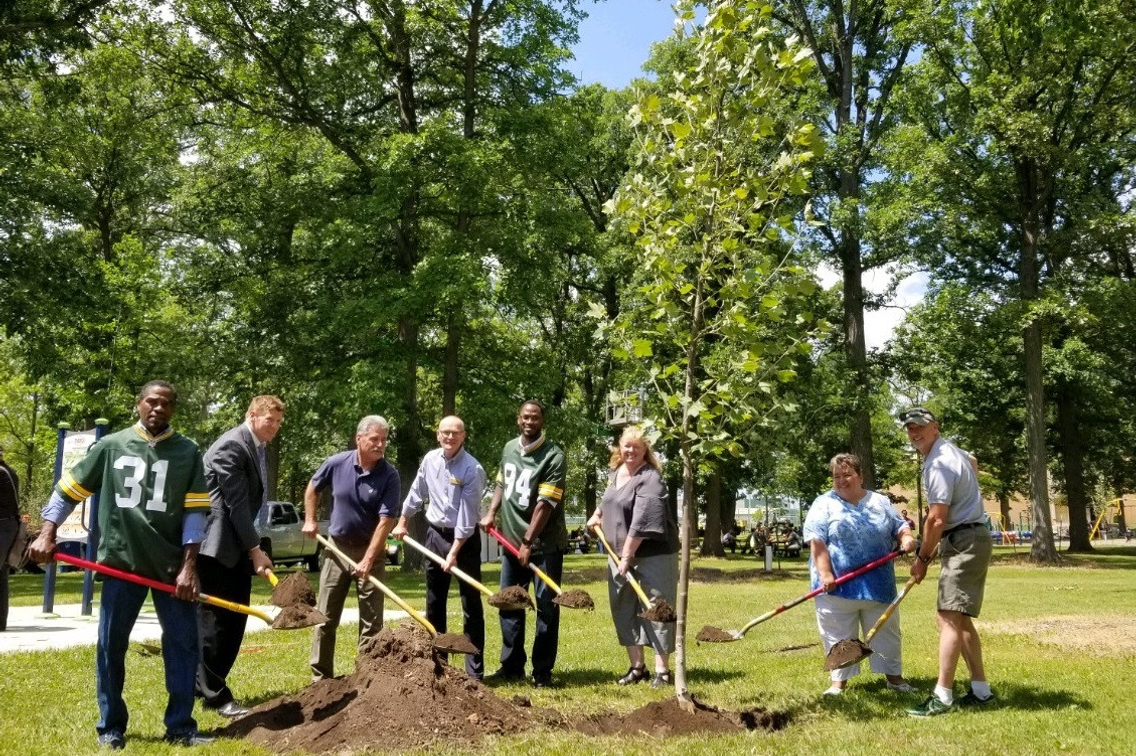 © DNR FILES
"The Packers are proud to have supported the surrounding communities with more than 4,000 trees since the debut of 'First Downs for Trees,'" said Packers President and CEO Mark Murphy. "Through our success on the field and the involvement of our partners, Green Bay Packaging and Essity, we've been able to reduce our carbon footprint and focus on sustainability and renewable resources in a way that will benefit local communities for years to come."
On average, NFL teams produce more than 450 tons of carbon dioxide per year in travel. The donated trees not only help the Packers offset their carbon footprint, they increase the urban forest canopy, improve water quality and provide a plethora of other social, environmental and economic benefits to Brown County urban areas.
The trees are provided to local communities for planting in parks, terraces and green spaces where the trees can sequester carbon dioxide and help reduce storm water runoff. Officials from both Green Bay Packaging and Essity emphasized the importance of sustainability to their companies, and sponsoring the "First Downs for Trees" program allows the companies to benefit the Brown County communities where many of their employees live.
Benefits reach statewide
Like the Brewers and Packers, the National Basketball Association's Milwaukee Bucks also are looking for ways to create more urban green spaces for future generations to enjoy.
In 2016, the Bucks teamed up with the American Transmission Company to launch a new partnership, "Trees for Threes," which sponsors the planting of a new tree in Wisconsin for every 3-pointer the Bucks hit at home in a season. During the 2016-17 season, 355 trees were awarded to communities across ATC's service area to match the Bucks' home-court 3-pointer total, and in 2017-18, the Bucks scored 343 3-pointers at home, which helped provide trees to 83 qualified schools that registered for the program.
"The 'Trees for Threes' program was a huge win for communities last year, and this year for schools, too," said Anne Spaltholz, ATC's director of corporate communications. "ATC supports programs that focus on the environment, education, and health and wellness. 'Trees for Threes' encompasses all three, and many students were able to take part and plant a gift that will keep on giving well into the future."
Trees line the streets we drive, fill the parks we visit, beautify our neighborhoods — and now surround the stadiums of our favorite sports teams. Even the landscaping of the Bucks' new arena, the newly opened Fiserv Forum in downtown Milwaukee, includes — what else? — plenty of trees.
Through sustainable management, community trees provide a wealth of benefits. They can help to offset the costs of cooling homes and businesses, improve air and water quality, bring people together and create safer neighborhoods.
"Planting trees in partnership with others is a fantastic way to unite our state," the DNR's Sebastian said.
Wisconsin's professional sports teams understand the importance of trees in their communities. They are working to bring communities and the state together — not only through their successes on the field and the court, but by beautifying neighborhoods and bettering the spaces where we live.
Ellen Clark is a communications specialist for the DNR's Urban Forestry Team.
INFORMATION
For details on the DNR's efforts involving urban and community forests, including partnerships with Wisconsin's pro sports teams and more, check Urban and community forests.