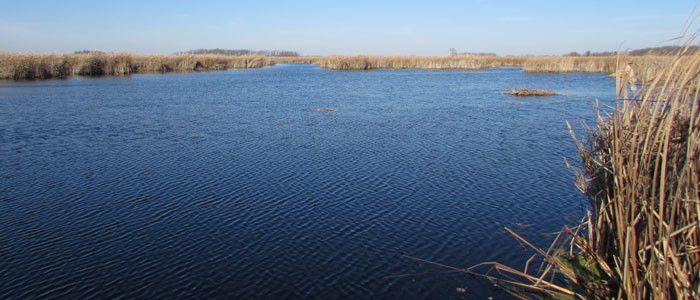 Eldorado Wildlife Area is a 6,381-acre property located in central Fond du Lac County. The wildlife area is 5 miles west of the city of Fond du Lac. Take State Highway 23 west to County Trunk I, travel north for 1 mile to the southeast corner of the wildlife area. It lies between County Highway N on the north and State Highway 23 on the south.
The wildlife area consists of a rich mosaic of wetland types, small oak openings, shrubland, grasslands and agricultural land. The West Branch of the Fond du Lac River flows through the wildlife area. The original species rich sedge meadow wetlands have converted to reed canary grass and cattail vegetation because of human disturbance.
There are a number of common garter snake hibernacula located on the wildlife area. The 3/4-mile-long dike provides excellent access for wildlife viewing opportunity in the center of the wildlife area, especially during spring and fall migration.
Management

History

Eldorado Marsh was created by glacial activity from the Wisconsin glacial period, about 10,000 years ago. Native Americans utilized this area for hunting and gathering as evidenced by artifacts found on the property. In 1912, an unsuccessful attempt was made to drain the marsh for agriculture. By the 1920s, farmers realized that they could only cut marsh hay. In 1932, a severe fire burned over much of the area creating numerous deep holes in the peat. Hunters and conservation minded citizens quickly recognized the value of the marsh for wildlife and initiated its protection. The area was established as a project by the Wisconsin Conservation Commission in 1951. Land acquistion began in 1952 and continues today.

Management objective

The first major step to recreating Eldorado Marsh was taken in 1963 when a 3/4-mile-long dike was constructed across the West Branch of the Fond du Lac River, creating a 1,500-acre shallow water impoundment. Both the wetlands and uplands provide nesting habitat for ducks, geese, wild pheasants, wild turkey and songbirds. An 890-acre closed area provides a secure area for waterfowl to rest and feed during their migration. An active prescribed burning program on the wildlife area maintains the health of the grasslands and sets back woody encroachment, benefiting grassland-dependent wildlife species.

The wildlife area is primarily managed for waterfowl but provides essential habitat for a vast array of wildlife species, including non-game species. A critical feature of the wildlife area is the ability to manipulate water levels through the use of the dam and a series of complementing small ponds and wildlife scrapes. Water levels are managed to provide optimal conditions for wetland vegetation and aquatic invertebrates critical for waterfowl production. Annually, grasslands are maintained on the wildlife area by prescribed burning in both spring and fall. This is necessary to maintain the vigor of the grasslands but also set back brush/tree encroachment. Recently, the implementation of a sustainable forest habitat management program has been developed for the wildlife area. A more active timber management program will be used to manage the different forest types benefiting the forest dwelling wildlife species on the property.

For more information on master planning for this and other wildlife areas around the state, visit the property planning page.

Recreation

The Eldorado Wildlife Area offers many recreational opportunities:

Birding;
Canoeing;
Dog training;
Cross-country skiing (no designated trail);
Fishing;
Hiking (Mascoutin Valley State Trail is adjacent to the wildlife area on the south side);
Hunting (especially noted for waterfowl, wild and stocked ring-necked pheasant (12 p.m. closure rule applies), mourning dove, wild turkey, woodcock, gray and fox squirrel, cottontail rabbit, coyote, red fox, raccoon and deer — see hunting note below);
Trapping;
Snowmobiling trail;
Wild edibles/gathering; and
Wildlife viewing.

Note: Pets must be on an 8-foot leash from April 15 to July 31. No motor boats (including electric motors) allowed on the property. Prohibited activities include camping, fires, horseback riding, ATVs, snowmobile (except on designated trail) and target shooting.

Hunting note: There is an 890-acre closed area during the waterfowl season that is open only for deer during the nine-day gun deer and muzzleloader deer seasons on the north end of the wildlife area. Also, a 12 p.m. closure applies during a portion of the wild pheasant hunting season.

Maps

Download [PDF] a map of this property.

If you are interested in exploring this property further, you can access an interactive map.

Useful links
Find out more about how to adopt this wildlife area.