1970 Snapshot
From environment to equality to Elvis-Nixon
EARTH DAY AT 50: EXPANDED COVERAGE
Celebration of the first Earth Day wasn't the only memorable moment from 1970. Here's a sampling of notable newsreel, sports and pop culture highlights from 50 years ago.
Jan. 11
The Kansas City Chiefs beat the Minnesota Vikings, 23–7, in Super Bowl IV.
Jan. 22
The world's first "jumbo jet," the Boeing 747, has its first commercial flight on Pan-Am's route from New York to London.
Feb. 21
The Jackson 5 make their TV debut on "American Bandstand."
March 5
Treaty on the Non-Proliferation of Nuclear Weapons goes into effect after being ratified by the United Nations.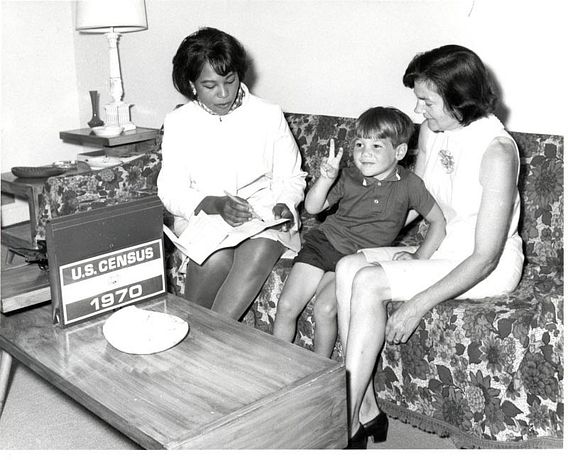 © U.S. CENSUS BUREAU
April 1
American households respond to the 1970 census. Numbers show 203 million people in the U.S., compared to 330 million today. Globally, 1970 had 3.86 billion people, with nearly 7.7 billion today.
April 7
The Milwaukee Brewers make their Major League Baseball debut at County Stadium, having moved from Seattle where the franchise (as the Pilots) spent one season in 1969.
April 7
At the 42nd Academy Awards, winners include John Wayne, Maggie Smith and Goldie Hawn, with Cary Grant receiving an honorary Oscar.
April 10
News breaks that Paul McCartney is leaving The Beatles. In a year of musical splits, Simon and Garfunkel also call it quits in 1970, and Diana Ross says so long to the Supremes.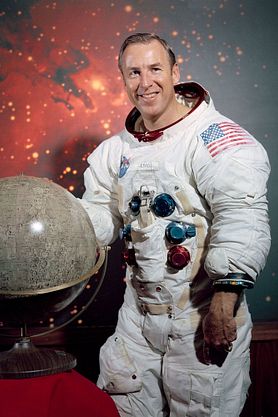 © NASA
April 11
NASA launches the Apollo 13 mission to the moon. Astronauts John Swigert, Fred Haise and James Lovell soon report an accident involving an oxygen tank but return safely to Earth on April 17.
April 22
First Earth Day!
April 29
President Nixon orders an invasion of Cambodia by U.S. and South Vietnamese troops, part of ongoing fighting in the Vietnam War.
May 4
Four people are shot and killed at Kent State University in Ohio when National Guard troops fire on students during a Vietnam War demonstration.
June 22
The Voting Rights Act of 1965 is amended to lower the U.S. voting age from 21 to 18. In 1971, the 26th Amendment to the Constitution makes the change permanent.
July 4
Radio host Casey Kasem first counts 'em down when "American Top 40" debuts.
Aug. 11
Muhammad Ali, banned from boxing since 1966 after refusing the draft for religious reasons, has his license reinstated by the City of Atlanta Athletic Commission, paving the way for his return to the ring.
Aug. 24
A university physics researcher is killed and three others injured when Vietnam War protesters bomb Sterling Hall at UW-Madison.
Aug. 26
50,000 women march in New York City during the Women's Strike for Equality.
Sept. 13
The New York City marathon runs for the first time with 55 finishers, compared to 52,000 today.
Sept. 18
Musician Jimi Hendrix dies in London; on Oct. 4, singer Janis Joplin dies in Los Angeles. Both were 27.
Sept. 19
"The Mary Tyler Moore" show premieres on CBS.
Sept. 21
"Monday Night Football" debuts on ABC.
Oct. 3
The National Oceanic and Atmospheric Administration is formed and the Weather Bureau, dating to 1870, becomes the National Weather Service within NOAA.
Oct. 5
Public Broadcasting Service begins, replacing the National Educational Television network.
Nov. 3
Jimmy Carter is elected governor of Georgia and Ronald Reagan is reelected governor in California.
Nov. 3
The Bhola tropical cyclone strikes East Pakistan and India's West Bengal, killing more than 500,000.
Nov. 14
In Wayne County, West Virginia, all 75 people are killed in a crash of Southern Airways Flight 932 — including three dozen players from the Marshall University football team plus dozens more coaches, administrators and fans.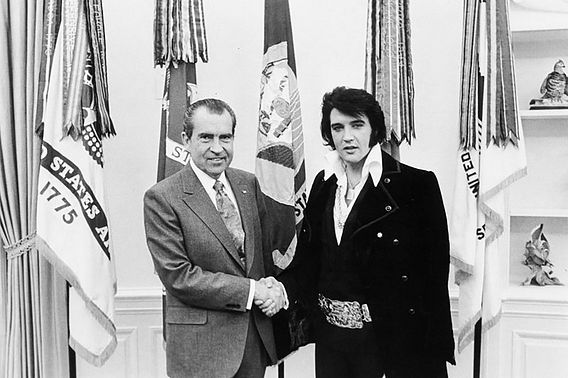 © OLLIE ATKINS/NATIONAL ARCHIVES
Dec. 21
Elvis Presley meets Richard Nixon in the White House. "I'm on your side," he told the president, reportedly asking for a badge from the Bureau of Narcotics and Dangerous Drugs.
Dec. 23
A "topping out" ceremony makes New York City's One World Trade Center (North Tower) the tallest building in the world at 1,368 feet.
— Andrea Zani