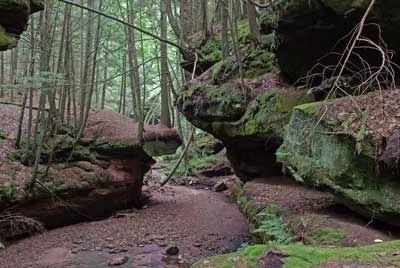 Photo by Thomas A. Meyer/DNR
Houghton Falls protects a picturesque pre-Cambrian sandstone gorge along the Lake Superior shore. The dramatic sandstone cliffs extend into the clear waters of Lake Superior, affording views of the Apostle Islands. The gorge is shaded by second-growth hemlock, yellow birch, and white cedar, along with a few, large white pine. Along the upper canyon are cliff shelves that have protected, and still support Canada yew, a favored shrub of deer. At the north end of the ravine, overlooking Lake Superior, a series of sandstone points dominated by white and red pine, drop dramatically 15 feet to the water. A stream meanders through the site cascading over the exposed sandstone before descending over 60 feet into a rippled sandy cove at Lake Superior.
Upstream is Echo Dells, a series of water-carved rock cliffs and caves interspersed with small waterfalls and a forested footpath. Echo Dells supports dense stands of hemlock to the south with yellow birch and mountain maple common. The understory includes intermediate wood fern, common polypody fern, long beech fern, thimbleberry, wood sorrel, and small enchanter's nightshade. Houghton Falls is also critical to numerous wildlife species. The waters off Houghton Point serve as a fish nursery and habitat area that contributes to the importance of Chequamegon Bay as a fishing destination. The site is also important in maintaining the unfragmented, undeveloped Lake Superior shoreline that supports many residents and migratory birds including the bald eagle, merlin, least flycatcher, veery, wood thrush, and Canada warbler. Houghton Falls is owned by the Town of Bayview and was designated a State Natural Area in 2010.
Very few State Natural Areas have public facilities, but nearly all are open for a variety of recreational activities as indicated below. Generally, there are no picnic areas, restrooms, or other developments. Parking lots or designated parking areas are noted on individual SNA pages and maps. If a developed trail is present, it will usually be noted on the SNA map and/or under the Maps tab. A compass, topographic map, or GPS unit are useful tools for exploring larger, isolated SNAs.
The good majority of SNAs are isolated and have few or no facilities. Some SNAs have vehicle access lanes or parking lots, but their accessibility may vary depending on weather conditions. Parking lots and lanes are not plowed during winter. Hiking trails may be nonexistent or consist of undeveloped footpaths. A GPS unit or compass and a detailed topographic map are valuable tools for exploring larger SNAs.
Non-DNR lands
Entrance fees: For non-DNR-owned SNAs, we are unaware of any vehicle or admission fees. However, please contact the landowner for more information.
Hunting and trapping
This is a non-DNR-owned SNA: Opportunities for hunting and trapping depend on the landowner. Please contact them directly to find out about their rules for hunting and trapping. You can find a link to other owner websites under the Resources tab.
Other activities
Other allowable activities such as - but not limited to camping, geocaching and bicycling are determined by the landowner. Please contact them directly or visit their websites for details.
Location
Bayfield County. T49N-R4W, Section 27. 76 acres.
Driving directions
From the intersection of Highway 13 and Washington Avenue in Washburn, go north on Highway 13 for 2.4 miles, then east on Houghton Falls Road for 0.5 miles to the trailhead and parking area south of the road.
Hours: 6:00 a.m. - 6:00 p.m. year-round. An automated gate will lock after hours and fines are issued to visitors who are in the preserve after hours. To have the gate unlocked, call the Town of Bayview at 715-292-0108 or Bayfield County Sheriff at 715-373-6120.
The DNR's state natural areas program is comprised of lands owned by the state, private conservation organizations, municipalities, other governmental agencies, educational institutions, and private individuals. While the majority of SNAs are open to the public, access may vary according to individual ownership policies. Public use restrictions may apply due to public safety, or to protect endangered or threatened species or unique natural features. Lands may be temporarily closed due to specific management activities.
Users are encouraged to contact the landowner for more specific details. The data shown on these maps have been obtained from various sources, and are of varying age, reliability, and resolution. The data may contain errors or omissions and should not be interpreted as a legal representation of legal ownership boundaries. To create your custom map where you can zoom to a specific location, please use the DNR's Mapping Application.
Houghton Falls is owned by: The Village of Bayview