Dells Of The Eau Claire River
No. 109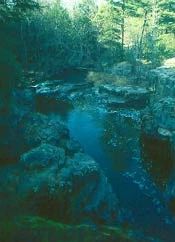 Photo by Thomas A. Meyer/DNR
The Dells of the Eau Claire River protect a scenic, narrow rocky gorge and waterfalls where geologic processes have resulted in an unusual tilting of bedrock. On this picturesque stretch of the Eau Claire River, the river cascades over outcrops of Precambrian-age rhyolite schist. The rhyolite schist, a very hard rock, was formed through metamorphosis and later tilted here to a nearly vertical position allowing the rock to split readily along the cleavage planes. In the dells, the river tumbles and spills across the rock's cleavage planes while it runs smoothly in other areas where the river flows parallel to the planes.
The water current through the dells has been strong enough to produce a series of potholes, formed by the grinding action of swirling sand and gravel. Downstream the flow is quite tranquil. This is an excellent area to observe fracture-controlled stream flow and the development of multiple stream terraces.
The rocky gorge and forested areas are wooded with a northern mesic forest of hemlock, sugar maple, yellow birch and mountain maple. The central portion of the SNA contains a vein that is dominated by hemlock that survived the cut-over with trees aged between 181 and 249 years. Other Northern Hardwood species within this area are quite large in diameter and likely older as well. Canada yew is abundant in dense patches and the spring flora is rich. The Dells of the Eau Claire is owned by Marathon County and was designated a State Natural Area in 1973.
Very few State Natural Areas have public facilities, but nearly all are open for a variety of recreational activities as indicated below. Generally, there are no picnic areas, restrooms, or other developments. Parking lots or designated parking areas are noted on individual SNA pages and maps. If a developed trail is present, it will usually be noted on the SNA map and/or under the Directions tab. A compass and topographic map or a GPS unit are useful tools for exploring larger, isolated SNAs.
The good majority of SNAs are isolated and have few or no facilities. Some SNAs have vehicle access lanes or parking lots, but their accessibility may vary depending on weather conditions. Parking lots and lanes are not plowed during winter. Hiking trails may be nonexistent or consist of undeveloped footpaths. A GPS unit or compass and a detailed topographic map are useful tools for exploring larger SNAs.
Non-DNR lands
Entrance fees: For non-DNR-owned SNAs, we are unaware of any vehicle or admission fees. However, please contact the landowner for more information.
Hunting and trapping
This is a non-DNR-owned SNA: Opportunities for hunting and trapping depend on the landowner. Please contact them directly to find out about their rules for hunting and trapping. You can find a link to other owner websites under the Resources tab.
Note: Hunting and trapping are prohibited in this county park.
Other activities
Other allowable activities such as - but not limited to camping, geocaching and bicycling are determined by the landowner. Please contact them directly or visit their websites for details.
Location
Within Dells of the Eau Claire County Park, Marathon County. T29N-R10E, Section 7 SW¼. 41 acres.
Driving directions
From the intersection of Highways 52 and Y in Hogarty, go west and south on County Highway Y about 3.3 miles to a parking area south of the river and west of the road. Hiking trails lead through the natural area.
The DNR's state natural areas program is comprised of lands owned by the state, private conservation organizations, municipalities, other governmental agencies, educational institutions and private individuals. While the majority of SNAs are open to the public, access may vary according to individual ownership policies. Public use restrictions may apply due to public safety, or to protect endangered or threatened species or unique natural features. Lands may be temporarily closed due to specific management activities.
Users are encouraged to contact the landowner for more specific details. The data shown on these maps have been obtained from various sources, and are of varying age, reliability, and resolution. The data may contain errors or omissions and should not be interpreted as a legal representation of legal ownership boundaries. To create your custom map where you can zoom to a specific location, please use the DNR's Mapping Application.
Dells Of The Eau Claire River is owned by Marathon County