Turtle Valley Wildlife Area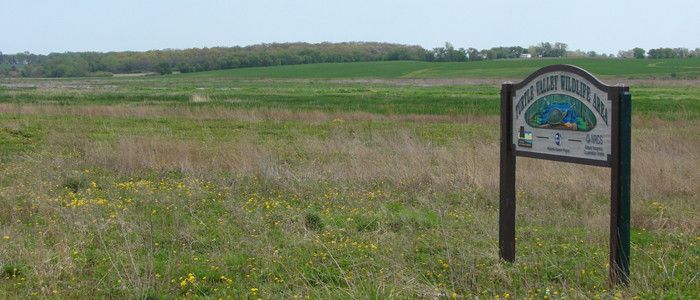 Turtle Valley Wildlife Area is located in western Walworth County, northwest of the city of Elkhorn. County Highways P and O split the property into three areas. The property is approximately 1,900 acres with two small tracts of land on Turtle Lake and one large tract south of Turtle Lake.
Turtle Valley Wildlife Area consists of mostly shallow marsh and wet meadow with tall grass prairie on the surrounding uplands. Cattail dominate the marshes and a few small woodlots exist on the property.
The wildlife area was created in 2000. Prior to restoration of the wetlands, the muck soils were farmed for mint. Through cooperation with USDA Natural Resources Conservation Service, wetlands were restored using a series of berms, breaking drainage tile and plugging ditches. Nine flowages were created through the restoration process, and prairie was planted in the uplands.
Management

The shallow marshes are managed to maintain 50% open water. This hemi-marsh environment is ideal for waterfowl production and provides excellent hunting opportunity. Management activities to promote grassland and savanna are conducted on the surrounding uplands.

The habitats throughout the entire wildlife area will be maintained and improved using a number of techniques including prescribed fire, brush removal, planting native species and removal of invasive species. Water level manipulation is used in conjunction with the aforementioned management tools. Be sure to scout your hunting in advance, as flowages may be drawn down in the fall. A waterfowl refuge exists in the middle of the property to hold birds in the area.

For more information on master planning for this and other wildlife areas around the state, visit the property planning page.

Recreation

The Turtle Valley Wildlife Area offers many recreational opportunities:

Birding;
Cross-country skiing (no designated trail);
Hiking (no designated trail);
Hunting (especially noted for waterfowl, pheasant and deer);
Trapping;
Wild edibles/gathering; and
Wildlife viewing.

Maps

Download [PDF] a map of this property.

If you are interested in exploring this property further, you can access an interactive map.

Useful links
This wildlife area has been adopted by Mr Hubbard's Hounds.