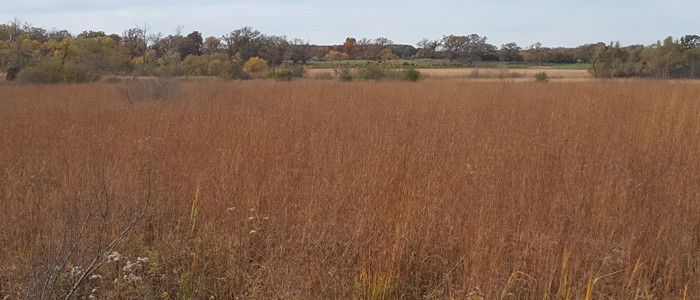 Tichigan Wildlife Area is a 1,280-acre property in northwest Racine County. The property can be found approximately 4 miles northwest of the village of Waterford off of Marsh Road and can be accessed off of Marsh Road, Bridge Drive, North Lake Drive, Highway 83 and Tichigan Road.
The Tichigan Marsh in presettlement times was part of the Fox River system and formed an extensive emergent marsh. It was an area that supported a variety of wildlife species including waterfowl, deer, muskrats, wetland birds and songbirds. As settlers moved in, the landscape changed (e.g. ditching, roads, farming, etc.), and in 1838 a dam was built on the Fox River in Waterford, approximately 4 miles downstream from the current wildlife area. The dam created a 351-acre lake that abuts the marsh and wildlife area, reducing the size and nature of the marsh.
Habitat on the property consists of oak woodland, lowland woodland, shrub-carr wetland, wet meadow, cattail marsh, shallow marsh, grassland and agricultural fields. Tichigan Creek, a class III trout stream, runs through the southern part of the property providing fishing opportunities. A No Entry Refuge exists on the north side of the property, west of the river, where hunting and trapping are prohibited. A boat launch located just outside the refuge, off of North Bridge Road, provides access to the Fox River and Tichigan Lake. Wildlife on the property includes deer, turkey, waterfowl and other small game. Pheasants are stocked on the property.
Tichigan Wildlife Area is a prime property for viewing great egrets, least bitterns, terns, teal, wood ducks, Wilson's phalaropes and white-rumped sandpipers. It is also listed as a Natural Area-2 (NA-2) by the Southeastern Regional Planning Commission in the natural areas report, "A Regional Natural Areas and Critical Species Habitat Protection and Management Plan for Southeast Wisconsin." Tichigan Marsh is the largest emergent marsh in Racine County.
Management

The Tichigan Wildlife Area is identified as a place for managing high quality wetland communities of statewide significance within the Southeast Glacial Plains Ecological Landscape according to Wisconsin's Wildlife Action Plan [PDF]. It is managed to provide opportunities for public hunting, fishing, trapping and other outdoor recreation while protecting the qualities of the unique native communities and associated species found on the property. Grasslands are managed and maintained through prescribed burning, mowing and herbicide use to limit brush encroachment and encourage vigorous grasslands. Wetlands are managed through limited disturbance to prevent the spread of reed canary grass. Shelterwood harvest and thinning improvement cuts are used to maintain and regenerate oak and central hardwoods. Populations of invasive species are controlled or eliminated by cutting, pulling, burning, herbicide treatment and/or bio-control.

The 190-acre refuge area contains a 25-acre impoundment that is managed for waterfowl, providing a feeding and resting area for migrating birds. A portion of the impoundment, 5-10 acres, is planted with Japanese millet in the spring, and the impoundment is flooded before the waterfowl season opens in the fall. The impoundment area borders Tichigan Lake and the Fox River with the boat launch north of the refuge providing hunters access to the river/bay area. The wildlife refuge area is closed to all entry from Sept. 1- Dec. 31.

For more information on master planning for this and other wildlife areas around the state, visit the property planning page.

Recreation

The Tichigan Wildlife Area offers many recreational opportunities:

Birding;
Cross-country skiing (no designated trail);
Canoeing;
Fishing (Tichigan Creek class III trout stream, and Tichigan Lake);
Hiking (no designated trail);
Hunting (especially noted for deer, waterfowl, turkey, pheasant [12 p.m. closure] and small game);
Snowmobiling trail;
Trapping;
Wild edibles/gathering; and
Wildlife viewing.

Maps

Download [PDF] a map of this property.

If you are interested in exploring this property further, you can access an interactive map.

Useful links
This wildlife area has been adopted by the Southeast Wisconsin Chapter of Trout Unlimited.