Thunder Lake Wildlife Area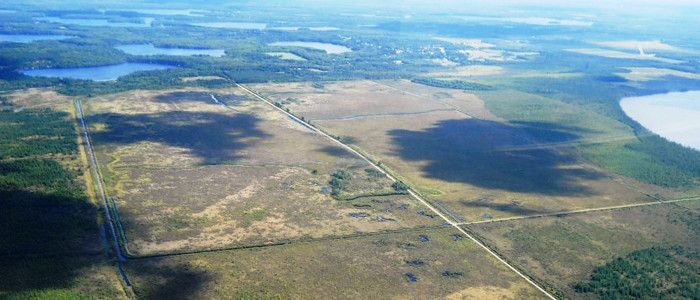 Thunder Lake Wildlife Area is a 3,000-acre property located in northeast Oneida County, one mile north of the village of Three Lakes. It consists of 50% open peat wetland (poor fen) and 50%  forested tamarack/black spruce wetland with the 120-acre Rice Lake and 1.3 miles of shoreline on 1,800-acre Thunder Lake. The whole property is open for hunting except for the waterfowl closed area around Rice Lake. A wide variety of wetland wildlife use the property including mallards, blue-winged teal, ring-necked ducks, great blue herons, sandhill cranes, Canada geese and numerous species of wetland songbirds. Three rare species, the Nelson sharp-tailed sparrow, merlin and the yellow rail nest on the property. Common mammals include white-tailed deer, beaver and muskrats.
History of management
The area was cleared and drained for agriculture by 1920. Agriculture failed and the land became tax delinquent. In 1952, Oneida County transferred the land to the state of Wisconsin for development of a wildlife management area. During the 1950s and 1960s prescribed fire was used to keep the property free of invading tamarack and black spruce and to support a remnant population of sharp-tailed grouse. By 1985, the sharp-tailed grouse had disappeared because suitable habitat declined to less than 2,000 acres.
Management objective
Today the property is managed for wetland wildlife. The western half of the property is a large, wild state natural area while the eastern half is managed as an open peatland. In the managed area, cutting and prescribed fire are used to maintain about 1,000 acres of open sedge, leatherleaf, cottongrass and bog birch peatland.
Rice Lake is managed as a Waterfowl Closed Area.
For more information on master planning for this and other wildlife areas around the state, visit the property planning page.
Recreation
The Thunder Lake Wildlife Area offers many recreational opportunities:

Auto travel;
Birding;
Canoeing;
Cross-country skiing (no designated trail);
Hiking (no designated trail);
Hunting (except the Waterfowl Closed Area around Rice Lake);
Snowmobiling trail;
Trapping;
Wild edibles/gathering; and
Wildlife viewing.
This wildlife area has been adopted by Nicolet Bird Club of Three Lakes.