Swinging Gate Fish and Wildlife Area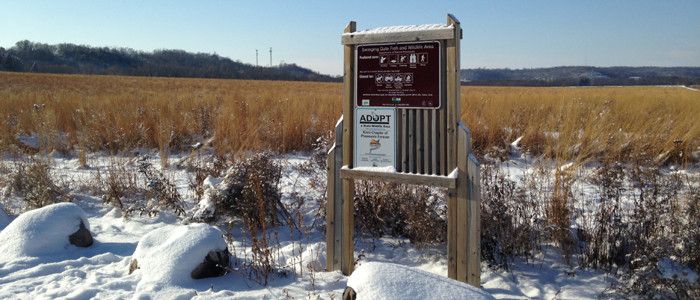 Swinging Gate Fish and Wildlife Area is a 156-acre property located in southern St. Croix County. The property was purchased in 1999 as a part of the Kinnickinnic River Fisheries Area and was expanded to its current acreage in 2010 with a generous donation from the Kinnickinnic River Land Trust. The property consists exclusively of grassland habitat with the Kinnickinnic River, a world class trout stream, cutting through the northwest corner. The property is managed as part of the Western Prairie Habitat Restoration Area, a landscape scale wetland and grassland restoration project.
The property is located 1 mile northeast of River Falls and can be accessed from the parking lot on Highway 65. Additional access is available on Quarry Road.
Management

The property is managed to provide opportunities for public hunting, fishing, trapping, wildlife observation and other nature-based outdoor recreation. Management objectives aim to maintain an open grassland community through prescribed fire, mechanical and chemical control of woody species and limited haying and grazing. Populations of invasive species are controlled or eliminated by cutting, pulling, burning, herbicide treatment and/or bio-control.

For more information on master planning for this and other wildlife areas around the state, visit the property planning page.

Recreation

The Swinging Gate Fish and Wildlife Area offers many recreational opportunities:

Birding;
Fishing;
Cross-country skiing (no designated trail);
Falconry (by permit);
Hiking;
Hunting;
Snowshoeing;
Trapping;
Wild edible/gathering; and
Wildlife viewing.

Maps

Download [PDF] a map of this property.

Download [PDF] an aerial view of this property.

Useful links
This wildlife area has been adopted by Pheasants Forever, Kinni Chapter.