Spring Creek Wildlife Area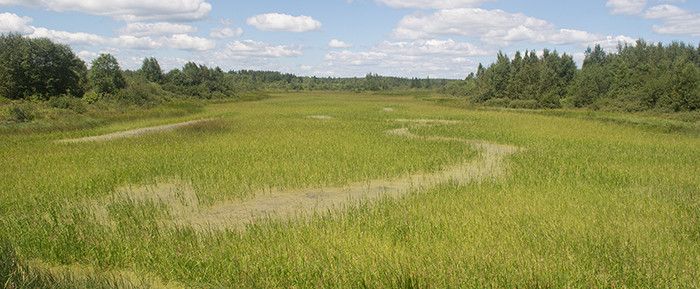 Spring Creek Wildlife Area is a 1,000-acre property located eight miles southwest of Phillips in Price County. The diverse wildlife area includes four waterfowl flowages totaling 220 acres of water at full capacity as well as 261 acres of aspen, 156 acres of upland brush, 200 acres of lowland brush, 150 acres of conifer and muskeg and 16 acres of fallow field/grassland.
To get to Spring Creek Wildlife Area, travel 5 miles southwest on State Highway 111, just south of Phillips, from State Highway 13. Then travel 1/3 of a mile south on Pioneer Road to reach Spring Creek Way, which will take you to the property entrance.
Management

This project was initiated in 1962 with the purchase of 923 acres. Two existing flowages were upgraded and two waterfowl flowages have been created. All flowages now contain water control structures. 3.25 miles of access roads were created or upgraded and an additional 1.5 miles of fire breaks/walking trails were constructed.

Today, this property is primarily managed for waterfowl. All four flowages are drawn down annually to promote wild rice beds and to protect the levies during periods of high water. Five burn units have been established and prescribed burning is conducted to set back woody encroachment and to promote dense nesting cover for waterfowl. The timbered areas are managed using sound silvicultural practices to promote healthy woodland habitats and fiber production.

For more information on master planning for this and other wildlife areas around the state, visit the property planning page.

Recreation

The Spring Creek Wildlife Area offers many recreational opportunities:

Auto travel;
Birding;
Canoeing;
Cross-country skiing (no designated trail);
Fishing;
Hiking;
Hunting (especially noted for waterfowl);
Trapping;
Wild edibles/gathering; and
Wildlife viewing.

Maps

Download [PDF] a general map of this property.

Download [PDF] a detailed road and trail map of this property.

If you are interested in exploring this property further, you can access an interactive map.

Useful links