McMillan Marsh Wildlife Area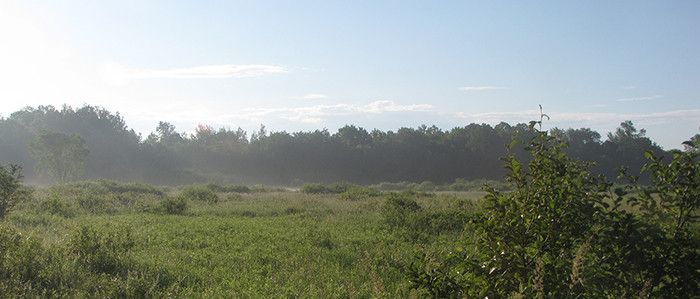 Near the headwaters of the Little Eau Pleine River, McMillan Marsh Wildlife Area is a diverse landscape of wetlands, woodlands and grasslands. The area is approximately 6,500 acres in size and is in the southwest corner of Marathon County, 1 mile north of the city limits of Marshfield. A portion of the property is leased from Marathon County.
The area is managed by Department of Natural Resources personnel stationed at the George W. Mead Wildlife Area headquarters. Visit Friends of the Mead/Mcmillan Wildlife Areas [exit DNR] for more information. The management office for the McMillan Marsh can be reached at: 715-457-6771. Excluding the designated refuge area, the property is open to hunting and trapping during the regular seasons. A seasonal 5.5 mile bicycle trail is open from May 1 through Aug. 31. Other recreational activities include hiking and wildlife viewing.
Management

Prior to becoming McMillan Marsh Wildlife Area, the land was used for logging, a fur farm and agriculture. The area has been managed for wildlife habitat and public recreation since the 1960s.

For more information on master planning for this and other wildlife areas around the state, visit the property planning page.

Recreation

The McMillan Marsh Wildlife Area offers many recreational opportunities:

Hunting;
Trapping;
Hiking (no designated trail);
Birding;
Wildlife viewing;
Dog training and trialing;
Cross-country skiing (no designated trail);
Wild edibles/gathering; and
Seasonal biking.

Maps

Download [PDF] a map of this property.

If you are interested in exploring this property further, you can access an interactive map.

Useful links
This wildlife area has been adopted by Boy Scout Troop 385.