McKenzie Creek Wildlife Area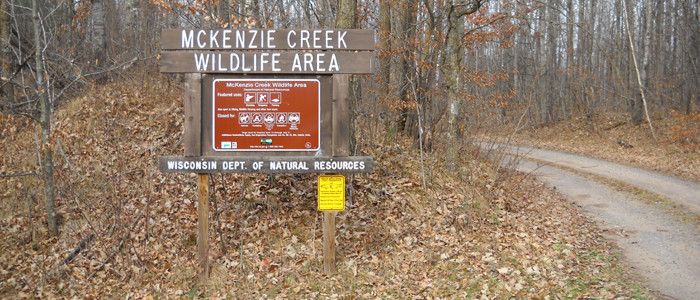 McKenzie Creek Wildlife Area is a 5,497-acre property in Polk County. It consists of rolling upland aspen, oak, and maple forest, lowland forest, trout streams, lakes, tamarack/black spruce bog and spruce plantation.
McKenzie Creek Wildlife Area is 1/2 mile south of Clam Falls. There are access points on 60th and 68th streets, off of Highway I. From Frederic, take Highway W east for 8 miles. The property is north and south of Highway W. From Luck, take Highway 48 east for 8 miles to Highway O. Head north for 2 miles and the property is on the north side of Highway O. There are small gravel parking areas at various locations throughout the property.
No bikes are allowed on the property, except roads open to the public for motor vehicles.
Management Objectives
McKenzie Creek Wildlife Area was established in 1945 for watershed protection, access to four trout streams and because it was a major wintering area for deer. After 2,320 acres were acquired north of Highway W, the project boundary was expanded in 1958 to its current size. The area is popular with hunters, especially ruffed grouse and deer hunters. There are four lakes on the property: McKenzie, Margaret, Tula and Dinger. McKenzie Lake has the only developed boat landing, which is at the end of 280th Avenue. The other lakes are walk-in only. McKenzie Creek, the namesake for the property, is a class 1 trout stream that can be accessed at several locations throughout the wildlife area.
Today, active forest management is implemented to maintain quality habitat for ruffed grouse and deer and a trail system is mowed annually. Trout stream management is also performed on McKenzie Creek.
For more information on master planning for this and other wildlife areas around the state, visit the property planning page.
Recreation
The McKenzie Creek Wildlife Area offers many recreational opportunities:
Birding;
Cross-country skiing (no designated trail);
Fishing;
Hiking (no designated trail);
Hunting;
Trapping;
Wild edibles/gathering; and
Wildlife viewing.
Note: No bikes are allowed on the property, except roads open to the public for motor vehicles.
Find out more about how to adopt this wildlife area.