Liberty Creek Wildlife Area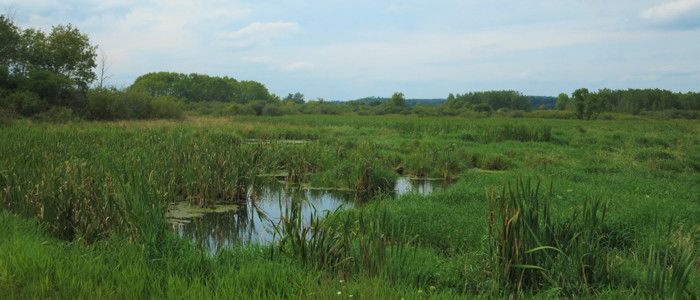 Liberty Creek Wildlife Area is in Albany and Brooklyn townships in east central Green County. The property consists of 563 acres of state-owned and 20 acres of leased land. While comprised largely of marsh with native vegetation and canary grass, there are 25 acres of upland woods and 20 acres of upland grass and brush on the property. Liberty Creek, a class 3 trout stream, flows north to south for a mile through the wildlife area.
Management

The Liberty Creek Wildlife Area was established in 1959 to provide public hunting and is managed primarily for pheasants. Access is limited to a parking lot on the east border and Brooklyn/Albany Road on the north end of the property. Management includes prescribed burning and brushing.

For more information on master planning for this and other wildlife areas around the state, visit the property planning page.

Recreation

The Liberty Creek Wildlife Area offers many recreational opportunities:

Birding;
Cross0country skiing (no designated trail);
Hiking (no designated trail);
Hunting (especially noted for pheasants);
Trapping;
Wild edibles/gathering; and
Wildlife viewing.

Maps

If you are interested in exploring this property further, you can access an interactive map.

Useful links
Find out more about how to adopt this wildlife area.