Lawrence Creek Fish and Wildlife Area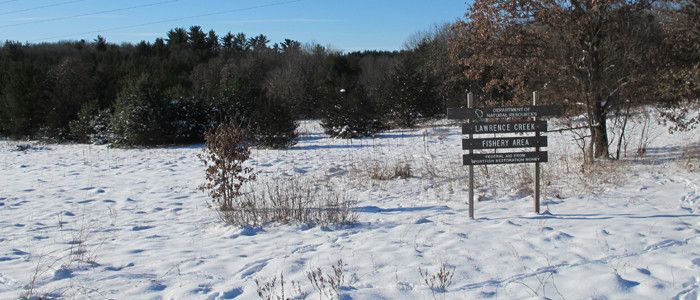 Lawrence Creek Fish and Wildlife Area is a 961-acre parcel surrounding Lawrence Creek and its headwaters. It is located in the northwestern part of Marquette County and east-central Adams County. The stream is generally crystal clear making it high quality trout water. There have been various stream bank improvement projects to enhance the already excellent fishing opportunities.
The vegetative cover is rich in diversity with portions of lowland brush and swamp hardwoods to upland forests and grasslands. Additionally, many old agricultural fields have been abandoned and are reverting to natural vegetation; others have planted into pine plantations, converted into native prairies, or continued to be farmed in share-crop agreements. This unique mix of woods, water and fields provides prime habitat for a variety of game and non-game species.
Recreational opportunities are year round, from fishing and hunting to canoeing and snowshoeing. There are numerous parking areas scattered throughout the entire stretch of the property providing ample access points.
Management

For more information on master planning for this and other wildlife areas around the state, visit the property planning page.

Recreation

The Lawrence Creek Fish and Wildlife Area offers many recreational opportunities:

Birding;
Cross-country skiing (no designated trail);
Fishing;
Hiking (no designated trail);
Hunting;
Snowmobiling (designated areas only);
Snowshoeing;
Trapping;
Wild edibles/gathering; and
Wildlife viewing.

Maps

Download [PDF] a map of this property.

If you are interested in exploring this property further, you can access an interactive map.

Useful links
Find out more about how to adopt this wildlife area.