Lambs Creek Wildlife Area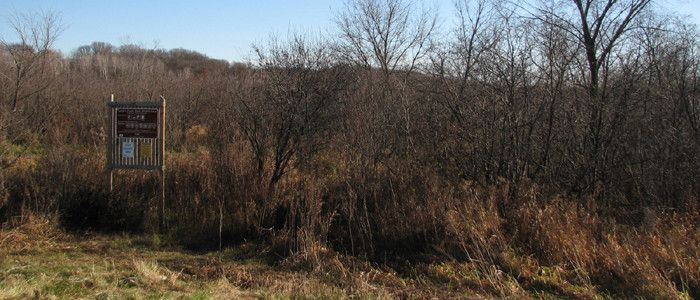 Lambs Creek Wildlife Area is a 750-acre property located approximately 5 miles north of Menomonie and 3 miles south of Wheeler. The property lies between County Highway F and State Highway 25 with an additional parcel east of 880th Avenue. A small parking lot is available for public access on the north side of 810th Avenue. Roadside access is available at other locations and may require permission from neighboring landowners.
Lambs Creek flows through the property from west to east for roughly 2.25 miles as the predominant feature on the wildlife area. Moving away from the creek bottom, you will find central hardwood forest.
Management

Acquisition of lands for the Lambs Creek Wildlife Area began between 1960 and 1965 when several parcels were acquired. The purpose was to protect and provide public access to Lambs Creek and the associated wetland complex as well as provide upland wildlife habitat adjacent to the creek and wetland. Between 1973 and 1980 additional land was obtained with the most recent acquisition occurring in 2002.

Historically, the management objective was to protect the waters of Lambs Creek and provide wildlife habitat for species that utilize wetlands and woods. These same objectives remain true today.

Primary management on this property involves management of the woodlands. Use of forest management and timber sales help maintain a healthy, vigorous woodland for wildlife. The property is also monitored for invasive species.

Recreation

The Lambs Creek Wildlife Area offers many recreational opportunities:

Birding;
Cross-country skiing (no designated trail);
Fishing;
Hiking (no designated trail);
Hunting (especially noted for deer, bear, turkey, waterfowl and small game);
Trapping;
Wild edibles/gathering; and
Wildlife viewing.

Maps

Download [PDF] a map of this property.

Useful links
Find out more about how to adopt this wildlife area.