Honey Creek Wildlife Area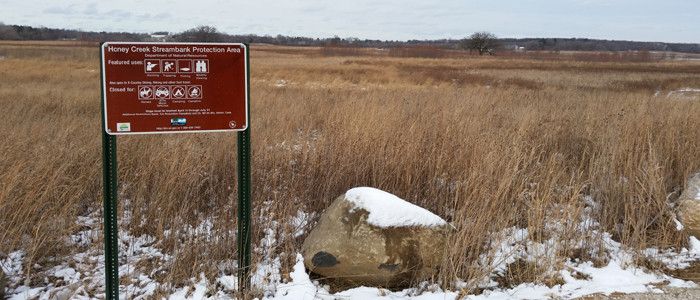 Honey Creek Wildlife Area is a 1,495-acre property in western Racine County County and eastern Walworth County. The property is divided into four separate property blocks. Habitat on the property consists of oak woodland, lowland woodland, shallow and deep marsh, grassland and agricultural fields. Waterways associated with the wildlife area include Long Lake, Honey Creek and Sugar Creek. Wildlife on the property includes deer, turkey, waterfowl and other small game. Pheasants are stocked on the property.
Three of the four property blocks have parking areas, with all of them located in the town of Rochester. These accesses can be found on County Highway W south of Rochester; on Academy Road approximately 3 miles west of Rochester; on a gravel drive south of Highway FF, a quarter-mile west of Rochester; on Oak Knoll Road, a half-mile west of Highway DD; and on Killdeer Court off of Maple Road.
In 2006, the Nature Conservancy gifted the 229-acre Hoganson parcel to the department, located in the town of Spring Prairie in eastern Walworth County. The habitat on this parcel includes oak-hickory-cherry woodland, pine plantation, wet meadow, lowland shrub and cattail marsh. Sugar Creek borders a portion of the northern parcel west of Highway DD.
The Cherry Lake Sedge Meadow State Natural Area is located within the wildlife area. Honey Creek features a mix of habitats providing opportunities to see flycatchers, terns, great blue herons, American bitterns and sandhill cranes.
Management Objectives
The Honey Creek Wildlife Area is a Conservation Opportunity Area [PDF] for managing high-quality wetland communities of statewide significance within the Southeast Glacial Plains, according to Wisconsin's Wildlife Action Plan. The wildlife area is managed to provide opportunities for public hunting, fishing, trapping and other outdoor recreation while protecting the qualities of the unique native communities and associated species found on the property. Shelterwood harvests are used to maintain the oak and central hardwood types. The marsh, shrub-carr and grassland types are maintained with brushing, mowing and prescribed fire. Populations of invasive species are controlled or eliminated by cutting, pulling, burning, herbicide treatment and/or bio-control.
DNR staff periodically mow, use controlled burning and herbicide application to maintain grassland habitat at Honey Creek Wildlife Area for waterfowl nesting cover and a number of other upland birds.
Recreation
The Honey Creek Wildlife Area offers many recreational opportunities:

Birding;
Cross-country skiing (no designated trail);
Hiking (no designated trail);
Hunting (especially noted for deer, waterfowl, turkey, pheasant and small game);
Trapping;
Wild edibles/gathering; and
Wildlife viewing.
Find out more about how to adopt this wildlife area.