Hay Creek-Hoffman Lake Wildlife Area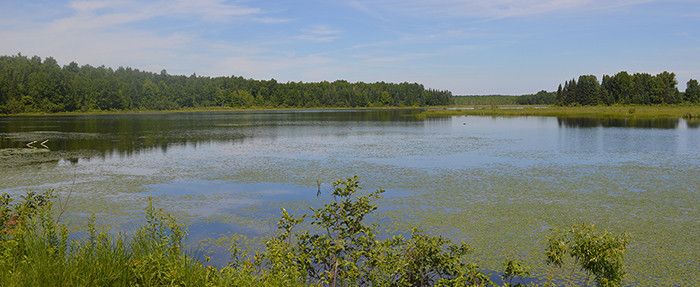 Hay Creek-Hoffman Lake Wildlife Area is a 13,800-acre property located 8 miles northeast of Park Falls in Ashland and Iron counties. The property is heavily timbered with aspen, northern hardwoods and lowland conifer.
Find this wildlife area by traveling east of Park Falls on State Highway 182 for 6 miles. Take Blockhouse Lake Road north to reach Hay Creek-Hoffman Lake Wildlife Area.
Management

History

This project was initiated as part of the "deer yard" acquisition program. In 1946, a large block of land was purchased from the Wisconsin Realty Corp. The majority of the remaining purchases occurred since the early 1960s. Present ownership is nearly 14,000 acres, with an overall project goal of 16,317 acres.

Management Objective

Today, this property is primarily managed for whitetail deer, ruffed grouse, woodcock and bears. Commercial timber harvest is the main habitat management tool and follows a harvest prescription designed to meet project goals while being silviculturally sound.

This area also has a vast network of gated hunter walking trails and wildlife openings. In addition to hunting and trapping activities, great berry picking, off trail snowshoeing, birding and wildlife watching opportunities exist.

For more information on master planning for this and other wildlife areas around the state, visit the property planning page.

Recreation

The Hay Creek-Hoffman Lake Wildlife Area offers many recreational opportunities:

Auto travel;
Birding;
Canoeing;
Cross-country skiing (no designated trail);
Fishing;
Hiking (gated hunter walking trails);
Hunting;
Snowshoeing (no designated trail);
Target range (public range offering 50- and 100-yard targets, and Whitetails Unlimited

[exit DNR]

has an annual youth event at the range);
Trapping;
Wild edibles/gathering; and
Wildlife viewing.

Maps

Download [PDF] a general map of this property.

Download [PDF] a detailed road and trail map of this property.

If you are interested in exploring this property further, you can access an interactive map.

Useful links
Find out more about how to adopt this wildlife area.