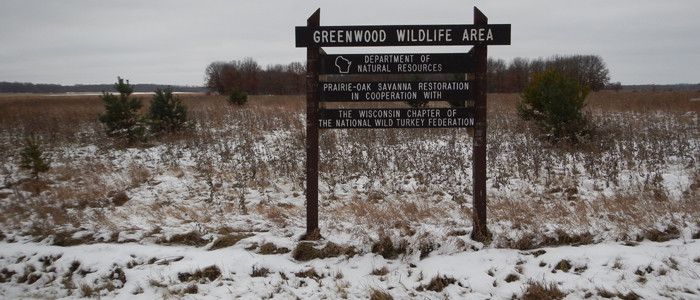 Greenwood Wildlife Area is located in west central Waushara County, 3 miles northeast of Coloma and 1 mile southeast of Hancock. The wildlife area lies on the edge of a pitted outwash plain creating a flat sandy topography and a wooded hilly moraine comprised mostly of oak.
Historically, the plains area was in agricultural practices and an important wintering area for a local population of giant Canada geese. In 1938, it was closed to goose hunting for the next 10 years by a designation as a state refuge. During this time, the flock increased dramatically from several hundred geese to several thousand, hunting pressure adjacent increased accordingly. Acquisition of the area began in 1949 and was completed by 1955. Currently, the state owns 1,438 acres.
Management

History

Prior to state ownership, the state leased some of the lands in present ownership, and about 10 acres were purchased annually for goose feed. From 1949-53, several hundred acres of state land were cropped by the UW Experimental Station at Hancock. The Department of Natural Resources took over the entire farming operation in 1954 and initiated a Soil Conservation Service farm plan to control wind erosion and increase soil fertility. Farm operations had been conducted by area farmers since 1960 under sharecrop agreements directed by the property manager. As the giant Canada goose population increased statewide, it became apparent the refuge was no longer needed. In 1994, with financial support from the Wisconsin chapter of the National Wild Turkey Federation and Turkey Stamp funding, an effort to restore the area to native prairie and savanna began. To date, approximately 100 acres remain in crops, while the remaining 500 or so acres have been restored to prairie. This provides important habitat for grassland dependent species. The refuge status has been eliminated and hunting is open during the appropriate seasons.

Management objective

Timber management has always occurred on the moraine portion and continues to this day. About half of Greenwood's vegetative cover is forested. Within the properties heavily forested areas, there has been an ongoing study of oak regeneration. Another portion surrounded by the prairie has been slowly converted into savanna type habitat to coincide with the grassland management.

Recognition of the diversity of glacial formations within the wildlife area led to the designation of an alternate route of the Wisconsin Ice Age Trail. The trail traverses along the southern and eastern borders, with a new segment through the grasslands. Additionally, a snowmobile trail exists through a portion of the southern property. There is ample parking on all sides of the wildlife area.

For more information on master planning for this and other wildlife areas around the state, visit the property planning page.

Recreation

The Greenwood Wildlife Area offers many recreational opportunities:

Birding;
Cross-country skiing (no designated trail);
Hiking (no designated trail);
Hunting (please note, there is an adjacent Ice Age Trail parcel to the south that has different hunting rules);
Snowmobiling (designated trails only);
Trapping;
Wild edibles/gathering; and
Wildlife viewing.

Maps

Download [PDF] a map of this property.

If you are interested in exploring this property further, you can access an interactive map.

Useful links
Find out more about how to adopt this wildlife area.