Grand River Marsh Wildlife Area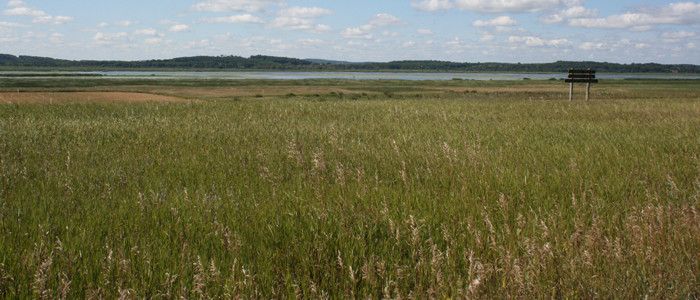 Grand River Marsh Wildlife Area is a 7,000-acre property located in southwest Green Lake County and southeast Marquette County near Lake Puckaway. Find it approximately 5 miles south of Montello, 11 miles north of Pardeeville on County Highway B, or 3 miles west of Kingston on County Highway B. The property consists of open marsh/emergent cattail wetland, upland prairie/oak savannah and shrub carr/wet meadow.
Management

History

The Grand River Marsh has long provided excellent habitat for a variety of wildlife and migratory waterfowl. Area sportsman's clubs in the 1930s and 1940s conceived the idea of converting it into a wildlife refuge. The proposal received continued support locally as clubs sponsored fundraising projects and contributed money toward acquisition and development. Their verbal and moral support was considered much more valuable than the monetary contributions.

Public support for this wildlife area is considered to be among the strongest received in recent history. The preliminary project statement was submitted Jan. 16, 1958, and the Wisconsin Conservation Commission approved acquisition of the land on Feb. 21, 1958. Land acquisition began that same year.

Much of the uplands and marsh were farmed and grazed. Portions of the marsh were ditched for farming and the west end has deep muck soils. Marsh hay was once an important crop produced on this marsh, with reed canary and wiregrass being the main species.

Management objective

Current management programs include wetland and oak savannah restoration. Water level manipulation to provide quality waterfowl habitat and deep water marsh habitat is the primary goal in the main impoundment, but an excellent fishery has responded to the current water management regime.

Recreation

The Grand River Marsh Wildlife Area offers many recreational opportunities:

Auto travel;
Biking (town road only);
Birding;
Canoeing (no motor boats or electric motors allowed);
Camping at a nearby private facility;
Cross-country skiing (no designated trail);
Fishing;
Hiking (no designated trail);
Hunting (especially noted for pheasant with 12 p.m. closure rules applying);
Trapping;
Wild edibles/gathering;
Wildlife viewing.

Hunting note: There is a "waterfowl closed area" located on the west end of the wildlife area (see property map) that is closed to all hunting, trapping and boat access during all waterfowl seasons (except it is open for regular gun deer and muzzleloader deer hunting). The closed area boundary is clearly posted with yellow DNR signs. The remainder of Grand River Marsh Wildlife Area is open for all other hunting and trapping seasons.

Other information/regulations: No motorboats or electric motors are allowed at any time on the wildlife area. Special pheasant hunting rules apply, with 2 p.m. closure. Mourning dove hunting opportunities may be found on farm fields.

Please note: The gates to the Main Dam Road will open on the first Saturday of May (opening of the regular fishing season) and close on the Tuesday following Labor Day. The gates will be reopened only for the regular gun deer and muzzleloader deer seasons.

For more information on master planning for this and other wildlife areas around the state, visit the property planning page.

Maps

Download [PDF] a map of this property.

If you are interested in exploring this property further, you can access an interactive map.

Useful links
Find out more about how to adopt this wildlife area.