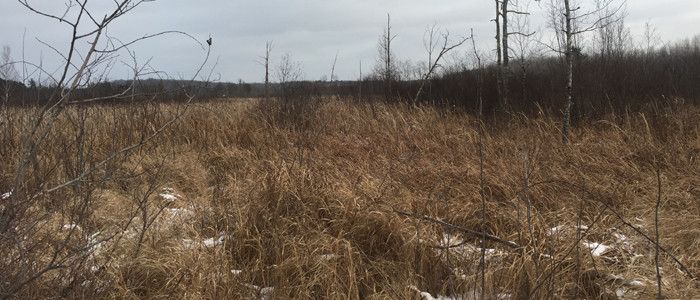 Flat Creek Wildlife Area is a 373-acre property located on the center boarder of Washburn and Sawyer counties, in Bass Lake Township of both counties. The habitat is comprised of aspen, swamp conifer, tamarack, northern hardwoods, balsam fir and, of course, Flat Creek itself with numerous beaver ponds. The only access point is at the end of Flat Creek Road about 4 miles southwest of Hayward and west of Highway 27.
Management

The purchase of land for the Flat Creek Wildlife Area began in 1948, with the last purchase in 1953. The average price paid per acre at that time was $3 to $5.

Current management activity consists of numerous timber sales for wood fiber and wildlife habitat management.

For more information on master planning for this and other wildlife areas around the state, visit the property planning page.

Recreation

The Flat Creek Wildlife Area offers many recreational opportunities:

Birding;
Cross-country skiing (no designated trail);
Hiking (no designated trail);
Hunting;
Snowshoeing;
Trapping;
Wild edibles/gathering; and
Wildlife viewing.

Maps

Download [PDF] a map of this property.

If you are interested in exploring this property further, you can access an interactive map.

Useful links
Find out more about how to adopt this wildlife area.