Eau Galle River Wildlife Area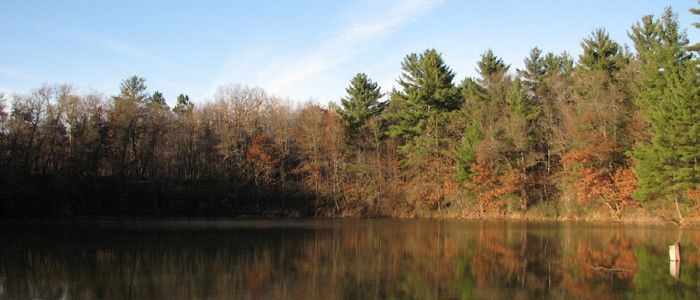 Eau Galle River Wildlife Area is a 236-acre property located approximately 10 miles southwest of Menomonie or 4 miles north of Eau Galle. County Highway C borders much of this property on the west side and 220th Street and 220th Avenue meet on the north end of the property.
The Eau Galle River winds through this property from north to south for roughly 1.5 miles. The river is generally shallow with a sandy bottom. Immediately adjacent to the river, you will find a mix of bottomland hardwood tree species and brush. As you move away from the river, the vegetation transitions to central hardwoods and pine. Also on this property is a natural pond roughly 2 acres in size and some small backwater sloughs that receive runoff and flood water when the river is high.
Management

Acquisition of the Eau Galle River Wildlife Area began in 1961 with three parcels acquired within two years. The fourth and final parcel was purchased in 1979. In the property's infancy, it was once referred to as a "little Tiffany" in comparison to the expansive Tiffany Wildlife Area that straddles the Chippewa River in Buffalo and Pepin counties. Sportmen's clubs from Eau Galle and Elmwood provided assistance with some of the land acquisitions.

This property was established because of its waterfowl and furbearer production potential. Currently, the property is managed primarily for its woodland value and to protect the water quality of the Eau Galle River. Very little management is necessary, as it is mostly wooded. The property is monitored for invasive plant species and will likely undergo forest management in the future.

For more information on master planning for this and other wildlife areas around the state, visit the property planning page.

Recreation

The Eau Galle River Wildlife Area offers many recreational opportunities:

Birding;
Cross-country skiing (no designated trail);
Fishing;
Hiking (no designated trail);
Hunting (especially noted for deer, turkey, waterfowl and small game);
Trapping;
Snowmobiling trail;
Wild edibles/gathering; and
Wildlife viewing.

Maps

Download [PDF] a map of this property.

If you are interested in exploring this property further, you can access an interactive map.

Useful links
Find out more about how to adopt this wildlife area.