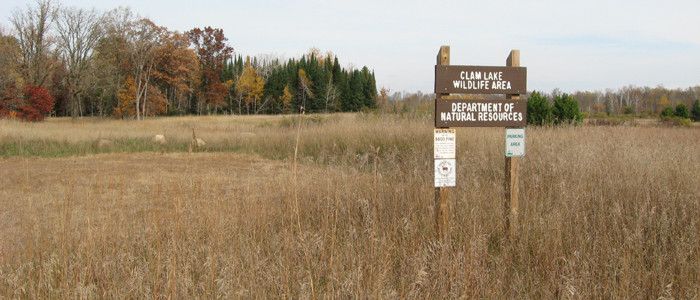 Clam Lake Wildlife Area is a 285-acre property located in southern Burnett County, 2 to 3 miles east of Siren on Clam Lake and the Clam River. The habitat consists of a wide variety of lowland-wetland types as well as upland old fields, northern hardwoods, two sedge/brush islands and riparian areas of lake shore and river.
Management Objectives
This wildlife area was established in 2004 with the purchase of 238 acres on the south side of Clam Lake, encompassing approximately 1 mile of the Clam River and a large portion of its mouth on Clam Lake. The area also includes a 20-acre peninsula on the west side of Clam Lake with a boat landing and parking lot, two large islands of approximately 20 acres each and a small 10-acre parcel of land on Clam Lake's east shore.
The main acreage and islands are managed for waterfowl nesting habitat and the rice beds at the mouth of Clam River are protected for their high-quality food and cover benefits to both humans and wildlife.
Recreation
The Clam Lake Wildlife Area offers many recreational opportunities:

Birding;
Canoeing;
Cross-country skiing (no designated trail);
Fishing;
Hiking (no designated trail);
Hunting;
Trapping;
Wild edibles/gathering (wild rice); and
Wildlife viewing.