Beaver Brook Wildlife Area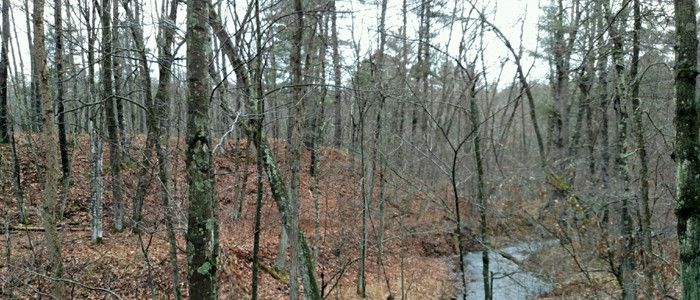 Beaver Brook Wildlife Area is a 1,964-acre property located in south-central Washburn County. Beaver Brook is one of the area's premier class I brook and brown trout streams, fed along its course by 10 spring ponds and many bank seeps. Beaver Brook flows into the Yellow River on the north end of the property. The mouth of Beaver Brook and a section of Randall Creek are also part of the Beaver Brook property. The 17-acre Harrison Lake lies in the north end of Beaver Brook and 18-acre Lutz Lake on part of the south end. Numerous wetlands associated with the brook, springs and lakes can be found throughout the property. Red oak stands, aspen, mixed hardwoods, upland and lowland brush, swamp hardwood and conifer, tamarack, pine, old fields and openings make up the other habitats of the wildlife area.
Find Beaver Brook Wildlife Area less than 1 mile southeast of the city of Spooner. Numerous access points exist including: Wildlife Road off Highway 253, Randall Lake Road off Highway 70 in Spooner, Cranberry Road and Wildcat Road off Highway 53 and from Highway B.
Management

History

Beaver Brook Wildlife Area was born in 1951 through an acquisition of 680 acres from Washburn County to protect and manage this great fishery and surrounding wildlife habitat. Ten more purchases occurred that have brought the total acreage to 1,964 acres. The 2003 addition of 560 acres was added to the property by the DNR and Wisconsin Department of Transportation as part of a wetland mitigation project that restored the cranberry beds and associated flow. Trout are once again present in this stretch of the brook. Remnants of several homesteads can be found on the property and remnants of an old logging dam built in 1870 and removed in 1910 are still visible near the mouth of Beaver Brook.

Management objective

Wildlife management and related non-motorized recreation are the primary goals and uses for the property. Many in-stream trout habitat improvements and surveys are conducted on the trout stream. Regular aspen, oak and pine management timber sales are conducted to improve wildlife habitat. Old fields are managed for grassland habitat by conducting periodic prescribed burns.

State natural area designation was recommended for a 240-acre site, which contains the most botanically diverse site known in the Northwest Sands Ecological Landscape. The cranberry beds and associated flows have been restored to trout stream and wetlands.

A railroad grade, which is now the Wild River Recreation Trail for running, hiking, biking, horseback riding, dog sledding, ATV riding, snowmobiling and cross-country skiing, parallels the west side of wildlife area. The wildlife area is also home to 5 miles of cross-country ski and hiking trails, accessible from the end of Randall Lake Road on the north end of Spooner or a parking lot on Cranberry Road, as well as many miles of other gated trails for quiet, quality recreational experiences.

Recreation

Beaver Brook Wildlife Area offers many recreational opportunities:

Birding;
Cross-country skiing (designated trail

[PDF]

; dogs permitted, and grooming begins after archery deer season ends);
Fishing;
Hiking (no designated trail; all dogs must be kept on a leash from April 15-July 31);
Hunting;
Snowshoeing;
Trapping;
Wild edibles/gathering; and
Wildlife viewing.

Notable feature: A very popular artesian well site with the best water in the area can be found on the south end of the property, accessible by a gravel walkway on the north side of Highway B.

Maps

Download [PDF] a map of this property.

If you are interested in exploring this property further, you can access an interactive map.

Useful links