Avon Bottoms Wildlife Area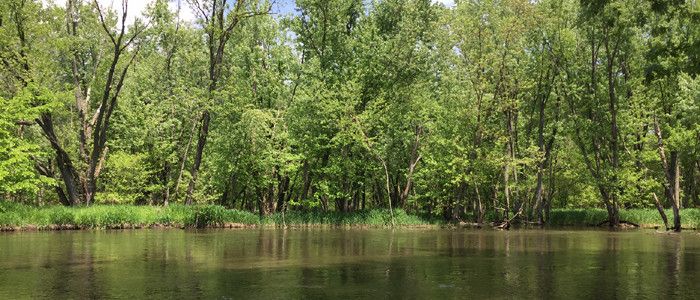 Avon Bottoms Wildlife Area features a lowland hardwood forest in the floodplain of the meandering Sugar River. Large silver maples, swamp white oaks and green ash dominate the diverse canopy of this wet-mesic forest. Other tree species are shagbark hickory, hackberry, cottonwood, bitternut hickory, bur oak, American elm and basswood. Sycamores, at the northern limit of their range, are occasionally present and black willows are common along the river. Numerous sloughs and old oxbows wind among bottomland hardwoods, grassland and agricultural cropland.
Avon Bottoms State Natural Area is embedded within this property, which is comprised of three separate units totaling 1,649 acres Avon Bottoms State Natural Area.
Avon Bottoms Wildlife Area is located in the southwest corner of Rock County and the southeast corner of Green County. The property currently consists of 3,402 acres of fee-title state-owned lands and four acres of easement lands. The property follows the Sugar River bottomland forest through the Rock County town of Avon, from County Highway T on the western Rock/Green county line to the Illinois border to the southeast.
Take State Highway 81 west from Beloit for 10 miles, then west on Beloit-Newark Road 3 miles. From north, go south on County Highway T, 6 miles from State Highway 11 at Brodhead, turning east on Beloit-Newark Road.
Management

Avon Bottoms Wildlife Area began in 1960 as a Federal Aid in Fish and Wildlife Restoration project to provide public hunting and produce ducks and pheasants.

Avon Bottoms Wildlife Area is identified as a Conservation Opportunity Area of state significance for the conservation of floodplain forest communities in Wisconsin's Wildlife Action Plan. The wildlife area is managed to provide opportunities for public hunting, fishing, trapping and other outdoor recreation while protecting the qualities of the unique native communities and associated species found on the property. The floodplain forest management objective is to protect the ecological river corridor gradients from lowland to uplands, along with protection of the floodplain corridor. Forest management has been primarily passive, with more extensive efforts to maintain grassland communities on the uplands through prairie restoration and management, mowing, prescribed burning and herbicide treatments. Where feasible, populations of invasive species are controlled or eliminated by cutting, pulling, burning, herbicide treatment and/or bio-control.

Avon Bottoms Wildlife Area is gaining new respect for its wild nature in close proximity to Wisconsin and Illinois population centers. Surrounding the many sloughs and oxbows of the lower Sugar River, the property includes two state natural areas set aside for their rare intact plant communities, and was recognized in 2006 by the Wisconsin Land Legacy Report as part of Legacy aquatic and floodplain communities. Just recently, Avon Bottoms was declared a Wisconsin Important Bird Area, known for breeding cerulean and yellow-throated warblers, Acadian flycatcher and yellow-crowned night-heron. The floodplain forest and grassy sloughs are heavily used by migrating birds of all description.

Recreation

The Avon Bottoms Wildlife Area offers many recreational opportunities:

Biking;
Birding (designated Wisconsin Important Bird Area);
Canoeing (Sugar River, put-in Avon to take-out Sugar River Forest Preserve in Winnebago County, Illinois);
Cross country skiing (no designated trail);
Fishing;
Hiking (no designated trail);
Hunting (especially noted for waterfowl, deer and stocked pheasant);
Trapping;
Wild edibles/gathering; and
Wildlife viewing.

Maps

Download a map of this property: Map A [PDF] or Map B [PDF].

If you are interested in exploring this property further, you can access an interactive map.

Useful links