Life Jackets
Boating in Wisconsin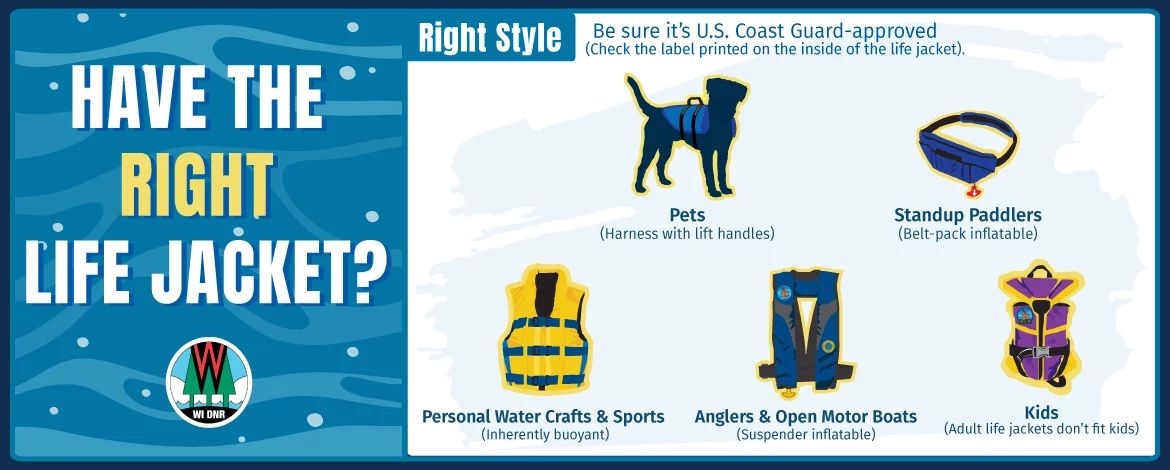 Drowning. It is human nature to think it can't happen to me--but it can. The majority of people who drown in boating accidents know how to swim but become incapacitated in the water.
Sometimes they are injured or unconscious.
Others develop hypothermia or become exhausted.
Some are weighed down by clothing.
It is important to wear a life jacket at all times while boating.
An accident can happen without warning.
Usually, after anaccident, the life jackets are not within reach--in cabinets, trapped under the vessel, floating far away in the water.
Sandbars are not permanent. Sandbars are constantly moving, and the downstream end is often unstable and will not support a person walking on it (think quicksand). This is particularly true when the sandbar is covered by a few inches of water. Life jackets will keep you on top of the water if you walk off an unexpected drop off.
Make Sure Your Life Jacket
Has the right fit – it should be snug when fastened. You don't want it too large or too small.
Is free of rips, waterlogging or mildew.
Is fully dried after use and stored in a dry place when not boating.
For inflatable life jackets, be sure to test regularly to ensure it can inflate orally and hold air for 16-24 hours. Be sure to also inspect the cartridge for discharge or corrosion.
Life Jackets for all water sports
The common reasons people give for not wearing a life jacket are that it is too hot, or it will mess up their tan line, or they are simply not comfortable.
Today's life jackets are much more advanced than they used to be. You can find comfortable, lightweight, and stylish options at your local marine supply retailer or even online. Many people don't realize the variety of new life jackets that are on the market today--belt packs and other jackets that are low profile, lightweight, easy to move in, and come in many sizes, styles and shapes for every person and every sport. There are even ones for pets!
Visit the U.S. Coast Guard Office of Boating Safety [exit DNR] webpage to learn more.
It's the law
All vessels (including canoes, kayaks, and paddleboards) must have at least one USCG-approved wearable life jacket for each person on board.
All vessels 16 feet or more in length must have one USCG-approved throwable personal flotation device onboard that is immediately accessible.
Every person on board a personal watercraft must wear a USCG-approved life jacket.
Sailboards and windsurfers are exempt from life jacket requirement but are highly encouraged to wear one.
Federal law requires children under the age of 13 to wear a USCG-approved life jacket while underway in an open vessel on federally controlled waters.