Rib Mountain State Park
Property Master Plan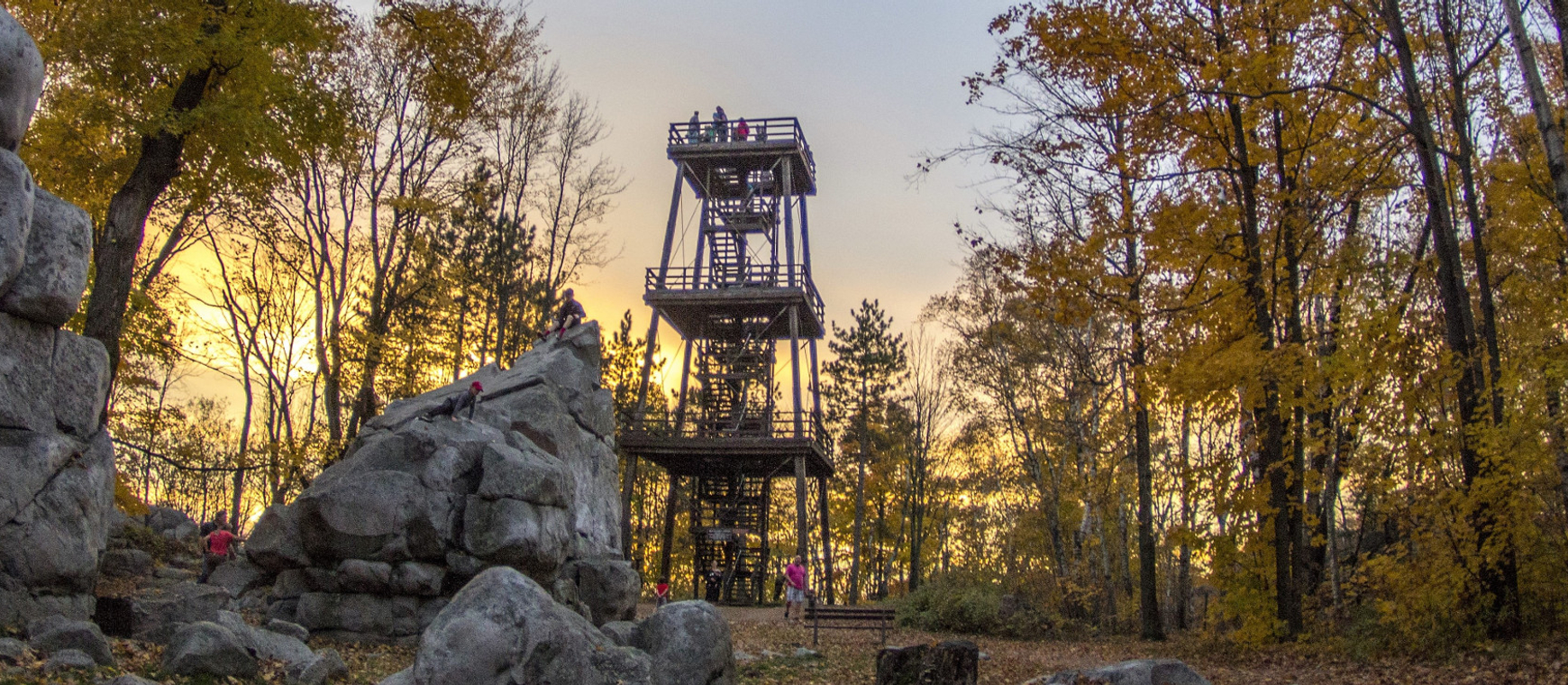 Where we are in the process
Process
Process Description
Public Input Opportunity
Background Information

Staff gather and synthesize background information about the property and region to help inform planning decisions. Typical information sources include existing plans and data, species and habitat inventories, surveys of visitors and their experiences, and input from local governments and partner groups. DNR staff summarize the background information in a series of documents for the public.

 
Initial Public Input

Jan. 22 to Feb. 22, 2020
A public open-house meeting was held locally to present information about Rib Mountain State Park and the broader region. The focus of the meeting was to gather public input about the park, the current and potential roles it plays or could play in the region, and issues to address in the planning process.

The public was able to provide input in-person or online.
Yes
Public Input On SE Group Report And Alternatives

June 14 to July 14, 2021
The DNR sought public input on the SE Group report and particularly on the alternatives they developed for future recreational uses at the park. The alternatives focus on downhill skiing and mountain biking.
Yes
Develop Draft Goals And Options
The DNR developed an updated vision for the state park along with draft goals, objectives and future management options. The sources used included: the SE Group report, public input on that report, existing master plan, initial public input, species and natural community surveys, and staff expertise.
 
Public Input on the Draft Vision, Goals, Objectives and Management Options

June 1 to June 30, 2022
The DNR presented the draft goals and options and gathers public input and reactions.
Yes
Assessment of climate change impacts on winter recreation
The DNR gathered and analyzed data on current and future climate trends and how climate change is projected to impact the future of winter recreation in Wisconsin. Particular emphasis was on downhill skiing at Rib Mountain.
 
Develop Draft Master Plan
Staff developed an initial Draft Master Plan using multiple information sources, including public input on the draft vision, goals, objectives and management options, background information, discussions with partners, and the expertise of property managers, fish and wildlife biologists, foresters, recreation specialists, climate scientists, and others.
 
Public Input On Draft Master Plan

Oct. 13 to Nov. 14, 2022
Staff presented the Draft Master Plan and gathered public input and reactions.
Yes
Develop Proposed Master Plan
Staff modified the Draft Master Plan and developed the new version, referred to as the Proposed Master Plan. The Proposed Master Plan was submitted to the Natural Resources Board (NRB) for review and consideration.
 
Natural Resources Board
DNR presents the Proposed Master Plan to the NRB and seeks its approval of the plan at their December 14, 2022 meeting. The meeting will be held at the DNR Building in Madison (101 S Webster St). An agenda is posted on the NRB webpage.

The NRB welcomes public input. Citizens may testify at NRB meetings or submit written comments about the plan. Instructions to provide input to the NRB can be found on the Public Participation Guidelines webpage.
Yes
Background
A master plan for Rib Mountain State Park was completed in 2005. In February 2015, the Wisconsin Natural Resources Board authorized the department to undertake a master plan amendment process for the purpose of evaluating a potential expansion to the Granite Peak Ski Area. Although Granite Peak Ski Corporation has publicly shared its vision for expanding the ski hill area, the department believes that a potential expansion should be evaluated in the broader context of the entire park and other recreational opportunities. As a result, at their October 2019 meeting, the Board directed the department to undertake a holistic evaluation of the full range of recreational and habitat opportunities at Rib Mountain to ensure that the park continues to help support the ecological, social, and economic needs of the area.
The Park
The State Park was established in 1927 and centered on what, at the time, was believed to be Wisconsin's highest point - Rib Mountain. The park has grown in size and popularity over the years and now encompasses nearly 1600 acres and receives over 400,000 visitors annually. Except for the ski area, most of the park's public use areas and facilities are clustered on about 60 acres of the more level terrain at the mountain's top, which provides spectacular views of the surrounding landscape.
The Civilian Conservation Corps (CCC) constructed several facilities at the park in the 1930s, including the first downhill ski runs and tow ropes. Over the years, a succession of ski hill operators have partnered with the department to provide downhill skiing at Rib Mountain. Today, Granite Peak Ski Corporation leases 405 acres of park lands that provide alpine skiing and snowboarding opportunities under the terms of a 30-year lease signed in 2000.
Additional Information About Rib Mountain State Park Planning
Rib Mountain State Park Draft Master Plan

Additional Documents

Public Involvement

October-November 2022

The department sought public comments on the Rib Mountain State Park Draft Master Plan from Oct. 13 to Nov. 14, 2022. The draft plan describes future management of the park, potential outcomes, alternatives evaluated and public involvement.

Public input was received in multiple formats and is provided here. Staff reviewed all the comments and prepared a summary of the public input.

June 2022

The department sought public comments from June 1 to June 30, 2022 on the document Draft Vision, Goals, Objectives and Management Options for use in the development of a revised master plan.

The document describes a revised vision and new goals and objectives. In addition, the document identifies the department's preferred management options for a variety of recreation activities and management issues.

Just over 400 comments were submitted, all of which are posted here. DNR staff reviewed all the comments and prepared a summary of the public input.

June 2021

The department sought public comments from June 14 to July 14, 2021, on a report developed by SE Group. The report evaluates existing and potential downhill skiing opportunities at RMSP. The report also provides an analysis of mountain biking needs and opportunities in the region, as well as alternatives for developing a network of trails at RMSP.

Just over 3,100 comments were submitted, all of which are posted here. DNR staff reviewed all the comments and prepared a summary of the public input.

Summary of Public Input on SE Group Report [PDF]

Comments Received:

January 2020

In January 2020, the department sought initial public ideas, perspectives and comments on the current and future recreational uses and habitat management actions at the property. Over 2,200 responses were received, all of which are posted here. DNR staff reviewed the comments and prepared a summary of the input and major themes.

Hard copy forms (these have been split into batches to reduce their size)