WS Packaging Group, Inc.
Tier 1 participant since 03/23/2012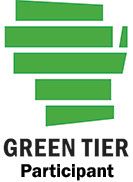 Formed in 2000 with the merger of Wisconsin Label Corporation and Superior Label Systems, Inc., WS Packaging Group, Inc. currently operates 18 facilities in the United States and Mexico, with corporate headquarters in Green Bay. Serving a range of companies from start-ups to Fortune 500 brands, WS Packaging Group has emerged as a leading provider of printing and packaging solutions in North America.
Environmental activities
Whether they're reducing a customer's packaging footprint or recycling more than 1,100 tons of material each month, WS Packaging Group continually demonstrates its environmental stewardship. A WS Packaging Group Algoma facility made significant progress toward sustainable operations and has so far:
earned the Label Initiative for the Environment certification in October 2010 by the Tag & Label Manufacturers Institute;
achieved a 90% reduction in landfill waste from 2008 to 2011;
purchased 126,477 fewer pounds of nitrogen; and
recycled 70 tons of office paper and corrugated.
Documents
Reports
Commitment outline
Acceptance letter
Application