R. Stresau Laboratory, Inc.
Tier 1 participant since 04/30/2009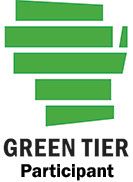 R. Stresau Laboratory of Spooner develops, manufactures and tests energetic devices for a variety of military and industrial applications. Stresau takes a number of steps to reduce the environmental impact of the hazardous waste they generate. The facility is licensed to operate a thermal treatment unit to render waste on site, and has lowered its generator status from Small Quantity Generator to Very Small Quantity Generator. They also have active recycling programs for metals, cardboard, shipping pallets and other materials. As a Green Tier participant, Stresau is committed to implementing an environmental management system and engaging in continuous improvement of its environmental performance. Potential goals include reductions in air emissions and energy use, as well as solid and hazardous waste.
Documents
Reports
Commitment outline
Acceptance letter
Application