Perlick Corporation, Inc.
Tier 1 participant since 12/15/2009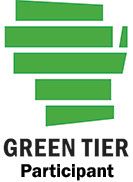 Since its inception in 1917, the Perlick Corporation has evolved into the premier supplier of bar and beverage dispensing equipment in the industry. Perlick equipment can be found in restaurant chains, hotels, stadiums, theme parks and breweries worldwide. Headquartered in a 300,000 square foot manufacturing facility in Milwaukee, Perlick operates with three divisions.
Environmental activities
Perlick's Bar and Beverage Equipment Division manufactures equipment, including remote beer systems, refrigerated and non-refrigerated cabinets, stainless steel underbar equipment, glass washers and a revolutionary modular bar structure. Perlick's Tapping Division manufactures beer faucets, keg couplers and other beer dispensing components. Perlick's Brewery Fittings Division manufactures stainless steel and brass fittings that are used in the brewing process.
Perlick's goals as a Green Tier participant include reducing waste by decreasing the use of cardboard in production. Perlick would also like to reduce hazardous waste disposal by laundering rags instead of discarding them and by attempting to switch to a recyclable absorbent used to clean up spills and oil leaks.
Documents
Reports
Commitment outline
Acceptance letter
Application
DNR contact
Company contact
Mike Griffin
1027 W St Paul Ave
Milwaukee WI 53233-2641
414-263-8554
Douglas Graf
Environmental manager
8300 Good Hope Rd
Milwaukee WI 53223
414-353-7060
Perlick Corporation
Related participants