Phillips-Medisize - Medford
Tier 1 participant since 01/19/2009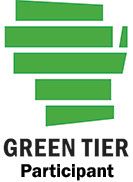 Phillips-Medisize - Medford* first opened its doors in 1973. It has since established itself as a state-of-the-art plastics injection molding facility with laser etching, painting and assembly of plastic parts and components for a number of different markets including medical, automotive and consumer products.
Environmental activities
Phillips-Medisize - Medford has sustained certification of an environmental management system to ISO 14001 in 2001. This system plays an important role in helping the facility and its people identify and advance efforts to improve environmental performance in waste reduction, recycling, energy savings and emissions reductions within the facility. Some of the Phillips-Medisize - Medford's recent efforts to reduce their environmental footprint have led to a 58-ton reduction in volatile organic compounds in the first six months of operation and installation of new technology that now reclaims and reuses spent solvents, which has reduced their hazardous waste shipment of solvent from 1,462 gallons per month to zero. Phillips-Medisize Corporation has developed a "People Process Culture" that incorporates higher education opportunities for the advancement of employees and encourages environmental awareness as part of their training. Phillips' employees have played a substantial role in increased recycling efforts, which greatly reduces the amount of material now going to landfills. This facility, as with other Phillips-Medisize Corporation operations, makes substantial efforts to encourage its employees to plant trees, conduct free home energy audits and participate in a discount fluorescent bulb replacement program. Working with Focus on Energy, Phillips has achieved considerable energy conservation at the plant.
Documents
Annual reports
Commitment outline
Acceptance letter
Application
* Formerly Precision Decorating