Phillips-Medisize - Eau Claire
Tier 1 participant since 12/07/2012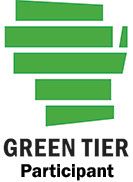 Phillips-Medisize Corporation has long been a responsible business leader in Wisconsin and currently has ten physical facilities participating in Green Tier. The latest facility to apply for the program is the in Eau Claire, Wis. This facility* is the information technology hub with additional support services such as People Services (HR), Finance, Safety and Purchasing, and is also home to the new Multi-Shot Liquid Silicone Rubber (LSR) injection molding technology.
Environmental activities
The facility's Environmental Management System (EMS) was certified to the internationally recognized ISO 14001 standard in January of 2012. This EMS guides waste and energy reduction efforts, employee and community involvement and Green Tier participation. 2011 achievements resulting from sustainability efforts at the Eau Claire include:
recycling 6,140 pounds of plastic, glass, tin and aluminum and 10,404 pounds of corrugated cardboard;
installing energy efficient LED exit lights and T-8 fluorescent fixtures; and
receiving multiple awards including the Xcel Energy Environmental Excellence Award, the Wisconsin Corporate Safety Award and continued recognition in the Wisconsin Sustainable Business Council's Green Masters Program.
Documents
Annual reports
Commitment outline
Acceptance letter
Application
*formerly Phillips-Medisize Corporation Operation Center/MS-LSR