Midwest Paper Group
Tier 1 participant since 12/02/2019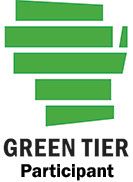 Midwest Paper Group*, manufactures and sells a premium line of coated paper sold under the Utopia Brand. These products are used by large corporations and public institutions for communication and advertising purposes, in the form of annual reports, promotional brochures and direct mail. Since 1889, the company has manufactured paper in Combined Locks, which employs approximately 600 employees.
Environmental activities
The company is a leader in introducing products with environmental attributes and making it easy for customers to select environmentally responsible products. To this end, Midwest Paper Group offers a wide array of products with fiber sourced from forests certified to be sustainable, made with post-consumer recovered fiber and electricity from renewable sources. Midwest Paper Group is also focused on:
improving the environmental impact of its manufacturing operations with a focus on energy usage and waste;
reducing total energy usage and decreasing the use of fossil fuels; and
seeking out options for beneficial reuse of its waste in order to minimize what is sent to a landfill.
Documents
Reports
Commitment outline
Acceptance letter
Letter of Intent
DNR contact
Company contact
Sabina Dhungana
101 S Webster St - FR/4
PO Box 7921
Madison WI 53707-7921
608-220-4531
Katie Byrum
Environmental manager
540 Prospect St
Combined Locks WI 54113-1120
920-687-3633
Midwest Paper Group
Related participants
*Formerly Appleton Property Ventures, LLC – Combined Locks Mill, formerly Appleton Coated LLC, formerly Midwest Recycled and Coated Containerboard Mill LLC (MRCC)